Make the connection between supply chain and sustainability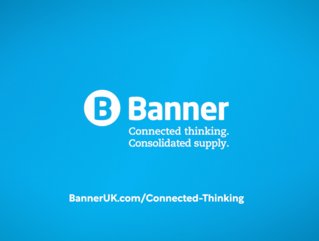 Esther Murdock and Isabel Spence of Banner highlight shared values with the SmartTogether consortium and the Guy's and St Thomas' procurement partnership
Organisations like the NHS are focused on improving processes within their supply chains and operating more sustainably. To achieve this aim, David Lawson, Chief Procurement Officer at Guy's and St Thomas' NHS Foundation Trust (Guy's and St Thomas'), highlighted some of his organisation's key partners. One of these is Banner, the UK's largest provider of business-critical supplies and services to both the private and public sectors.
To gauge why the NHS was so keen to partner with Banner, we spoke to its Merchandising and Marketing Director, Isabel Spence, and Esther Murdock, Public Sector Sales Director.
"We support customers with all of the supplies and services that they need to run their business sustainably and efficiently," said Spence. "We connect with customers, working with them to consolidate and simplify their supply chain. This means we provide solutions and services for the wider workplace across all sectors. That can be as varied as PPE and cleaning supplies to the NHS, technology products, like virtual headsets or interactive whiteboards into the Education sector, and even interior design services and products to re-design customers' workspaces."
Excited to discuss further details of the company's partnership with the NHS, Murdock talked about Banner's involvement in Guy's and St Thomas' SmartTogether procurement initiative. "We started with an official procurement tender process, which was then followed with the award of the contract to Banner for office products and electronic office supplies," she said.
"We've now started to assess a pilot programme to find ways to help the SmartTogether team with a managed procurement service that addresses contract leakage and any in scope expenditure within that," Murdock said, "This provides a compliant supply route whilst also reducing the carbon footprint of the participating Trusts within the SmartTogether consortium."
Partnership is the key to success
"We are part of a huge web of relationships across the supply chain. Our aim is to build strong and effective relationships by working with suppliers, colleagues and customers who have high standards and share our values," says Murdock. "This level of co-operation and interdependency really is evidence of partnership."
Through its charter on corporate and social responsibility (CSR), Banner operates on a similar set of values to its partners in the consortium. This was critical for Guy's and St Thomas' when awarding the contract to the company.
Murdock also praised the SmartTogether team, which supports hospitals in London, such as Great Ormond Street, Royal Brompton, and South London & Maudsley, for its efforts in providing effective and sustainable services to the NHS. "David Lawson and his team are driving hard towards realising the benefits of consolidation and embracing social value. In I would go as far as to say, they really are leading the way."
She adds: "They're working to connect business needs to create efficiencies, to provide a resilient supply chain and to do all of this in the most sustainable manner."
What does the future of procurement look like?
"We're going to see a greater expansion into partnerships, consolidation and into a digitally enabled work life," Spence says while highlighting that 80% of Banner's transactions are carried out electronically. "We are supporting customers and innovating with smart solutions to solve the business challenges that our customers face."
Murdock closes: "Evidenced by the work with Guy's and St Thomas', our customers, suppliers, and Banner are on a journey of reimagining how we do business. In this post-pandemic era, we are becoming more and more of an embedded solution for our customers and a lead service provider. It is this connected thinking that leads to improved sustainability and consolidated supply."
READ THE FULL GUY'S AND ST THOMAS' NHS FOUNDATION TRUST DIGITAL REPORT