DHL, AbbVie and Hilton among best places to work in Europe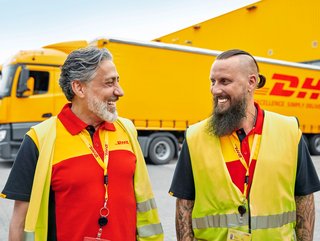 DHL Express is among the Best Workplaces in Europe. Picture: DHL
The Best Workplaces in Europe are successfully navigating choppy economic waters, while also fighting hard to retain and invest in their people
In a global survey carried out by Great Place to Work in 2021, less than three in five (58%) employees said they intended to stay with their companies in the long term.
However, across the leading companies in Europe, that figure rises to an impressive 88%.
According to Great Place to Work, the global authority on workplace culture, businesses included in its latest Best Workplaces in Europe countdown are navigating a challenging economy while fighting hard to retain and invest in their people.
To identify the 150 firms on this year's list, Great Place To Work analysed a million survey responses representing the work experiences of more than 2.6 million workers.
Companies were split into four categories: small (10-49 employees), medium (50-499), large (500-999) and multinational (1,000+).
Those setting a good example received higher survey scores around flexibility, fair pay and wellbeing. And, when workers reported more consistently positive experiences at work, companies were rewarded with better job performance.

DHL leads the way among multinationals
Great Place to Work found that, by balancing flexibility and connection, Europe's best workplaces are able to offer higher levels of wellbeing for their employees.
DHL Express, which tops the list in the multinational category, uses company events like the DHL EuroCup to not only foster relationships between employees, but also to promote wellbeing.
The EuroCup brings together 3,000 DHL employees to participate in four days of sports competition and wellbeing activities, including yoga, sound meditation and kayaking. Plus, staff members can hear from inspiring speakers and connect with sponsors like Manchester United.
Great Place to Work concluded that the event demonstrates to DHL employees their company's commitment to wellbeing, while reinforcing important values by bringing people together to learn and celebrate shared goals.
Second-placed Abbvie has been more focused on financial wellbeing given the crippling cost-of-living and rising economic anxiety.
Over the past couple of years, the pharmaceutical giant has expanded its financial health resources by offering personal finance education, tips on using AbbVie's financial tools and other resources to provide clarity and support.
Hospitality heavyweight Hilton rounds off the top three, with 96% of its people agreeing they are treated fairly regardless of sexual orientation.
"Workers at the best workplaces are more likely to have flexibility, meaningful connections with coworkers, and a healthy work environment," says Ted Kitterman, Content Manager at Great Place to Work. "In return, those experiences inspire workers to do great work for their companies."
Also in the top 10 for multinationals are:
AFAS, adesso and Baringa top large company list
Examining Europe's large businesses, Great Place to Work selected AFAS Software as the number one workplace across the continent and the best in the Netherlands.
The family-owned firm scored 94% in an employee survey, while a huge 97% of workers agreed their workplace was 'great'.
Interestingly, AFAS has built up a strong company culture by only hiring managers or directors internally, choosing not to look beyond its four walls.
AFAS Software is joined near the summit by adesso, which continues to expand across Europe, and Baringa, which prides itself on putting people first.
Leading the way in the medium category is Blue Bricks, while TrabzonPort is ranked as the best small company.
******
For more business insights, check out the latest edition of Business Chief Middle East & Africa and be sure to follow us on LinkedIn and Twitter.
You may also be interested in the Business Chief US & Canada website.
BizClik is a global provider of B2B digital media platforms that cover executive communities for CEOs, CFOs and CMOs, as well as leaders in Sustainability, Procurement & Supply Chain, Technology & AI, Cyber, FinTech & InsurTech. We also cover industries including Manufacturing, Mining, Energy, EV, Construction, Healthcare and Food & Drink.
BizClik, based in London, Dubai and New York, offers services such as content creation, advertising and sponsorship solutions, webinars and events.