Bring your weird – how CEO Jill Stelfox transformed Panzura
As the only female CEO in data management, Panzura's Jill Stelfox has a company vision – one that values performance, innovation, and compassion
It's been 25 years since a certain Apple computer company coined the slogan "Think Different" for its advertising campaigns. This signaled a return to the then struggling brand's maverick roots, championing creativity and heralding the return of Steve Jobs. And while a mere slogan alone will not turn around the fortunes of any company, it seems thinking differently remains solid advice.
Just ask Jill Stelfox. Jill took over struggling data storage company Panzura in 2020 – making her the only woman CEO in data management. Within three years, innovative leadership and forward-thinking people management has seen Panzura become the market leader in hybrid, multi-cloud data management, with 485% growth since May 2020, when Jill refounded the company.
Jill had a vision for a new kind of company, which she shared with Business Chief.
"We created a set of values that are unique," she says. "I think a lot of companies create values but they can be like corporate speak, or a little bit of Mumbo Jumbo, to use a technical term.
"Our number one value is 'Bring your Weird', and that means bring your authentic self to work. What is so cool about it is when employees are free to be their authentic self, they can get into this creative flow because their minds are clear. That's unstoppable. You can't teach it, and you can't train it. It's unbelievable."
Innovation at Panzura during the pandemic
Jill points to the amount of innovation undertaken at Panzura in the last two-and-a-half years in the middle of a "pretty challenging time", but also a time where the company has launched seven new products and achieved those incredible revenue growth figures – not to mention a growing cabinet of business awards.
Jill's vision to build an equitable environment that values performance, innovation, and compassion. She intentionally sought to create a culture that attracts the best, starting with concrete measures that deliver equity in the workplace and drive performance, reimagining how to attract and care for employees as a cornerstone of the company's success.
If you're unfamiliar with Panzura, they help customers both store their data but also gain deeper insights into that data using Artificial Intelligence and Machine Learning. Large-scale enterprises across healthcare, financial services, manufacturing, oil & gas, gaming, engineering, construction, and even government agencies have been quick to turn to Panzura.
Jill's route to heading Panzura is far from typical, as she explains in an anecdote that reminds this writer of the late Remington owner Victor Kiam.
"A good friend of mine, Dan Waldschmidt, started a consultancy called Edgy," recalls Jill. "We fancied ourselves as a sales and marketing expert for technology companies that had great tech but didn't really understand how to scale or go to market – and that's our superpower.
"If we fell in love with the product or the company, we would make an equity investment, and so we fancied ourselves as part consultancy, part investor. When we got to know Panzura, we were like 'this is so amazing, we should actually buy the whole thing'. And that's how it happened."
But that is not the most interesting part of this story. Falling in love was just the start. The decision to buy the San Jose-based company was made and then terms formally agreed in a matter of weeks, with the deal completing on 7 March 2020. That date is significant, as it was also the day that California 'closed' due to COVID.
"We officially took over the company on 7 May, and that was the first day of the COVID lockdown in California and we have employees all over the world," says Jill. "Imagine doing an employee all-hands on Zoom at that moment in the pandemic and finding out the company's been sold and I'm your new CEO. What I saw on that Zoom call was employees that, yes, they were excited, but they were also concerned. That kind of solidified for me that I have to focus on employees first, and if our employees were super happy and mentally strong, that we would be a great company."
Caring about customers and employees
Jill and the leadership team put personal coaching in place, with every employee having access – not just for health, wellness and business issues, but life complications caused by COVID too, such as home schooling.
"People first led us to caring about customers which led us to the growth that we've had in terms of a company since we bought it – 485% growth," says Jill.
That growth has been achieved with a number of tailwinds – not least the rapid digital transformation accelerated by the pandemic. However, it would be negligent to ignore the impact that culture and people has had on the bottom line, and that comes from the CEO down.
"I do think I'm super weird, by the way," admits Jill jovially. "It's been the first time where I have been authentically me. I have been able to deeply care about people, and also make hard choices about our culture, because with every decision there's a good part and a tough part.
"I love that I literally can bring my own weird to it. You know, I'm the kind of person that in my private life builds LEGO. It's kind of weird for a grown adult to do that, and I love it. And it's funny – we did an employee all-hands, and we sent LEGO kits to all of our employees around the world, and we thought we'd get on a Zoom call for a quick hour to just build LEGO. This was supposed to be an hour, and it went into a full day, I'm guessing. It was so fun and honestly so weird. Who does that? We loved it."
As well as being a self-confessed LEGO geek, Jill also has a passion for sports, specifically American Football which she was introduced to at an early age along with her sisters. That was a solid grounding which saw Jill combine two of her great passions – sports and tech – working for a company called Zebra that used tiny tracking devices to bring an extra level of data to the football field.
Women in Sports Tech helped pave the way
Much is made of the technology industry needing to do more to attract women, and the pro sports world is also not exactly female-friendly, so how has Jill managed to excel in both?
"One of the things that was super interesting about working with the NFL is that in 2013, I was the only female on the field," remembers Jill.
"When I left Zebra and left working with the NFL, I formed an organisation called Women in Sports Tech with some female friends of mine. There are very few professional women's sports post-college in the US, so we were able to get internship programs going at the NBA and NFL, and it's one of the biggest recruiting platforms for young women into sports today. Now there are tons of women in technology roles in sports, which is awesome."
Women also play a significant leadership role at Panzura. Not only is Jill the only female CEO in data management, the company also has a gender-balanced board. This is also a factor in the company's success, with more empathetic leadership leading to a happier workplace.
"I think if CEOs want to keep great people, they should be more authentic, and they should be more sincere," says Jill. "I think in a post-COVID world, it requires you to be that way. I think the way that we got here is not the way that we're going to leave. It's time for change."
It's time to Think, and Act, Differently.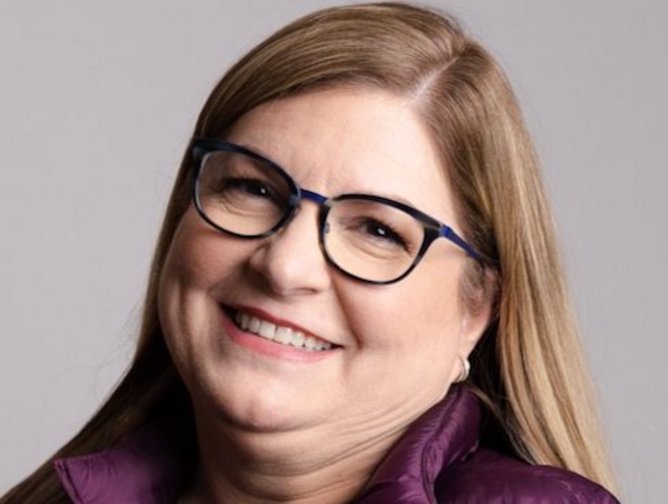 JILL STELFOX CV
Jill Stelfox is the Executive Chair and CEO of Panzura. Prior to joining Panzura, Jill founded and acted as Co-CEO of marketing consulting firm EDGY, helping companies from McAfee to Adobe to USAA to transform business and technology processes.
Jill received her Bachelor of Science in Accounting from California State University, Chico. She is a sitting board member of Women in Sports Tech and ROUTE Inc.
See it to be it
"Just because you don't see it doesn't mean that you can't do it. You can definitely do it.
It's a proven fact that whether it's people of minority, race or gender equality, people need to see it to be it, and more is always better. And there's literally not enough of us. I mean, why am I the only female CEO in data management? There should be more of us for sure.
That's a big part of my goal. I'm all about making sure that there are more women by the time I leave this industry."