Business Chief expands portfolio with new look and coverage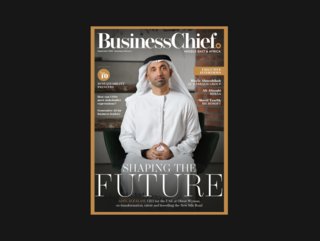 The September issue of Business Chief Middle East & Africa
Business Chief Middle East & Africa launches with fresh new look and extended coverage of the region, with exclusive executive interviews and insights
After more than 100 issues, Business Chief relaunches today with an expanded portfolio of four regional brands and two new Chief titles.
Business Chief will now be available in four regional editions instead of three, now providing exclusive interviews and insights for US & Canada, UK & Europe, Middle East & Africa, and Asia & ANZ.
Each of the refreshed titles will be published bimonthly, with Business Chief Middle East & Africa and Business Chief US & Canada in September and then Business Chief Asia & ANZ and Business Chief UK & Europe from October.
The brand-new additions to the portfolio, Marketing Chief and Finance Chief, are joining the family in November and December, and will also be published bimonthly.
"Business Chief has a long history, and bright future," says Scott Birch, Editor-in-Chief, Business Chief, and Chief Content Officer of publishers BizClik.
"Extending our footprint means Business Chief is now truly global and better reflects the world of business. From Dubai to Dublin, Dallas to Delhi – we bring you exclusive interviews and insights with inspirational leaders, innovators, and key decision makers who are shaping the future of business."
Each issue of Business Chief covers key issues facing CEOs today, including:
Leadership
People & Planet
ESG
Tech & AI
Business Chief will also cover Lifestyle, providing a curated selection of the best experiences, products and services.
The September issue of Business Chief Middle East & Africa includes exclusive interviews with leading executives in the region on the hottest topics of the day – from COP28 insight to culture change prioritisation, and from the growth of business aviation to tapping into genAI for business.
The Business Chief Interview – Adel Alfalasi, CEO of Oliver Wyman UAE about his role in helping to shape the leaders' vision of the UAE.
ESG – Speaking exclusively to Business Chief, Microsoft's regional sustainability chief Sherif Tawfik shares his insights on climate action in the region and hopes for meaningful climate action at COP28.
Leadership – As IPOs soar in the Middle East, we talk to experts from Accenture, Ecolution kWh and Oobit about how CEOs can deliver on stakeholder expectations.
Technology – Experts from IBM Consulting EMEA and Boston Consulting Group Middle East share their views on the best generative AI playbook for business success in the MEA region.
People – We talk exclusively to Hayfa Abu-Zabibah, Chief People & Culture Officer about how Al-Dabbagh Group's unique approach to culture is central to the Saudi conglomerate's success.
Culture ­– Experts from Heidrick & Struggles both in the Middle East and Africa weigh in on the importance of putting people first and how organisations in the region are rapidly undergoing culture change.
Business Travel – As business aviation in the MENA regions hits double-digit growth, we talk regional demand and sustainability strategies, with Ali Alnaqbi, Executive Chairman of the MENA Business Aviation Association and founder of Royal Jet.
Top 10 – From Masdar to Red Sea Global, these organisations are leading the charge for sustainable change in the UAE and Saudi.
Lifestyle – Don't miss our essential guide to doing business across three leading Middle East business hubs – Tel Aviv, Dubai and Riyadh
Lifetime of Achievement – We pay tribute to Jane Karuku, the woman pioneering sustainable change at East Africa's largest manufacturer, Diageo-owned EABL
For more information on Business Chief, or to be considered for upcoming interviews and features, please email [email protected]​​​​​​​
Subscribe to the Business Chief Middle East & Africa weekly newsletter: https://businesschief.ae/