Which C-suite leaders will be at SUSTAINABILITY LIVE London?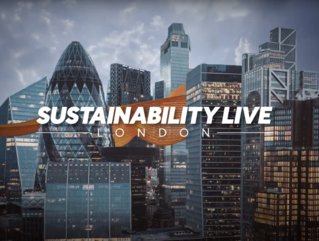 SUSTAINABILITY LIVE London is set to take place over the course of two days
SUSTAINABILITY LIVE London will feature insight and expertise from more than 70 globally-renowned leaders in the sustainability field over two days
In just a few days' time, our sister title Sustainability Magazine will be hosting SUSTAINABILITY LIVE London
Taking place on September 6-7 at the Business Design Centre, this highly-anticipated event is set to feature more than 70 globally-recognised leaders in the sustainability field, each of whom will be delivering industry expertise and leading topical discussions.
Here, Business Chief provides a rundown of the C-suite executives who will be speaking at this year's SUSTAINABILITY LIVE London.

Garrett Quinn, Chief Sustainability Officer at Smurfit Kappa
Garrett Quinn was appointed Group Chief Sustainability Officer at Smurfit Kappa in July 2021.
Having joined the company in 2000, Garrett held several roles in operations across the group in Argentina, France and Ireland, before moving to the UK where he managed a number of corrugated box plants. Then, in 2016, he took up the role of Head of Investor Relations, a position he held until 2021.
Garrett holds a bachelor's degree in Commerce from University College Dublin and has completed his postgraduate studies with the Cambridge Institute for Sustainability Leadership. He was appointed as Director to the Smurfit Kappa Foundation in May 2022. Garrett is also the company representative to the World Business Council for Sustainable Development (WBCSD), The Conference Board (US) and the Consumer Goods Forum.
Magali Anderson, Chief Sustainability Officer at Holcim
Magali Anderson started out working as a field engineer on offshore oil rigs in Nigeria, beginning a three-decade career in the oil and gas industry.
For 15 years she was with Schlumberger, holding operational line management positions including CEO, Angola and Region Head, Europe. Magali has also held several functional roles, including VP Marketing & Sales, VP Shared Services Organization for the Europe and Africa region and Global Head of Maintenance.
In 2016, she joined Holcim as Group Head of Health & Safety, before becoming CSO three years later. In 2021, the firm announced Magali's role had been expanded to Chief Sustainability and Innovation Officer, putting sustainability at the core of its innovation pipeline.
Sean Jones, Chief Sustainability Officer, Germany at Microsoft
Having assumed the position of CSO earlier this year, Sean Jones is responsible for developing sustainability solutions and ecosystems for customers and partners at Microsoft in Germany.
Jones is a sustainability transformation professional with more than 25 years worth of industry experience in consumer goods, chemicals and transformation consulting under his belt.
He graduated with a chemical engineering degree from the University of California, Berkeley and achieved his MBA with INSEAD.

Rhian Kelly, Chief Sustainability Officer at National Grid
Rhian Kelly oversees all of National Grid's sustainability and ESG activities, including emission reduction, investment in local communities and the development of people.
Prior to this, she was responsible for corporate affairs activities on behalf of National Grid Ventures (NGV), National Grid's commercial arm which invests in green technologies such as renewable energy.
Before joining National Grid, Rhian worked as Director of Infrastructure at the CBI, spearheading its campaigns to boost investment in infrastructure, the low-carbon economy and construction.
She also spent five years in Beijing working for the European Union Chamber of Commerce in China, bridging the gap between European business and the Chinese government.
Fabrice Beaulieu, Chief Marketing, Sustainability and Corporate Affairs Officer at Reckitt
Fabrice Beaulieu spearheads the global leadership team driving Reckitt's ambition to be a pioneer in sustainability and address changing consumer expectations around the responsibility of businesses to the climate.
Having joined Reckitt back in 1999, Fabrice was appointed to the Group Executive Committee last year, taking responsibility for reimagining and scaling the company's playbook for digitally-led, sustainable and profitable growth.
He has also held a host of other senior positions including EVP for Group Marketing Excellence.
James Butcher, CEO of Supply Pilot
James Butcher is an experienced director, entrepreneur and CEO at Supply Pilot, with more than 25 years of experience in retail, food, manufacturing and packaging.
Starting out as an engineer in manufacturing and factory automation enabled James to witness first-hand the costly and time-consuming production delays resulting from a disconnect between retailers and first-tier suppliers, resulting in a passion for supplier collaboration.
Together with the Supply Pilot team, James works to tackle key sustainability and compliance challenges for some of the world's leading brands. His message is clear: if all suppliers can make all products a bit more sustainable, the cumulative impact is enormous.
In addition to his leadership role at Supply Pilot, James is currently enrolled on his third course with the University of Cambridge's Institute for Sustainability Leadership, where he continues to advocate the need for inclusive supplier engagement.
Adam Read, Chief Sustainability & External Affairs Officer at SUEZ UK
Adam Read takes responsibility for external affairs, communications and sustainability at SUEZ UK, having worked there for six years.
Adam has driven resource efficiency, carbon reduction and social value initiatives as a consultant, and now looks after a team of dedicated carbon and social value specialists who are embedding the triple bottom line into the business. This, in turn, is empowering more than 300 sustainability champions at various sites to make positive change.
Over the past five years, Adam has worked closely with the UK Government on the development of a new resources and waste strategy and associated consultations.
Before joining SUEZ UK, Adam enjoyed a successful career in academia, local government and environmental consultancy.
Beccy Speight, CEO of the RSPB
Beccy Speight heads up the RSPB which, with 1.2 million members, 2,000 employees and 12,000 volunteers, is the UK's largest nature conservation organisation.
After starting her career in local government, Beccy moved into management consultancy, working in M&A. She moved into the conservation charity sector in 2000 and eventually became CEO of the Woodland Trust in 2014.
Five years later she assumed her current role with the RSPB, where she has been leading the society through a decade of critical action due to 41% of species in the UK being in decline and 15% at risk of extinction.
Through its work with members, supporters, businesses and government, the RSPB is playing an active role in sustainability, climate change, food, farming and much more. The charity is also focusing its business-focused work, driving urgent conversations on companies' role in tackling the nature crisis through ESG strategies and implementing net zero ambitions and nature-based solutions.
Sam Clarke, Chief Vehicle Officer at GridServe
Sam Clarke is a life-long entrepreneur, electric vehicle 'evangelist', industry advisor and EV owner of more than 20 years.
His entrepreneurial journey started back in 2002 with electric motorbikes and scooters, before a move into emission-free logistics with Gnewt, which he sold to John Menzies Plc in 2017.
Now, with GridServe, Sam works on national charging infrastructure to support all types of EV charging.
Last year, he placed fifth in the Motor Transport Decarbonisation Power Players list and was also awarded a GreenFleet EV Champion award for services to the industry.

Jennifer Motles, Chief Sustainability Officer at PMI
Having been appointed as Philip Morris International's (PMI) first female CSO in October 2020, Jennifer Motles orchestrates the multinational tobacco company's ambitious sustainability agenda – including its vision to transform for good and phase out cigarettes.
After joining in 2015, Jennifer helped craft PMI's statement of purpose and its transformation and sustainability strategies, and she is now driving the integration of the company's financial and non-financial performance.
As CSO, Jennifer leads the firm's process for establishing concrete sustainability definitions, documentation and controls with the aim of standardising how PMI measures ESG performance.
Additionally, she has driven PMI to increase the pace of its ESG initiatives, including bringing forward carbon-neutrality targets and activating new innovation within the company.
Aline Gómez-Acebo Finat, Chief Sustainability Officer at ASISA
Aline Gómez-Acebo Finat leads the sustainability strategy and chairs the ESG Board at ASISA, Spain's largest healthcare group.
She also runs a digital health startup that uses AI to improve the efficiency of healthcare suppliers in large hospital networks of private and public health in eight countries, which care for more than six million patients per month.
Aline is also on the board of one of Spain's largest educational institutions, the Universidad Autónoma de Madrid, works part-time as a professor at IE University and has been named as one of Spain's top 100 female leaders.
Carmel Giblin, CEO & President at Ethical Toy Program
Carmel Giblin is the President & CEO of the ICTI Ethical Toy Program and has been with the organisation since February 2015. She is responsible for the overall success of the ICTI CARE Process globally.
Carmel believes passionately that businesses have a duty to behave responsibly, at all times protecting the rights of their workers, the communities in which they operate and the environment in which they live and work. She is proud to be part of the world's leading initiative committed to improving the lives of workers involved in toy and juvenile products production.
Under Carmel's leadership, the Ethical Toy Program has developed a range of products and services that go beyond audit to meet the needs of stakeholders, including an environmental assessment, worker helpline and worker wellbeing programmes.
Previously, she was CEO of Sedex for five years and helped the firm to become a world-leading technology and services company in the responsible sourcing sector.
To view the full schedule and obtain your free ticket to SUSTAINABILITY LIVE London, visit sustainability-live.com
******
For more business insights, check out the latest edition of Business Chief Middle East & Africa and be sure to follow us on LinkedIn and Twitter.
You may also be interested in the Business Chief EMEA website.
BizClik is a global provider of B2B digital media platforms that cover executive communities for CEOs, CFOs and CMOs, as well as leaders in Sustainability, Procurement & Supply Chain, Technology & AI, Cyber, FinTech & InsurTech. We also cover industries including Manufacturing, Mining, Energy, EV, Construction, Healthcare and Food & Drink.
BizClik, based in London, Dubai and New York, offers services such as content creation, advertising and sponsorship solutions, webinars and events.