CEOs expect fall in global economic growth, says PwC survey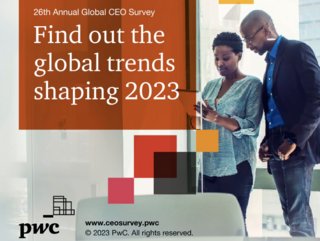 PwC's 26th Annual Global CEO Survey says business leaders fear fall in economic growth and expect need to transform or die in the next decade
There is a gloomy outlook for the global economy based on the opinions of more than 4,000 CEOs pooled by Big Four consultancy PwC.
PwC's 26th Annual Global CEO Survey makes for stark reading, with 73% of business leaders saying global economic growth will decline in the next year.
Putting this into context, PwC has asked this question for the last 12 years and this is the most pessimistic response yet. Even in 2021 and 2022, CEOs had the polar opposite view, with 76% and 77% respectively saying growth would be positive.
On top of that, 4 in 10 CEOs said their companies would not be economically viable a decade from now unless they undergo a transformation.
"A volatile economy, decades-high inflation, and geopolitical conflict have contributed to a level of CEO pessimism not seen in over a decade," commented Bob Moritz, Global Chairman, PwC.
"CEOs globally are consequently re-evaluating their operating models and cutting costs, yet despite these pressures, they are continuing to put their people front and centre as they look to retain talent in the wake of the 'Great Resignation.' The world continues to change at a relentless pace, and the risks facing organisations, people – and the planet – will only continue to rise.
"If organisations are not only to thrive – but survive the next few years – they must carefully balance the dual imperative of mitigating short-term risks and operational demands with long-term outcomes, as businesses that don't transform, won't be viable."
PwC is not alone in painting this dark picture. Earlier this month EY released its own CEO Outlook Survey, with 59% of respondents saying the expected downturn will be 'different' this time around, fuelled by geopolitical tensions (Ukraine, Taiwan), supply chain disruption, talent shortages and ongoing fallout from COVID-19.
CEOs counting the potential cost of climate change
Other key findings from the survey – of 4,410 CEOs from 105 countries conducted in October and November 2022 – include:
Inflation (40%), macroeconomic volatility (31%) and geopolitical conflict (25%) rank as the top global threats
CEOs are cutting costs but 60% do not plan to reduce headcount and 80% don't plan to reduce pay in fight to retain talent
Leaders in France, Germany and the UK are less optimistic about domestic growth than global growth, compared to those in the US, Brazil, India and China
Changing customer demands, regulation, labour/skills shortages and tech disruption are seen as biggest long-term challenges
58% of CEOs are developing a strategy for reducing emissions and mitigating climate risks
With climate change and its associated risks grabbing headlines from Davos to Abu Dhabi in recent weeks, it's no surprise to hear half of global CEOs see climate risk impacting their cost profiles, while 42% say it will impact supply chains. And if you are a CEO in China, 71% of you expect that to hit your supply chains.
Reassuringly, 65% of CEOs have implemented – or are in the process of implementing – initiatives to reduce emissions, and 61% are bringing in climate-friendly products and processes.
CEOs plan to invest in technology, AI and cloud
There is a silver lining to this cloud, coming from the cloud. More than three quarters of CEOs surveyed say they are investing in automation of processes and systems, while 69% will be using technology including cloud and AI to bolster current and future performance.
Highlighting the fact that many organisations are looking to consolidate in 2023, more CEOs (53%) are focussed on short-term performance rather than the long-term strategy and future demands (47%).
"The risks facing organisations and society today cannot be addressed alone and in isolation," adds Moritz. "CEOs must therefore continue to collaborate with a wide range of public and private sector stakeholders to effectively mitigate those risks, build trust and generate long term value – for their businesses, society and the planet."
You can read the full survey findings here.