30 European companies pledging aid for Ukraine refugees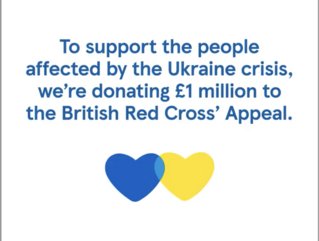 From fashion labels and pharma firms to banks and retailers, we highlight 30 European-headquartered companies donating to relief efforts in Ukraine
More than one million Ukrainian refugees are now estimated to have crossed the embattled nation's borders, according to UNHCR data, with nearby neighbours Estonia, Hungary, Latvia, Lithuania, Moldova, Poland, Romania, Slovakia and Germany all accepting refugees.
While many companies are supporting the sanctions and have announced plans to cut ties with Russia, many more are supporting humanitarian relief efforts pledging donations of products or finance to organisations that are supporting displaced people in the region including International Red Cross, UNICEF and UNHCR.
From luxury fashion conglomerates and consulting firms to grocery stores pharma giants and banks, we spotlight 30 companies and brands supporting the humanitarian efforts in and around Ukraine.
1. Accenture
In addition to axing its entire 2,300-person business in Russia, global professional services firm Accenture has announced it will donate US$5m to non-profit relief organisations working to help people in Ukraine and is also matching 100% of the donations from its global employees.
2. Adidas
As well as suspending its partnership with the Russian Football Union, Adidas announced on LinkedIn a total donation of €1m to refugee and children's charities including Save the Children, SOS Children's Villages, Terre des Hommes, and UNO-Fluchtingshilfe (the German partner of UNHCR), to help provide basic goods, medical and hygienic supplies, warm food, cash and support to evacuated families. The German-headquartered sportswear brand further donated clothing to Global Aid Network to distribute to people in need within Ukraine and neighbouring countries and announced its employees had already donated a total of €45,000 to aid efforts, while many others have offered their own accommodation.
3. Ingka Group / IKEA
Ingka Group, which operates IKEA stores globally, has not only announced it is closing stores in Russia and pausing all imports and exports, it has unveiled the donation of €10m to a number of charities, including Save the Children, to specifically support the children and families of Ukraine. The IKEA Foundation has further made a donation of €20.1m to the UN Refugee Agency (UNHCR), which has been IKEA Foundation's long-standing partner.
4. Revolut
British neo bank Revolut has waived fees for remittances to Ukraine, allowing its global customers to send money at no cost to banks in the country. The fintech has also enabled its customers worldwide to make free instant donations to their local Red Cross Ukraine appeal, with a total of more than €1m donated within just 24 hours.
5. LVMH
French luxury conglomerate LVMH Group, owners of Louis Vuitton, Tiffany, Dior, Moet, shared a statement of support for victims of the war and announced that it would make a "first emergency donation" of €5m to the International Committee of the Red Cross (ICRC) to help the direct and indirect victims of the conflict in Ukraine. The group is also launching a fundraising campaign in support of the ICRC to facilitate the contributions of employees across the group and its 76 brands.
6. Kering
Similarly known for its high-fashion luxury labels, including Hermes, Saint Laurent, Cartier, Bottega Veneta and Gucci, French multi-brand fashion giant Kering made a statement on social media announcing it would be making a "significant donation" to the United Nations Refugees Agency (UNHCR) to help bring aid and support to Ukrainian refugees. CEO Francois-Henri Pinault also told WWD that the brands will also be making their own individual donations.
7. L'Oreal
Beauty giant L'Oreal has announced a donation of US$110m through its L'Oreal Fund for Women and 300,000 products to support the growing number of refugees.
8. Allianz
The global financial services provider, whose headquarters is in Germany, announced it would make available €10m to support humanitarian efforts in light of the invasion along with up to €2.5m to match employee donations.
9. Deutsche Bank
The German bank is making a €1m donation to support relief efforts in Ukraine and enabling employees around the world to join a fundraising drive.
10. Gucci
In an Instagram post, Italian fashion brand Gucci announced it has donated US$500,000 to the UNHCR through Chime for Change.
11. Marks & Spencer
As well as suspending shipments to its Turkish franchisee's Russian business, British retailer Marks & Spencer has created a €3m support package for UNICEF's Ukraine appeal including an initial half a million donation to UNHCR. A further half a million is available for matched fundraising enabled through the retailer's Sparks loyalty programme, so each time a member shops at M&S, the retailer doubles the donation. A further half a million worth of coats and thermals are being donated to refugee families.
12. Novartis
As the largest supplier of medicines in the affected region by volume, global healthcare company Novartis working hard to ensure a steady supply of its medicines to those in Ukraine who need them most. The Swiss-headquartered pharma giant has also committed an initial donation of €2.74m and is "currently working to identify the best partners to achieve this", according to a company statement posted on LinkedIn.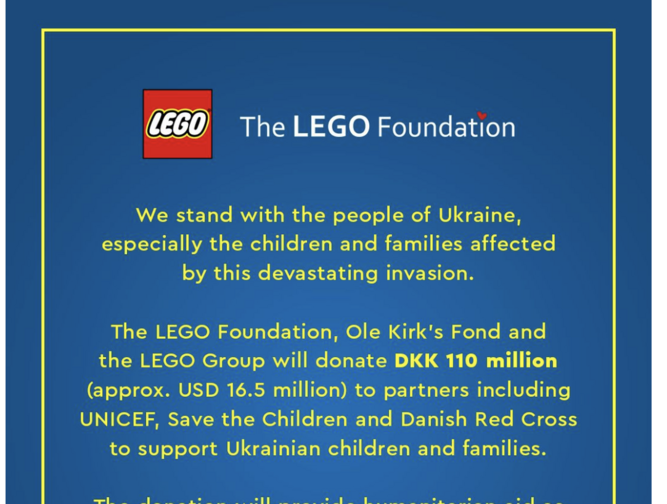 13. LEGO
The charitable arm of the Danish toy giant, LEGO Foundation, has announced an emergency donation of more than €14.6m to support Ukrainian children and families. The donation will be distributed to partners, including UNICEF, Save the Children and the Danish Red Cross to "address the immediate basic needs and mental support for the millions of civilians affected by the crisis", announced a press release.
14. Schwarz Group
The German retail group, Schwarz Group, which owns the Lidl and Kaufland brands, initially donated €3m in both monetary and product donations and has further announced plans to increase its donation to €10m. In a statement, the Group said: "With non-perishable foods, home textiles, hygiene products, and other urgently needed products, it aims to help supply provisions to the refugees in the border regions of Ukraine as quickly as possible."
15. Sainsbury's
British supermarket chain Sainsbury's announced on Twitter it would donate a package of €27.8m to the people of Ukraine though its partner Comic Relief with the first €1.8m offering urgent support to those crossing the border or still within the Ukraine. The grocer also stated that any nectar points donated to Comic Relief through the nectar app will be converted to cash for donation and the grocer would match those donations up to the value of €604,000.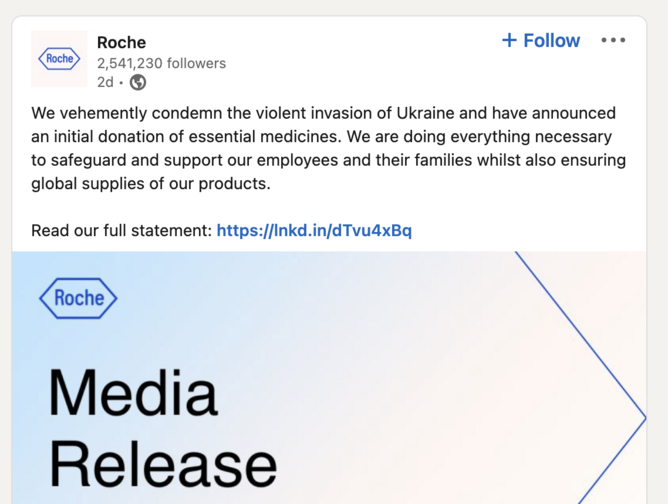 16. Roche
Swiss pharma giant Roche announced that it would ship 150,000 packages of the antibiotics Rocephin to Ukraine, a drug used to treat symptoms of many kinds of bacterial infections, among other medical supplies, including diagnostics.
17. Jollyes – The Pet People
Irish pet food retailer Jollyes The Pet People has partnered with Northern Irish pet food manufacturer Mackle to donate 5,000 tins of wet food, along with tonnes of dry food to Ukrainian refugees. The pet food is being shipped to Poland and will be donated to those fleering Ukraine with their pets.
18. Aldi
German-headquartered supermarket chain Aldi tweeted that it is donating an undisclosed sum to the Red Cross Ukraine Crisis Appeal.
19. Sanofi
"Shocked by the war in Ukraine and deeply saddened by the magnitude of the challenges facing the Ukrainian people", Sanofi said on Twitter, the French drugmaker is donating €5m to the Red Cross for Ukraine and neighbouring countries, as well as the UN's refugee agency. The company y is also hastening donations of essential medicines and vaccines to patients in Ukraine and Ukrainian refugees in nearby countries.
20. H&M
As well as pausing all sales of clothes in Russia, fashion retailer H&M has announced donations of clothes and other necessities along with monetary donations to Save the Children and UNHCR via its H&M Foundation.
21. Primark
Primark has donated €300,000 to its global partner UNICEF with the UK-headquartered fast fashion retailer saying in a statement that the donation would help "scale up life-saving support for children and their families with safe water, hygiene supplies, healthcare and psycho-social support".
22. Kurt Geiger
London-based footwear and accessories brand Kurt Geiger has donated €50,000, its previous week's store profits, to the British Red Cross Emergency Appeal "which is currently working with the Ukranian Red Cross Society and the International Committee of the Red Cross preparing to help those affected by the crisis" Kurt Geiger chief executive Neil Clifford said in a statement.
23. John Lewis Partnership
John Lewis Partnership has donated €120,000 to the British Red Cross Ukraine Crisis Appeal and will match donations from customers and employees, up to an additional 150,000 pounds to support the people of Ukraine. The donation will help provide food, water, medicine, warm clothing and shelter to refugees. A statement from chairman Sharon White on the brand's website said: "I am deeply distressed by the humanitarian crisis unfolding in Ukraine – innocent people losing their lives, their loves ones, their homes, and families being separated."
24. Burberry
Luxury British brand Burberry is donating to the British Red Cross to help provide urgent aid, food, warm clothes, and shelter and announced it would also be matching any employee donations to charities supporting humanitarian efforts in Ukraine.
25. Currys
Announcing a determination to "help the victims of this act of aggression", Alex Baldock, chief executive of Currys announced the electronics retailer had donated €120,000 to the Red Cross, and that its virtual mobile network, iD Mobile, would also provide free text and calls to Ukraine-based numbers for UK customers, as well as free calls, texts and unlimited data for customers in Ukraine.
26. AstraZeneca
Pharma giant AstraZeneca has donated €900,000 across Project HOPE and International Medical Corps, and it is matching employee donations to UNICEF and British Red Cross appeals.
27. Kingfisher
British-headquartered home improvement retailer Kingfisher has made cash donations to both the British Red Cross Ukraine Crisis Appeal and UNHCR, while its on-the-ground staff at its stores in Poland and Romania are offering support.
28. Tesco
British retail chain Tesco Plc has made a donation of £1m to the British Red Cross Appeal and is also donating food and clothing to Ukraine from its locations in Budapest, Bratislava and Prague. According to chief executive Matt Simister, Tesco Central Europe, "steered by the Red Cross, our initial donations have been food, water, hygiene products and clothing but our humanitarian aid will evolve with the needs of those impacted/displaced."
29. Pets at Home
Pets at Home has pledged €242,000 to support several charities working in Ukraine to help pet care professionals and pet owners, as well as animals impacted by the ongoing war.
30. Iceland
Via its foundation, frozen goods retailer Iceland is donating £150,000 to the British Red Cross Ukraine Crisis Appeal. According to Mike Adamson, chief executive, "donations will help us reach displaced people in Ukraine and those fleeing to neighbouring countries with food, water, medicine, medical equipment and other essentials."