The £10700 question: 20 iPhone 6s or 1 Vertu for Bentley?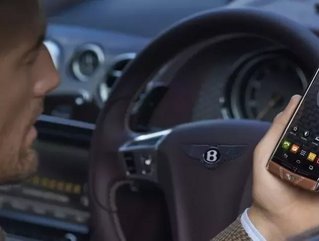 Luxury carmaker Bentley has stepped into the smartphone arena with British technology company Vertu by releasing a new phone costing an enormous £10,700 (€13,660).
While Apple continues to dominate the higher end smartphone market, the new 'Vertu for Bentley' redefines the boundary of luxury – by a factor of 20.
One looking to spend nearly £11,000 on top-end mobile can ask themselves whether they would rather buy 20 iPhone 6s or one Bentley smartphone, which is handmade by one employee in Vertu's headquarters in Hampshire, southern England.
"Contemporary embodiment of English craftsmanship"
According to Vertu boss Massimiliano Pogliani, the new phone is the "contemporary embodiment of English craftsmanship", with the two companies signing a five-year deal to produce the phone. 
Luxurious elements include a diamond pattern and user signature etched into the back cover, made of quilted calf leather. The case is made out of lightweight titanium with diamond knurling like that found on the dashboards in some Bentley models, and the car manufacturer's emblem is also sewn on.  
Perhaps the biggest statement of luxury associated with the Vertu for Bentley is the in-built 24-hour concierge service, ran by Vertu staff on the phone and by text, who the company claim will be able help with tickets to sell out shows and popular restaurants.
Moving onto the phone itself, and the £10,700 price tag starts to unravel. It runs on an Android operating systems with a 2.3GHz processor and 64GB memory, something which you can find in a Samsung Galaxy S5.
The 4.7 inch screen is also unremarkable while the 13 mega-pixel rear and 2.1 mega-pixel front cameras are nothing which cannot be found in mainstream smartphones.
Full specifications include:
Size: 145mm, 69mm, 10.65mm
Weight: 192g
Operating system: AndroidTM 4.4 (KitKat)
Processor: Qualcomm SnapdragonTM 801 2.3GHz quad-core
Screen: 4.7in, 1080p, 473dpi, protected by sapphire crystal
Cameras: 13 mega-pixel (rear), 2.1 mega-pixel (front)
Memory: 64GB internal
Battery: 2,275mAh Li-ion (up to 15hrs 30mins talk time)
Accessories: leather case, headphones, polishing cloth
While a neat accompaniment for those owning a Bentley car and in need of a concierge service, the Vertu for Bentley clearly is not worth 20 iPhone 6s when looking inside at what it actually is. It certainly has novelty factor, but how many will be willing to stretch to the newly-defined bounds of luxury smartphone?