Securing the digital future of Qatar, with Microsoft and EY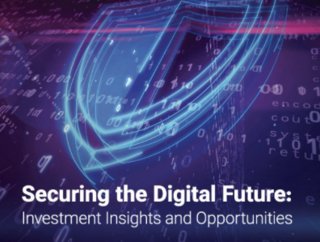 The cyber security report highlight's Qatar's potential.
Microsoft, EY-Parthenon, and the Investment Promotion Agency Qatar publish cybersecurity report that highlights country's strong digital infrastructure
Cybersecurity is one of the biggest threats to business in 2023, as rapid deployment of digital transformations have exposed weaknesses in organisations that cyber criminals are all too keen to exploit.
Following on from The Future of Cloud Security in the Middle East report produced by Business Chief and sister Publications Cyber magazine and Technology magazine earlier this year, the Investment Promotion Agency Qatar (IPA Qatar) has launched its own report.
Securing the Digital Future – Investment Insights and Opportunities has been produced alongside tech giant Microsoft and consultancy EY-Parthenon and aims to provide analysis of the cyber landscape in Qatar and the investment opportunities in the country.
"Qatar's progress in cybersecurity readiness is crucial for the country's economic growth and the broader region," said Sheikh Ali Alwaleed Al-Thani, CEO, IPA Qatar.
"We are proud to build on our partnership with Microsoft and EY-Parthenon to produce this joint publication, which highlights the importance of cybersecurity investment and the promising investment opportunities available in Qatar's digital economy."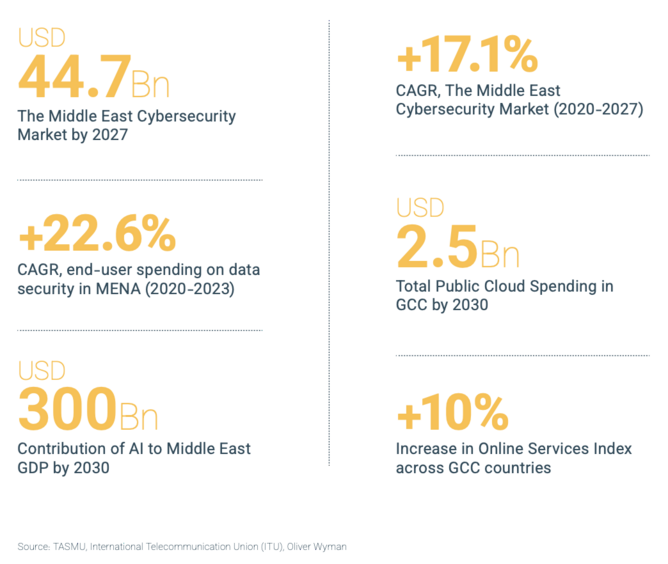 The Middle East's digital economy is booming
Cyber security is key to attract investment

The report provides insights into Qatar's rapidly developing digital ecosystem – accelerated in part by hosting the FIFA World Cup 2022 and the megaprojects associated with that event. Qatar has also invested heavily in its digital infrastructure, laying the foundations for further opportunities.
"Qatar's robust digital infrastructure and thriving economy have created an attractive investment environment for businesses," said Lana Khalaf, General Manager, Microsoft Qatar.
"Cybersecurity is a priority with the accelerated digital transformation to protect mission-critical workloads and ensure business continuity and resilience."
In August 2022, Microsoft launched a data centre region in Qatar, making it the first hyperscale cloud provider to deliver enterprise-grade services in the country. This 'digital backbone' is essential for countries like Qatar to build a secure cyber environment, meet regulations, and protect data sovereignty.
Over the next four years, Microsoft and its ecosystem of partners and cloud-using customers are expected to drive investment in the economy, create new jobs, and reduce carbon emissions.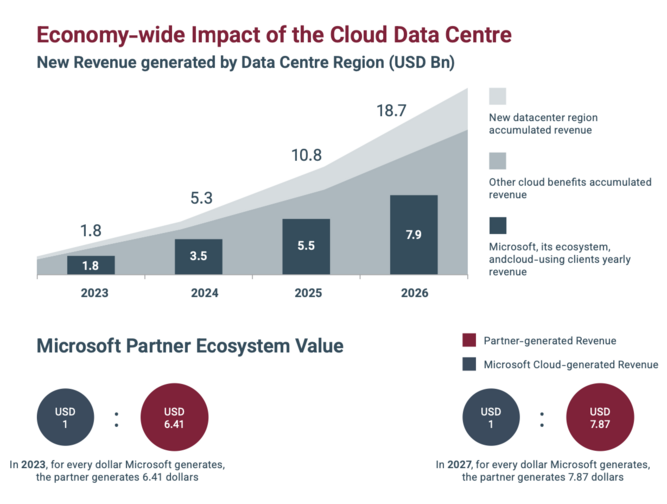 Microsoft's expectations for Qatar's Data Centre Region
Qatar claims to have the fastest growth in cyber security spending in the Middle East, with a budget of US$1.64bn and is hoping to attract more global organisations and talent by providing a secure digital landscape.
"Rapid digital growth creates risk requiring a strong focus on enhanced digital security measures. As such, Qatar has made robust efforts to develop and implement a comprehensive cybersecurity policy landscape," said Samay Mishra, Partner, EY-Parthenon.
IPA Qatar oversees investment activities under the Invest Qatar brand and aims to attract Foreign Direct Investment (FDI). IPA Qatar's goal is to showcase Qatar as an investment destination.