Intel: Putting the silicon in Silicon Valley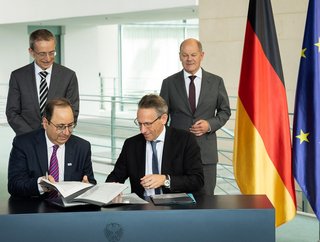 Officials representing German and Intel Corporation signed a revised letter of intent
Creating radical innovations and revolutionising the way we all live, Intel has been at the forefront of computing technology for more than 50 years
Founded by two Silicon Valley Legends - Robert Noyce and Gordon Moore - in 1968, Intel was built on the two's ambition to continue to innovate in the semiconductor industry, rather than simply manufacturing parts.
"I do not expect to join any company which is simply a manufacturer of semiconductors. I would rather try to find some small company which is trying to develop some product or technology which no one has yet done. To stay independent (and small) I might form a new company, after a vacation," explained Noyce in his letter of resignation to Fairchild Semiconductors.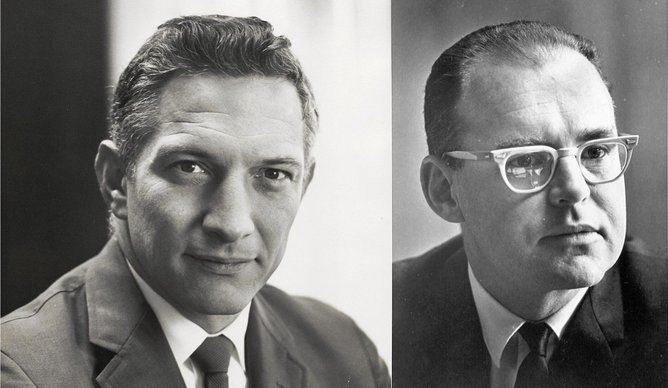 Robert Noyce and Gordon Moore
Despite having a clear vision, the two struggle to find a name. The two toyed with N.M. Electronics on initial paperwork, until they eventually settled on 'Intel' a portmanteau of 'integrated electronics'.
For most of its first year of operations, Intel focused solely on research and development (R&D), seeking to develop technologies that no one else offered. By the end of its third year, Intel had already contributed several of the most important inventions of the twentieth century.
Combating recessions; market share battles; slow economy; boom-and-bust cycles; shortages; and labour struggles, Intel has continued to rise against the bull and bear markets of the past 55 years, maintaining its high R&D budget to create world-changing technology that improves the life of every person on the planet.
Intel continues to grow, expanding its facility footprint in Germany
From humble beginnings in California, Intel quickly expanded its operations and reoriented its focus within the semiconductor industry several times over. Today, Intel employs more than 130,000 people in 46 countries around the world.
Further expanding its facility footprint, Intel has signed a revised letter of intent with the German federal government to expand its investment in the capital of Saxony-Anhalt state - Magdeburg.
"Building the 'Silicon Junction' in Magdeburg is a critical part of our strategy for Intel's growth. Combined with last week's announcement of our investment in Wrocław, Poland, and the Ireland sites we already operate at scale, this creates a capacity corridor from wafers to complete packaged products that is unrivaled and a major step toward a balanced and resilient supply chain for Europe," said Pat Gelsinger, CEO, Intel.
Gelsinger added: "We're grateful to the German federal government, Chancellor Olaf Scholz, and the government of Saxony-Anhalt for their partnership and shared commitment to fulfilling the vision of a vibrant, sustainable, leading-edge semiconductor industry in Germany and the EU."
Expecting to invest more than US$32.9bn for two 'first-of-their-kind' semiconductor facilities (fabs) in Europe, the agreement will also include increased government support that includes incentives. This revised agreement reflects the expanding scope and change in economic conditions since its first announcement.
Acquiring the land back in November 2022, the first facility is expected to begin production in four to five years following the European Commission's approval of the incentive package. Taking into consideration the timeline and scale of the investment, Intel plans to also deploy more advanced Angstrom-era technology into the facilities than what was originally planned. The site will serve Intel products and Intel Foundry Services customers.
"Intel is committed to developing the Silicon Junction in line with its 2030 sustainability goals [...] In addition, Intel has set goals to power its global manufacturing operations with 100% renewable energy and to achieve zero total waste to landfills," commented Intel.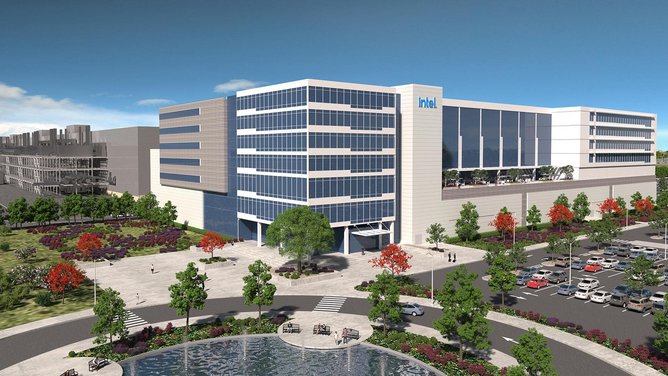 Early plans for two new Intel processor factories in Magdeburg, Germany
What does this mean for Germany?
Serving as a connection point for other centres of innovation and manufacturing across the country and region, Intel's investment will drive significant economic benefits across the country and the European Union (EU).
The new wafer fabrication site will create a leading-edge end-to-end semiconductor manufacturing value chain in Europe and promote the development of a broad ecosystem of suppliers and companies across the technology industry.
Helping to fulfill the EU's ambitions for a more resilient semiconductor supply chain, the site is expected to create 7,000 construction jobs during the first phase of the build, 3,000 permanent high-tech jobs at Intel, and tens of thousands of additional jobs across the industry ecosystem.
"Today's agreement is an important step for Germany as a high-tech production location – and for our resilience. Intel's semiconductor production in Magdeburg is the single largest foreign direct investment in German history. With this investment, we are catching up technologically with the world's best and expanding our own capacities for the ecosystem development and production of microchips. This is good news for Magdeburg, for Germany, and for all of Europe," said Chancellor Olaf Scholz of Germany.
Vice Chancellor and Federal Minister for Economic Affairs and Climate Action Robert Habeck added: "Today's agreement is a milestone for Germany as a location for innovation and investment, for jobs, resilience, and competitiveness. Intel's investment will raise semiconductor production in Germany to a new level and is an important contribution to growing European sovereignty."