Six best consulting firm workplaces for women in the UK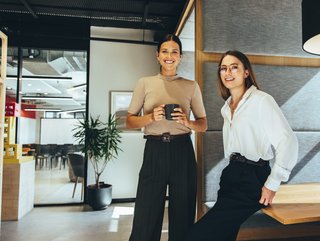 Deloitte, Capgemini, Accenture and Baringa are among the management and IT consultancies ensuring the success and wellbeing of female employees
From Deloitte to Capgemini to Baringa, these management and IT consulting firms are setting new standards for gender equality and inclusion in the UK
When it comes to setting new standards for gender equality and inclusion, these six management and IT consulting companies have made their mark in the UK.
Committed to creating a workplace where women can thrive, not only do they have a strong track record of promoting women to leadership positions, but they are offering competitive salaries, generous benefits, and a supportive work environment.
From robust talent development programmes to fair pay and benefits, not to mention introduction of health policies focused on the menopause – these six workplaces ensure the success and wellbeing of their female employees.

These companies have been consistently recognised in global workplace awards for their commitment to diversity and inclusion including gender equity earned a spot on the UK's Best Workplaces for Women List, multiple times, and ranked in the The Times Top 50 Employers for Gender Equality.

Consistently a top 50 employer in The Times UK list, and in the UK's Best Workplaces for Women (ranked 17th this year), Accenture has a goal to achieve a gender-balanced workforce by 2025.
The goal for Accenture is to employ equal numbers of women and men for those whose gender is binary and that 30% of managing directors will be women by 2025. In 2022, 32% of its leadership level hires and 35% of its internal leadership promotions in the UK were women.
One in five (20%) senior managing directors are women, while the UKI executive team is 46% women, including Julie Sweet as CEO.
Not just that, but as of December 2022, Accenture had pound for pound, 100% pay equity for women compared to men in the UK.
As well as publishing its pay gap transparency report in the UK, Accenture uses various processes, including geographic scorecards, global surveys, and performance appraisals, to ensure that company leadership remains accountable.
Employees get access to career counsellors, mentoring programmes for women, and affinity networks, including Accent on Gender, which connects women and men globally to inspire, drive and work together towards gender equality. Mental health allies, a trained group of ambassadors, are also available in seeking help.
Accenture recently secured menopause-friendly employer accreditation due to its range of initiatives that support hormonal health. Among its health and wellbeing benefits, a digital healthcare app Peppy that helps support individuals with fertility, early parenthood and the menopause, access to menopause experts with support via chat, programmes, events, and virtual consultations, ergonomic chairs or desk fans for home workers, and an increase in the number of wellness rooms in offices so everyone has access to a safe space.
The firm has also established a MenoWarriors ally community that has more than 300 members to create a supportive and safe environment for women and men struggling with menopause-related challenges, regular support sessions and community events with specialist speakers.
As Accenture MD Jill Ross, who leads the UK menopause community says: "Menopause can no longer be a taboo subject. By having better information and open conversations, organisations can go some way to dispelling myths about menopause and empower their people."
2
Global CEO: Nourdine Bihmane
CEO UK&I: Clay Van Doren

Founded in 2000, Paris-headquartered Atos is a global IT consulting firm with presence in 71 countries, 110,000 employees and €11 billion revenue. In Europe, the firm has 44,500 employees across 31 countries has earned Great Place to Work certifications for 13 countries and 12 entities across Europe including the UK.
Atos UK has also been named for the fifth consecutive year in The Times top 50 for gender equality in 2023 and secured Company of the Year 2020 at the Tech Women 100 Awards – recognised for supporting women in building careers at all levels, as well as an award for its menopause campaign.
As well as being a member of the 30% club, Atos UK and Ireland is a menopause friendly employer, having achieved the Henpicked Menopause Firnedly Accreditation. This is largely due to its menopause policy which recognises and supports employees with such challenges.
Since launching its UK&I Diversity & Inclusion strategy in June 2020, Atos has an ongoing programme to improving gender diversity and has set targets for increased representation of women at all levels as well as supportive measures around internal promotions and career planning.
Among these, The Women Who Succeed programme aims to identify a female successor for key roles in the company, with managers incentivised to nominate people to be part of the programme. Those women then take part in a year-long blend of leadership learning, peer mentoring and network-building.
The group offers Atos employees a flexible working environrment and regularly reviews employment policies to ensure they are parent and carer friendly.
According to its latest diversity pay gap report, the Atos UK's aggregated pay and bonus gaps have improved and its mean and median pay gap and mean bonus gap for Atos IT Services have also reduced.
3

Bain & Company
Global CEO: Manny Maceda
UK Managing Partner: James Hadley

A US-headquartered but global management consulting firm with over 6,000 employees in 50+ offices worldwide, Bain has around 300 employees in the UK at its office in London.
Recently recognised for the third consecutive year in The Times' UK's top 50 employers for gender equality and named the UK's number one employer in Glassdoor's ranking, global consultancy firm Bain offers market-leading parental leave policies and is dedicated to achieving gender equality at all levels globally, and in the UK.
Along with its diverse culture of people from more than 45 countries speaking 36 languages, Bain UK has seen its representation of women in leadership has grown over the last three years in all regions, and is now 20% in the UK, while overall female representation in the UK is 38%.
The strategy consulting giant was one of the first UK companies to offer equal paid parental leave to all employees who became parents, regardless of role and gender, providing staff members with up to 52 weeks of leave, with the first 29 weeks fully paid. They also offer ongoing emergency family care cover for all and a Parents@Bain support network.
Committed to recruiting at parity and to retaining and promoting women at the same level as men, Bain has been running its True North Scholarship fort Women since 2018 – supporting exceptional female students and encouraging them to enter management consulting.
They offer sponsorship programmes for underrepresented diverse groups, including the senior consulting female population, with 90% of its female leaders in London actively engaged with a sponsor.
Women at Bain (WAB) is an affinity group for those who identify as women or gender non-conforming, providing members with tailored support and a space to form meaningful relationships. As well as sharing experiences and building skills, WAB hosts activities and celebrations along with dialogues on a wide variety of topics.
Bain is also pioneering in the consulting sector with an industry-first initiative, Stratos, which brings together C-suite executives from financial services to expand their networks, share their expertise and experience and champion the next generation of female financial services leader. This includes the CEO Club and Academy.
Women who work for the company have mentors they can turn to and senior women can participate in a formal sponsorship program that's tailored to their needs.
4

CEO: Andrew Bettridge
Founded in 2000 in London, management consulting firm Baringa is now a global partnership working with clients in every sector from hubs across Asia and the Pacific, Europe, and North America.
One of very few large management or IT consultancies with B Corp certification, positioning itself as a force for good, Baringa is consistently voted as a great place to work and especially for women, thanks largely to its award-winning people-first philosophy and focus on diversity and inclusion.
For example, the company's People Fund allows people to support and actively manage their own wellbeing through an activity of their choice, while learning and development here is led by the individual with each employee offered 10 training points per year, equating to a total of £5,000.
Baringa claims to hire only people who are kind, curious and great at what they do, but to give everyone a voice, no matter who they are or where they sit in the corporate hierarchy.
Central to this focus on DEI, which is embedded throughout the organisation, Baringa has established various networks to provide safe spaces for colleagues to discuss and share experiences and for the wider business to seek advice on allyship in these areas.
Among these, the Black at Baringa Network, and Gender Diversity Network. Colleagues are encouraged to write blogs sharing their experiences right across Baringa, and in this includes on gender.
When it comes to women specifically, Baringa leads the UK consultancies as the best place to work, according to Great Place to Work, and claims second-best spot overall. In 2020, Baringa beat the likes of Google, the BBC, Coca-Cola, and Imperial College London to secure the Women of the Future Award in 2020 led by author, entrepreneur, and women's advocate Pinky Lilani CBE.
Baringa have been recognised especially for using data to measure actual performance against their objectives, which helps them to identify hotspots for action.
Baringa has grown its representation of women in the UK to 43%, up 7% from 2021, and at senior leadership levels, now have almost one-quarter female leaders (24%).
The consultancy has also significantly reduced gender pay gaps, with its median pay gap now at 21.0% – having reduced by 13.2% since 2021.
"At Baringa, we don't only pay attention to maintaining a gender balance in our hiring process, we have also established female leadership programmes and ensure there is female leadershjp representation in our performance management reviews at mid-year and end of year," says Katy Mirzaie, Baringa's D&I leader.
5
Capgemini
Global CEO: Aiman Ezzat
UK Managing Director: Paul Margretts
Capgemini is a global leader in partner with organisations to transform and manage their business by harnessing technology and for more than 50 years, has been delivering solutions.
The consultancy, founded in 1967 in France, is working towards its aim of achieving 40% female representation globally by 2025, with 30% of women in executive leadership positions in 2025. Globally, 30% of its vice president-level promotions and new hires are women right now.
Consistently recognised as one of the UK's most inclusive employers, certified by Great Places to Work, and ranked in The Times Top 50 Employers for women for the last six years, Capgemini UK welcomed nearly 1,300 additional women in 2022, representing 35.5% of its total new hires and increasing female representation by 2.5%. The firm has also seen a decrease in its gender pay gap (GPG) for 2022, both for hourly rate pay (mean and median) and bonus pay (mean and median) compared to 2021.

Through its Active Inclusion programme, via inclusion surveys and unconscious bias training to internal Employee Networks and engagement initiatives, Capgemini continually works to understand the needs, and hear the voices, of all its people.

Female-friendly benefits at Capgemini are generous, including a hybrid work model, maternity benefits, and family-friendly policies on fertility assistance and supporting team members through pregnancy and loss.

Women's health and support is particular focus for the firm, and employees in the UK can use the Peppy app, giving them access to personalised medial support for women at different life stages, including a webinar series, group chat, and video calls with medical practitioners.
Capgemini UK offers a six-month Return@Capgemini Programme to support talented professionals to transition from an extended career break back into the workplace – providing meaningful experience, coaching and mentoring support. The fir is also supporting 160 women with external training to develop their board leadership skills.

Along with the Women@CapgeminiUK network, which empowers local communities to support each other and celebrate both individual and collective successes, Capgemini continues to support different groups that connect and support on everything from baby loss and neurodiversity to menopause.

Among its many initiatives, the Women in Rugby Leadership programme identifies and develops current and next-generation female leaders in the sport of rugby, with the aim to icnrase the numer of women in key positions within unions and regional associations.

6
Deloitte
Global CEO: Joe Ucuzoglu
UK CEO: Richard Houston
As well as being recognised by Great Place to Work, Deloitte UK recently feature in The Times Top 50 Employers for Gender Equality list for the eighth year running.
The oldest and arguably most well-known consultancy on the list, founded in 1845, Deloitte launched its gender action plan in 2014.
Deloitte has significantly increased its diversity at all levels of the firm, in particular, the volume of women and ethnic minority joiners at graduate and entry level.
As of September 2022, women make up 45% of Deloitte UK's overall workforce, up 1% on the year before, and while the consultancy.
This year's Deloitte UK partner promotions saw 40 (39.6%) women being promoted to partner increasing the total number of Deloitte's women partners to 386 – 29%.
This increase is largely thanks to the firm's Future Leaders Programme, launched last year, which supports women and ethnic minority colleagues in their progression and development journey at the firm and ensures there are more people ready for senior roles.
The firm has also incrwased the number of women interviewers and increased female representation at student events to attract women, such as its Women in Tech work with schools and universities. There are Return to Work opportunitunies for those that hav been out of the workplace for more thn two years, 94% of which have been female.
More recently, Deloitte UK launched new policies to support gender equality and inclusion. This includes enhancements to its parental leave policies, from 16 weeks' full pay and 120 weeks half pay to 26 weeks full pay. Bereavement and baby loss leave has increased to two weeks paid leave, and from the start of this year, Deloitte has put in place its new menopause policy, providing employees with private medical support and a plan. It also introduced cover for assisted fertility treatment and gender dysphoria as part of the firm's private medical insurance.
Since the summer of 2021, Deloitte employees can choose where they need to be to do their best work and they can choose when they take public holidays.
The company has two new toolkits to support people in the firm to become better allies, and offers various diversity networks, to help employees find support. As well as employe experience surveys, Deloitte hosts Ask the CEO and Townhill sessions with its executive team for all colleagues, where 'no question is off the table'. This increases transparency and gives leadership insight into employee needs.