Colorintech's Ashleigh Ainsley on driving diversity in tech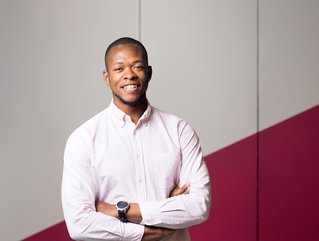 We talk to Ashleigh Ainsley, co-founder of non-profit Colorintech, about increasing the number of ethnic minorities entering the tech workforce in Europe
Working in the corporate sector, ex-Googler Ashleigh Ainsley was often the only person of colour in the room.
"Sometimes I felt visible, sometimes not," Ashleigh tells Business Chief. "I had many different experiences because of this – both positive and negative."
Leveraging the positives – the experience he gained from serving in senior tech roles, including managing multi-million-pound revenues streams at the age of 23 – Ashleigh set out to change the narrative.
"It was time to move on and create something that was not only in great need but that would do and shape things for a better working world," he says. "I wanted to help people feel more comfortable and confident in similar situations."
Recognising that Europe was woefully behind the US on diversity in tech, in 2016, London-based Ashleigh teamed up with Silicon Valley tech executive Dion McKenzie to launch Colorintech, a non-profit that aims to increase the number of ethnic minorities entering the UK tech workforce.
Focused on one mission – to make Europe the most inclusive tech hub in the world – Colorintech builds programs that create access to some of the world's most innovative companies for ethnic minorities.
"No one was doing work in this space at the time and we were able to harness much more than diversity and inclusion just being buzzwords on the corporate agenda. And while few organisations in the corporate world were doing anything or cared about the issues we work to address, we saw an opportunity to spur conversations and make an impact."
And in the seven years since its inception, the non-profit has certainly made an impact.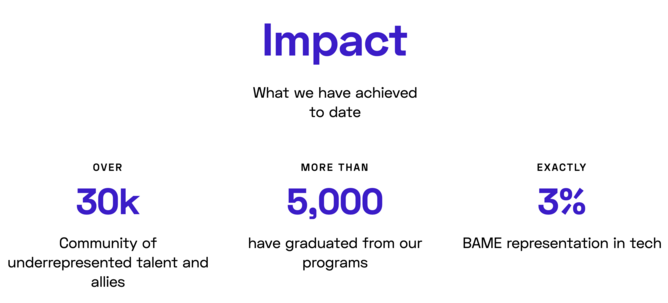 Creating impact
Backed by some of the biggest names in tech – Google, Microsoft, Facebook, Atomico, and eBay – Colorintech has successfully built a community of 30,000 underrepresented talent and allies, seen 5,000 individuals graduate from its programs, and launched Black Tech Fest, the largest event of its kind in Europe.
Such impact has also seen Ashleigh successfully named to the UK's top 100 BAME technology leaders list by the Financial Times and included in Forbes 30 under 30.
But it's not the accolades or recognition that drive Ashleigh.
"It's been amazing to hear that people have been employed as a result of something that we've done and for us, that's the dopamine hit right there," he says. "You don't go into making a profit in a non-profit. You go into it to make a difference and impact to people's lives."
Successes and challenges
For Ashleigh, one of the biggest successes of the last seven years was securing a quarter of a million dollars in 2008 from google.org – the biggest grant outside of North America and hugely significant for Colorintech.
"We were a young organisation at the time and the people from Google had seen us at a few events and had faith in what we were doing and trying to achieve, and importantly wanted to be a part of the story of organisations actively addressing racial equality."
Black Tech Fest has been another massive milestone for the non-profit. First launched virtually in 2020, the event – held annually during Black History Month – is now the biggest of its kind, and in 2022 drew in excess of 10,000 people – "an amazing turnout in the shadow of Covid-19 and some amazing speakers, including Steven Bartlett, Michelle Williams, and Anton Ferdinand."
That's not to say that there hasn't been challenges along the way. One of the biggest, Ashleigh admits, was surrounding the tragic death of George Floyd and how the world tackles racism.
"The issue was how to respond," says Ashleigh. "Myself, my community and loved ones were experiencing very real shared trauma, however people were looking for us to lead the way and provide solutions. It was mentally draining and overwhelming at that time because it was all consuming and this is often the stuff you don't hear founders speak about."
And while George Floyd's death made some employers look at ways to improve race relations in their own organisation, Ashleigh argues that "sustained and impactful actions" are still much needed and "long-term, systemic change" is yet to happen.
"Our biggest challenge is encouraging them to continue after the media hype of it all dies down."
Inspired by his journey, and to mark Black History Month, we caught up with Ashleigh to find out why DEI should be central to every tech business and how a tech company should go about making itself more diverse.
Is diversity and inclusion in tech moving fast enough – worldwide, but specifically in Europe?
The pace of change is not enough, and we need more action.
The narrative is further along in the USA, people are used to committing and doing things, whilst in Europe folks are still dipping their toes in. For some, they doubted if this was an issue. Now we hear that less, but the speed of action is still somewhat hesitant. This approach means things will still take time, but it will happen.
But it is broader than just business. Action to reduce racial inequity requires government, society, investors and shareholders to ask questions too – make changes, and challenge the status quo. Only when all stakeholders are working together can this make for lasting change.
Is there a lot of diversity washing going on?
Yes. Representation helps but change matters more. It should no longer be a box ticking exercise and businesses don't need more diverse teams to talk about diversity or have them in the culture page photo shoot, more diverse teams need to work with employers to create solutions that work to close the gap further.
Why is a more inclusive tech industry better for innovation?
The simple answer is, what is the business case for having good people? Good people come in different shapes and sizes and from all walks of life and you very rarely get people arguing that there is a business case for all employees being the same, or the business case for discrimination at work, so it slightly baffles me why we still even have this conversation.
Ultimately By creating a more diverse workforce, businesses can authentically connect with customers, derive deeper insights into different market segments and produce tools suitable for more customers. This in turn can lead to the development of a more profitable bottom line. More people from different backgrounds.
And it can, and will, solve the digital skills gap. If companies can move beyond the old-school mentality of what a tech professional looks like, and where they should come from, and widen the net in terms of finding talent, not only will they increase diversity within their teams, but they will also be able to address and help to fill the skills void.
From our research and feedback, we know that the most successful companies focus on their people and that means across the globe they actively champion diversity and work hard at investing in it.
It's the same with leadership roles. Just like more women should be in leadership roles, so too should people of colour. But the big problem is that there isn't enough focus on ensuring there is equity in the talent pipelines and once folks are through the door, whether organisations are doing enough work to support, retain and advance this talent.
Even if there are, they aren't moving quickly and this is something we are working with the UK government on, to provide a toolkit for employers on what they should be thinking of and considering.
How does a tech company go about making itself more diverse?
Ultimately it is about strategy. Does the organisation have a clear strategy and accountable leaders responsible to it? Without that there will be no direction, initiatives will be tactical and sustained change will be hard to come by.
To begin, ensure job descriptions actively encourage candidates from diverse backgrounds to apply. This includes checking an existing description for language that may be unnecessarily or unintentionally exclusive of candidates of certain identities, such as ensuring the use of inclusive pronouns ("they/them" pronouns rather than solely "he/him" or "she/her" pronouns). It also means reducing the reliance on access to certain institutions.
Additionally, a company's job description should proactively state a dedicated commitment to DEI, both in terms of benefits that may be interesting to diverse candidates (such as parental leave policies or flexible or remote work offerings) and with regards to your dedication to creating an inclusive and equitable culture.
Candidates will be using the job description as a starting point to evaluate whether they would feel safe and happy working at a company and in its existing culture. There is more to this though. People will ask about it at the interview, so if it isn't truly embedded in the organisation, they will be able to sniff that out.
Companies and their leaders can also set targets, whether they remain internal or are externally communicated for transparency; in a hiring process, commit to keeping the initial application open until gender and racial distribution targets are met. Targets can also serve as a benchmark for the demographic data collected; if a certain demographic is lagging, this informs further outreach to partners that can source candidates in the specific area.