How UAE Astra Tech is building the MENA region's Ultra App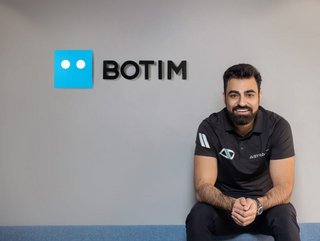 In a further push to its ambition to create an Ultra Platform, Astra Tech CEO Abdallah Abu Sheikh acquired BOTIM
G42-backed Astra Tech is snapping up consumer platforms as it looks to build the next generation of super app – welcome to the MENA region's Ultra App
The race to build the region's first super app is hotting up, but one ambitious tech upstart is aiming higher – as it bids to build what it calls an Ultra platform.
That company is Astra Tech, led by self-proclaimed serial entrepreneur Abdallah Abu Sheikh, who has overseen rapid expansion at what is now the MENA region's leading consumer technology holding group.
Starting with just three people, Astra Tech now has 300, has raised more than US$500 million (led by Abu Dhabi's G42), made a number of smart acquisitions, and is a profitable business.

"Our goal is not to reinvent the wheel or build things form scratch but leverage the existing familiar platforms to create an Ultra Platform – an ecosystem for digital communication and commerce that will revolutionse the way people live their everyday lives," says Abu Sheikh.
Building an Ultra Platform by smart acquisition
Acquisitions started back in July 2022 when Astra Tech integrated home services solution Rizek into its platform. Born in the UAE, Rizek was launched in 2020 and had already acquired a million users and a network of 20,000 service providers – not to mention US$15 million backing from investors such as Abu Dhabi holding company ADQ.
Interestingly, Riek was also founded by Abu Sheikh.
The founder and CEO described the deal as "the first strategic building block of our digital ecosystem".
"By bringing Rizek's agility, plethora of services, and innovation into our ecosystem, we're accelerating the time to market for Astra Tech's revolutionary ultra platform."
The aim is to create a platform that will simplify the way people communication, shop, pay and transact, according to Abu Sheikh.
That time to market seems to be gathering pace. Hot on the heels of the Rizek deal, Astra Tech acquired fintech company PayBy – allowing customers and merchants to secure services international money transfers, seamless payment solutions, wallet top-ups, and more on Astra Tech's ultra app.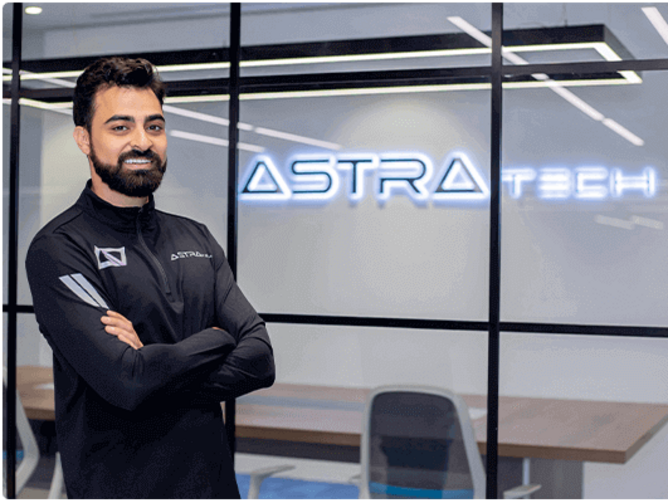 Self-proclaimed serial entrepreneur Abdallah Abu Sheikh
In January 2023, it was licensed by the Central Bank of the UAE to conduct Stored Value Facility (SVF) and Retail Payment Services (RPS) operations. And in early March, Astra Tech teamed up with Mastercard to boost its digital payments services in the MENA region.
The partnership makes PayBy one of the first fintech players in the UAE to obtain a Mastercard principal membership licence, enabling it to act as an issuer of digital and physical cards.
Propelling its financial services to new heights, and marking the firm's expansion into global markets, last month Astra Tech acquired a 90% stake in Y Finance, a licensed financing company operating in the Philippines. The aim? To introduce more innovative financial services catering to the needs of the Filipino community in the UAE, which counts 61% of its population as Filipino.
BOTIM – creating an ultra app
In a further push to its ambition to create an Ultra Platform, Astra Tech added another consumer vertical with the acquisition of messaging platform BOTIM, a platform that allows free video and voice calls.
BOTIM is the region's largest and most popular MENA-built communications platform, with 90 million registered users and 25 million active users.
BOTIM integrated Arabic ChatGPT into the app, marking a first for the region. Developed in partnership with the world's only dedicated university of AI, Abu Dhabi's MBZUAI, the AI-powered platform gives access to services through conversational commerce.
And Etihad Airways is one of the first big businesses to use the app, allowing its customers to make flight bookings just by typing in the basic details of the service they require.
"Through the BOTIM GPT module developed by Astra Tech, flights and other travel-related services are integrated into the Botim app, offering a convenient and innovative way for customers to book Etihad flights," Astra Tech said.
Meet the CEO and founder of Astra Tech, Abdallah Abu Sheikh
Abu Sheikh is known for his vision when it comes to innovation, including sustainability, mobility and digitisation. He has a passion to create a tech-enabled community of startups that can inspire and evolve the world.
"We have been working in stealth for the last six months and have finally closed some really interesting, user-rich, financially viable, and customer-centric platforms that not only unlock a lot of value for the users in their respective sectors but also share some of the core values of Astra around innovation and providing an unparalleled user experience," he says.
It has been a relatively quiet 2023 for Astra Tech since January, so all eyes are now on Abu Sheikh to see what Ultra looks like.
After all, he has a bold ambition, to create "an ecosystem for digital communication and commerce that will revolutionise the way people live their everyday lives".
****************
For more business insights, check out the latest edition of Business Chief Middle East & Africa and be sure to follow us on LinkedIn and Twitter.
You may also be interested in the Business Chief EMEA website.
Please also check out our upcoming event – Sustainability LIVE in London on September 6-7, 2023.
BizClik is a global provider of B2B digital media platforms that cover executive communities for CEOs, CFOs and CMOs, as well as leaders in Sustainability, Procurement & Supply Chain, Technology & AI, Cyber, FinTech & InsurTech. We also cover industries including Manufacturing, Mining, Energy, EV, Construction, Healthcare and Food & Drink.
BizClik, based in London, Dubai and New York, offers services such as content creation, advertising and sponsorship solutions, webinars and events.