CEO Deniz Ozgur on revolutionising fashion with technology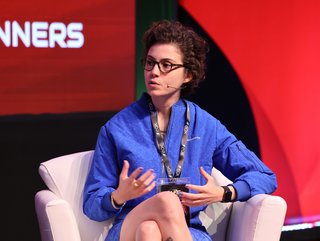 Co-founder and CEO of Space Runners, Deniz Ozgur is named in the Forbes 30 Under 30 list
Named in Forbes 30 Under 30 list for 2023, CEO Deniz Ozgur talks to Business Chief about how technology is changing fashion and being a young woman in tech
As the CEO of fast-growing fashion blockchain startup Space Runners, Deniz Ozgur is one of the 15% of female founders within the tech sector.
While it's a position the Istanbul-based founder and CEO feels privileged to occupy, it is also one that presents a unique set of challenges.
"The most prominent of which is the inadvertent underestimation of my skills or capabilities by some peers or potential investors," Deniz tells Business Chief.
It's a challenge that invariably leads to Deniz having to prove herself beyond what would normally be expected.
To challenge this, the twenty-something Turkish national has turned to what she describes as her secret weapons – resilience, creativity, and collaboration.
As well as building a diverse and inclusive team to boost creativity, and collaborating with the industry's finest, Deniz focuses on competence – on simply being the best.
"I make sure that my work speaks for itself, emphasising quality, innovation, and tangible results. By building a robust product that addresses real-world problems I have demonstrated the strength of my skills and vision."
It's an approach that has certainly worked, securing her company Space Runners US$30 million in total funding from backers including Pantera, Polychain, Accel and Jump Capital, bringing about collaborations with leading luxury brands like Balmain, and landing Deniz a place on the prestigious Forbes 30 Under 30 list for 2023.
Technology changing the world of fashion
With a focus on bringing fashion brands into the metaverse, and as the first fashion metaverse on blockchain, Space Runners a fashion-tech platform delivering intuitive Web3 and AI tools to help brands scale their design process and engage with customers in new ways – both in the physical and digital worlds.
"Blockchain is reshaping the very fabric of the fashion industry," says Deniz. "Imagine a world where a garment's authenticity isn't just a tag, but a digital signature embedded into its very essence. This is what blockchain provides — a guarantee that you're not just owning a piece of clothing but a piece of art. This immutable authenticity not only fights counterfeiting but adds a layer of depth and personal connection to what we wear."
The potential doesn't stop there, though

"Blockchain heralds a future where fashion is no longer dictated by a select few but is a collaborative, community-driven effort. The lines between designer and consumer blur, and we enter a new age of democratised fashion, bound by not just trends but values, ethics, and shared creativity."
And this is one of the products Space Runners provides – an AI fashion design tool to unlock the next generation of creators and empower customers to co-create with brands – something Deniz is especially passionate about.
"We're not just developing technology for the sake of technology, we're creating tools that empower people, connect communities, and revolutionise industries.
"We envision a future where more people are involved in fashion, creating and collaborating with brands and other creators, irrespective of their technical or artistic background."
Crafting a robust collaboration ethos
The other side of the business, the digital fashion collectables project – where Space Runners collaborates with some of the biggest names in luxury and lifestyle fashion – is equally impactful.
All proceeds from collections sold go towards charitable organisations.
Its collaboration with NBA champions Kyle Kuzma and Nick Young on virtual sneakers led to the sell-out of all 10,000 NFT pairs in less than nine minutes.
And after developing a multi-world augmented reality for luxury French brand Balmain during its Metaverse Fashion Week earlier this year in Milan, and crafting a limited-edition capsule of Balmain's popular Unicorn sneakers in both the physical and digital worlds, Space Runners is now working with the brand to launch digital clothing and a virtual store.
"Working with the industry's leading names like Balmain and Smiley has been monumental in validating our vision and approach."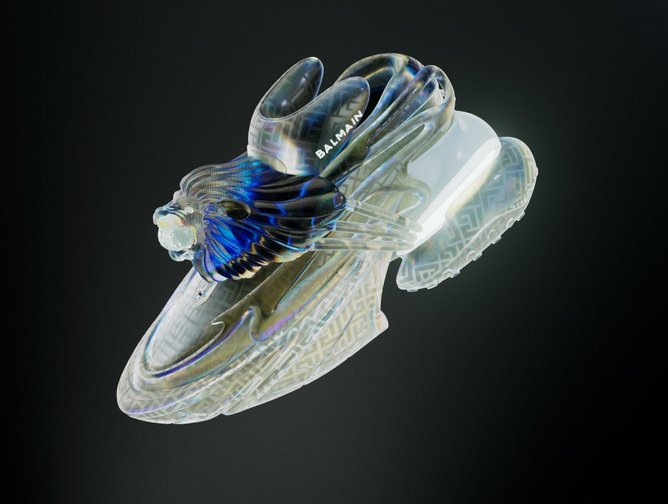 Balmain teamed up with Space Runners to craft a limited-edition capsule of its popular Unicorn sneakers in both the physical and digital worlds
Attracting and working with big-brand names has been a "conscious and strategic effort", says Deniz. "We were pioneering a new approach, and it required educating both brands and individual creators about what we were offering."
This was achieved by fostering a diverse team with members both from tech and fashion backgrounds who understood both sides along with crafting a robust collaboration ethos, says Deniz.
"We take the time to understand our partners, meet their specific needs, and protect their brand legacy. This commitment to understanding and aligning with their vision has been vital in forging these valuable connections."
The collaboration with Balmain is just the tip of the iceberg for Deniz, who sees NFTs not only as collectibles but as a new medium for IP management.
"We'll be pioneering more collaborations, unlocking brands to scale IP licensing to collaborate with more creators and builders."
Here, Deniz talks to Business Chief about the technologies that excite her most, the challenges for female founders, and what drives her.
Prior to co-founding Space Runners, you were CEO of a sports gaming metaverse startup. Have you always been entrepreneurial?
Entrepreneurship was never a predetermined path for me but rather a natural progression driven by my love for problem-solving and my desire to make an impact. In college, I dabbled in small ventures and tech projects, but it was my passion for technology that ignited the entrepreneurial spark within me. I saw opportunities in the tech landscape that were begging to be explored.
What truly drives me is not just the allure of innovation but the ability to use technology to redefine the boundaries of an industry, in this case, the world of fashion. The journey has been filled with challenges and triumphs, but the unwavering belief in our mission keeps me fuelled and focused.
What do you consider your biggest career achievements to date?
Building our platforms from the ground up, enabling brands to scale their design processes and facilitating customer engagement in new ways. Also, working with the fashion industry's leading brands like Balmain and Smiley – this has been monumental in validating our vision and approach. Finally, creating a culture that values creativity, diversity, and collaboration.
How would you describe your leadership style?
A blend of empathy and innovation. It has evolved from a hands-on approach to fostering an environment where team members are encouraged to explore, make mistakes, and learn. It's not about directing but guiding and inspiring the team to see beyond the obvious and believe in the extraordinary.
How challenging is it for female-led startups to raise capital?
Raising capital is universally challenging for any startup, but it's undeniable that female-led startups in tech may face unique obstacles and the reasons are multifaceted.
Despite growing awareness and efforts to diversify, the investment world still leans male-dominated and while this is shifting, with investors actively seeking gender balance in leadership, it's a transition that takes time. The connections that facilitate funding opportunities might not be as readily accessible for women in the industry either.
Also, women in tech more generally often contend with stereotypes that wrongly associate gender with technical acumen, a misconception that can affect the way their capabilities are evaluated.
What advice would you give to other women founders?
Firstly, prepare for rejection. Whether it's an investor saying no, a deal falling through, or a product needing a pivot, failure is a step on the path to success. Learn from it, don't dwell on it.
You may well face biases and preconceptions. Not only is it important to challenge them, but also recognise when to conserve your energy for the battles that matter most to your goals.
It's important too to find your allies. Networking can feel overhyped, but real connections with those who genuinely understand and support your vision can be transformative. Seek mentors and allies, not just contacts.
Investing in yourself is also crucial. This isn't just about education or skill development, although those are crucial. It also means taking care of yourself, mentally and physically. Burnout is real, and your well-being is foundational to your success.
What do you see as the most pressing issue for women in tech today?
It's not just the glass ceiling but the 'glass cliff' – where women are often placed in leadership roles during crisis times. There's a need to foster a culture that supports and celebrates women not just as saviours during difficult times but as key players at all levels.
Equal representation, genuine mentorship, and a shift in organisational culture can make a meaningful difference. It's not just about counting women but making every woman's contribution count.
Beyond blockchain, what other technologies are changing the fashion landscape?
Other technologies, like AI-driven design tools, speak to our inner innovator. The idea isn't to replace human creativity but to augment it, to help designers recognise patterns, analyse trends, and create in virtual spaces. It's about enhancing the human experience, not diminishing it.
And then there's the virtual realm, where fashion transcends the physical. Virtual and Augmented Reality open up possibilities where you can walk through a fashion show from your living room or try on a dress without leaving your home. These technologies bridge the gap between the digital and physical worlds, making fashion more interactive, accessible, and alive.
In all of this, what truly excites me is the human connection. These technologies aren't just tools; they're extensions of our creativity, our values, our community. With Space Runners, we're not merely building a platform but nurturing a culture that sees fashion as a living, breathing entity. It's a vision where technology and humanity dance together, reshaping not just an industry but how we express, connect, and live.
Finally, what keeps you awake at night?
The responsibility that comes with having real-world impact. The decisions we make today will shape the future of how people interact, work, and live. Navigating the ethical considerations, maintaining the trust of our users, and ensuring that our products are accessible and beneficial to all are complex challenges that require careful thought and constant vigilance.
******
For more business insights check out the latest edition of Business Chief Middle East & Africa and be sure to follow us on LinkedIn & Twitter.
You may also be interested in Business Chief US & Canada.
******
BizClik is a global provider of B2B digital media platforms that cover Executive Communities for CEOs, CFOs, CMOs, Sustainability Leaders, Procurement & Supply Chain Leaders, Technology & AI Leaders, Cyber Leaders, FinTech & InsurTech Leaders as well as covering industries such as Manufacturing, Mining, Energy, EV, Construction, Healthcare + Food & Drink.
BizClik – based in London, Dubai, and New York – offers services such as Content Creation, Advertising & Sponsorship Solutions, Webinars & Events.