Meet Netzero, Saudi Arabia's most promising tech startup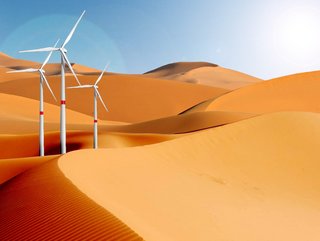 Saudi is transitioning to clean energy in its goal to reach net zero by 2050
With a solution that promotes a greener ecosystem in harsh environments, netzero is named Saudi's most promising tech startup by KPMG
The arrival of global boiling has ushered in a new era in the climate crisis – and as a result the need for innovative solutions has never been greater.
Catering in such solutions, climate and clean tech startups have emerged in recent years as one of the most promising sources of hope for the planet's future.
Combining cutting-edge technology with a focus on sustainability, these startups focus on reducing emissions, mitigating environmental damage and aiding in the transition to a cleaner future.
And nowhere are such innovative solutions so in demand as Saudi Arabia.
As the world's largest oil producer, churning out 15% of global oil output, the Kingdom is working overtime to shift away from dependence on oil revenues, transition to clean energy, and ultimately reach net zero by 2050.
Pledging to invest more than US$186 billion in green growth until 2060, the Kingdom is increasingly looking to clean tech startups as the solution.
Netzero – Saudi's most promising tech startup
Enter Netzero – a Saudi-born tech startup that has been recognised as a solution in facilitating the transition.
Recently named Saudi Arabia's most promising tech startup by KPMG's Private Enterprise Global Tech Innovator, Netzero beat six other Saudi tech startups to the crown, standing out for its "innovative approach in helping solve environmental challenges", said Samer Abdallah, Head of ICT Sector at KPMG, Saudi.
Netzero helps Saudi organisations with offsetting their carbon emissions by streamlining nature-based solution deployment and afforestation in a cost-effective and transparent manner.
Its solutions can "support climate action by promoting a greener ecosystem in harsh environments", Netzero founder Mohammad Alkhalid explains.
Assessed on six criteria, including innovation, market potential, customer adoption, market traction, and long-term potential, Netzero beat more than 70 Saudi startups, including finalists fintech Lendo and proptech Munjz.
In November, Netzero will pitch against finalists from 22 other countries, from India to Ireland, South Africa to Sweden, for the crown.
KPMG Global Tech Innovator
Since 2021 and the inaugural competition, KPMG's Global Tech Innovator has been helping tech startups grow, scale and impact industry and society.
From pure technology companies or to those that are tech-enabled, tech-led or tech-driven, the startups enabled by KPMG over the last few years have been drawn from multiple industries – from fintech to mobility, clean tech to e-commerce.
From early-stage startups to those ready to accelerate their expansion, companies from more than 22 countries pitch their innovations and present growth ambitions to a panel of industry experts.
The overall winner of the Global Tech Innovator in 2022 was HiiROC, a cleantech focused on hydrogen production.
The UK-based technology scaleup is making waves worldwide (and winning awards) with its innovative process for producing low-cost zero-emission hydrogen from micro to industrial – also making it to the shortlist of FT's Tech Champions 2022 (winners are announced on November 21).
******
For more business insights, check out the latest edition of Business Chief Middle East & Africa and be sure to follow us on LinkedIn and Twitter.
You may also be interested in the Business Chief US & Canada website.
Please check out our upcoming event – Procurement & Supply Chain LIVE in London on September 26-27.
BizClik is a global provider of B2B digital media platforms that cover executive communities for CEOs, CFOs and CMOs, as well as leaders in Sustainability, Procurement & Supply Chain, Technology & AI, Cyber, FinTech & InsurTech. We also cover industries including Manufacturing, Mining, Energy, EV, Construction, Healthcare and Food & Drink.
BizClik, based in London, Dubai and New York, offers services such as content creation, advertising and sponsorship solutions, webinars and events.