EY report on how tech companies can address supply chains
By EY's Channing Flynn and Amit Sachdeva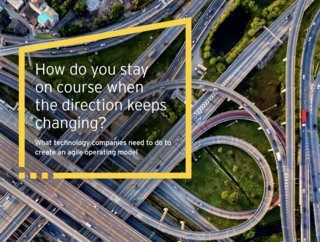 EY consultants Channing Flynn and Amit Sachdeva discuss how technology companies can adjust their supply chain operations to be successful in new report
Big 4 consultancy EY has published a new Tech Operating Model Transformation Report which sheds light on the steps leaders are taking to address their supply chain issues.
The recent rise in trade-related risks and technology nationalism has had many effects on global trade and the technology industry. These include export restrictions, tariff hikes, and closer scrutiny of mergers and acquisitions (M&A).
To gain deeper insights on the growing risks and challenges that technology companies must overcome, EY has released a new global survey of more than 750 technology companies exploring the impact of these trends on their operating models and supply chains.
The report focuses in particular on the recent unprecedented demand for semiconductors, manifesting a perfect storm that is now leading businesses to completely rethink their supply chain model.
Governments in US, Asia and EU addressing semiconductor production
The findings reveal that emerging tech companies have not been as successful at passing on additional semiconductor costs to customers, while 169 industries outside of tech are still being deeply impacted by shortages. This has led to government intervention, with the US Senate – for example – passing a bill last week to boost chip manufacturing.
India has also pledged US$10bn to boost semiconductor production, while Intel is investing some US$30bn across Europe (including US$17bn in a new chip factory in Germany).
Key findings from the EY report include:
95% of tech executives are acting now to change their operating and supply chain model.

50% say they lack the right operating model given the external environment, with confidence falling further among smaller companies.

64% say globalisation is in retreat and regional supply chain will become more prominent; 19% say their companies have already localised / onshored their manufacturing.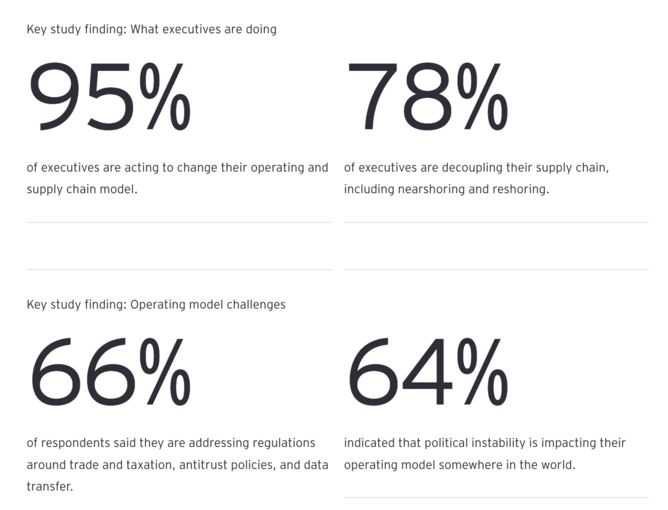 Despite driving the connected platform economy, today's technology companies must adapt to an unprecedented perfect storm of political, economic, social, environmental and legal factors. Decisions on sourcing, supply chain, product and service production, and distribution are influenced by the rapid pace of change impacting complex economic, political and regulatory changes in the broader business environment. Taken together, these actions are adding a new layer of complexity into the planning and execution within the operating model.
In terms of political and economic challenges, the survey findings indicate that technology company executives are grappling with political instability, changing political costs and new constraints that are creating both opportunities and challenges for their operating models and supply chains.
Tariffs and rising labour costs have created a situation in which many technology companies have adopted a Chinaplus-1 strategy. In Asia, countries such as Vietnam, Malaysia, Thailand and India are benefiting from new investments to diversify supply chain risk. There's also an increased threat perception as companies globally could face heightened cyber attacks impacting their operations.
Depending on their role in the value chain, technology companies are increasingly seeing government involvement in the sector through a bifurcated lens. On the positive side, governments that are concerned about securing their access to critical technologies are creating new multi-billion dollar incentive programs such as the proposed US Creating Helpful Incentives to Produce Semiconductors (CHIPS) for America Act and the European Union's proposed Chips Act to incentivise the building of new research and development (R&D) and fabrication capacity.
Recent geopolitical challenges have also resulted in new export control measures, including new bans on the export of sensitive technology, semiconductors, telecommunication, encryption security, software and sensors, that further increase complexity to ensure compliance.
Key regulatory challenges impacting technology company operating models
Digital services tax, trade tax, sales/use tax, value-added tax
European Union competition policy
The OECD Base Erosion and Profit Sharing (BEPS) 2.0 projects with Pillars One and Two
Executive order aimed at anticompetitive practices
Executive order to review critical supply chains for manufacturing of semiconductors and other cutting-edge technologies
Taxation of intellectual property (IP)
SUMMARY
EY's survey results indicate that technology executives are focused on continuously reviewing their business and operating models. Often, they are trying to respond to challenges that impact their functional issues – addressing the issue at hand versus being able to holistically address continuous change and grow their business. Technology executives must increase agility in their operating model to better optimise their supply chain.