Sadara Project achieves 80 million construction man-hours without a Lost Time Incident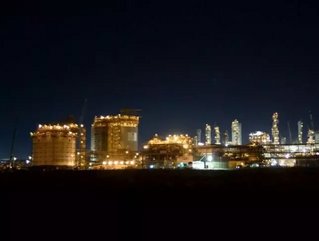 Oilfield services company KBR's work on Sadara Chemical Company's project in Jubail, Saudi Arabia, continues to be a shining example of KBR's commitment to being a customer-focused team with high standards for execution excellence and Zero Harm. On August 24th, 2015, the Sadara Chemical Project achieved 80 million construction man-hours without a Lost Time Incident (LTI).
KBR was recently recognized with an award for its work on this project at the sixth annual International Refining and Petrochemical Conference in Abu Dhabi, United Arab Emirates, and we are proud to be announcing yet another significant milestone.
KBR has successfully executed the project feasibility and pre-FEED for the entire complex, as well as the FEED scopes of several major assets. KBR is currently the primary project management resource provider and has about 660 specialized personnel at the Jubail site, where the Sadara Project has achieved an impressive OSHA Total Recordable Incident Rate (TRIR) of 0.035. KBR's leadership, collaboration with Sadara's project teams and EHS Governance management have contributed to achieving the Project's excellent safety performance. This is an extraordinary accomplishment, with approximately 44,000 construction workers on site.
KBR's culture of Zero Harm requires a full commitment by every employee throughout the organization. The KBR on-site team performed hundreds of joint safety walkthroughs with the Project Management Team (PMT) and their construction contractors.
Every employee receives Sadara site induction training as well as specialized training for PMTs and contractors to ensure all personnel on site are familiar with the appropriate HSSE programs covering a range of safety values including hazard recognition and how to mitigate hazards.
Safety is further reinforced through safety observations and by empowering employees to recognize and intervene on at-risk behaviours or conditions requiring improvement. This provides opportunities for employee development and coaching in a learning environment.
"The KBR employees supporting the Sadara team illustrate what One KBR is all about. KBR is committed to delivering on our promises through collaboration with clients, contractors, vendors and the community," said Jay Ibrahim, KBR's Middle East North Africa (MENA) President. "By having the courage to care we are able to achieve Zero Harm."
The Sadara Chemical Project is currently in the construction phase for what will be the world's largest chemical complex ever built in a single phase. With 26 integrated world-scale manufacturing plants that will produce more than three million tons of products every year, it is anticipated that Sadara will become a Fortune 500 company within the first year of full operation.