HE Dr Al Kuwaiti, UAE cyber leader, collects global awards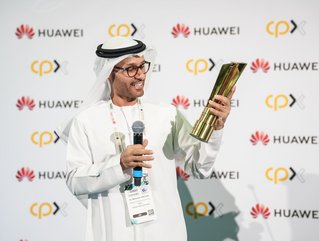 HE Dr Mohamed Hamad Al-Kuwaiti, Head of the UAE Cybersecurity Council with the International Telecommunication Union's Ethical Dimensions of the Information Society award
His Excellency Dr. Mohamed Hamad Al-Kuwaiti, Head of Cyber Security for the UAE Government and UAE Cybersecurity Council, recognised for leadership
There was a palpable buzz on the show floor at GISEC Global as the UAE's cyber security leader HE Dr Mohamed Hamad Al-Kuwaiti took part in the region's largest cybersecurity event.
Held at the Dubai World Trade Centre, the three-day event's growth highlights not just the growing importance of cybersecurity but also the UAE's position as a cyber superpower.
This year's event is 50% larger than the last, featuring 500 exhibitors from 53 countries, 300 speakers, and 1,000 ethical hackers. Organisers say next year the show will double in size.
Much of this is down to the efforts of Dr Al-Kuwaiti – who featured on the November cover of Business Chief. In the last decade, he has been involved in more than 500 cyber security events worldwide and the UAE has risen rapidly in the Global Cyber Security Index – from 47th place in 2017 to 5th place in 2020.
Dr Al-Kuwaiti was presented with the Cybersecurity Excellence Awards' Global Leadership Award yesterday, in recognition of his mission to spread cyber awareness and culture, develop cyber talent, empower cross-border collaboration, and position the UAE at the forefront of international cyber resilience.
One of his key initiatives, as reported in Business Chief, is the award-winning Cyber Pulse, which provides cyber culture awareness on a national level.
Double win for UAE cyber leader Dr Al-Kuwaiti
Dr Al-Kuwaiti flew into Dubai from Geneva where Cyber Pulse won the International Telecommunication Union's Ethical Dimensions of the Information Society award for its "outstanding contributions towards strengthening the implementation of the World Summit on the Information Society outcomes".
"This award reflects the global recognition of the constant efforts made by the UAE in the field of cybersecurity, and an inevitable result of the directions and visions of the country's wise leadership, in addition to cooperation by all national teams, which contributed to enhancing the UAE rank on global competitiveness indicators," said Dr. Al Kuwaiti.
"The UAE Cybersecurity Council follows a clear strategy aimed at creating a safe and resilient cyber environment that helps organisations, institutions and individuals achieve their potential, creates a safe digital society, and promotes a positive digital identity.
"The Cybersecurity Excellence Awards' Global Leadership Award elevates the efforts of the UAE Cybersecurity Council to achieve cyber stability locally and regionally, while encouraging more work and innovation to strengthen the UAE's global leading position in cybersecurity and improving its national capabilities in this area."
Dr. Al-Kuwaiti has a vision for a 'Cyber Heaven' where UAE citizens become more digital and cyber literate, and able to recognise and react to cyber threats.
He holds a Doctorate in Computer Engineering and Network Security from George Washington University in the US and a master's degree in Telecommunications and Computer Networks. He holds an MA in International and Civil Security, an honourable member of the Society of Engineers, IEEE Society, Golden Key National Honor Society and Computer Society.
GISEC Global continues at DWTC until 16 March.