How digital technology enables industry to succeed
By Tuomo Hoysniemi, President, Drive Products, ABB.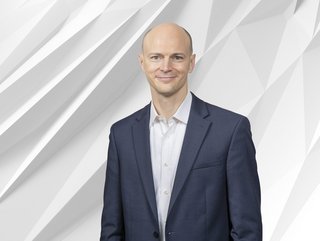 Tuomo Hoysniemi, President, Drive Products, ABB.
The industrial workforce can make smarter decisions and cut costs with the tap of a smartphone, explains Tuomo Hoysniemi, President, Drive Products, ABB
Almost every product or service modern society uses, including technology, food, drinks, transportation, and more, depends on industrial electric motors somewhere along the line.
These motors are a cornerstone of the global economy – collectively consuming 45% of the world's electricity – but many use more energy than they need. To maintain high global standards of living while pursuing Net Zero, we must make these motors more efficient.
One solution is to pair motors with variable speed drives (VSDs), which control their speed and torque to match the exact requirements of the workload. Depending on the application, drives typically deliver energy savings of 25% or more – which also greatly reduces operating costs.
Further energy efficiency is possible through digitalisation. Modern motor-drive systems include data gathering, networking and control features that enable operators to continually track real-time information on how well the equipment is performing. In addition to improving energy efficiency, these motor-drive systems are also easier to use and more effective, enabling operating personnel to simplify processes and optimise operations and maintenance.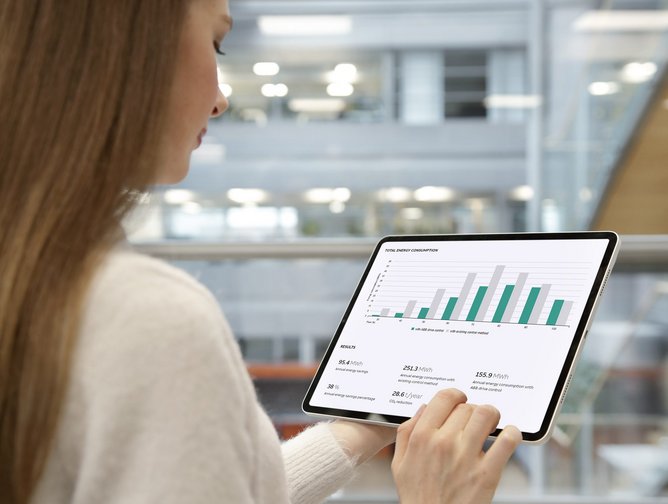 ABB provides 'plug and play' smart solutions
Connectivity drives business efficiency
Digitalisation enables better decision making. For example, an operator may be interested in reducing their facility's energy usage due to high energy prices and Net Zero targets. They can use data from their drives and motors to identify energy intensive processes that could be optimised. They can also find the least efficient systems and create a plan to modernise them.
What's more, all this data is communicated securely over the network, either locally or through the cloud. Cloud connectivity means that operators and decision makers can access real-time data from anywhere, including on their smartphones.
Staff are also able to work more effectively using digitally connected drives. They can access a drive's Bluetooth control panel from their smartphone to easily make changes without the need for physical access.
A smarter approach to maintenance
Digitalisation also unlocks the opportunity for faster commissioning and smarter equipment monitoring and maintenance. This was one of the key motivations for the Straub Cosmetics plant in Wertheim am Main, Germany. One of its most critical processes is an agitator, which uses a motor to stir products to achieve the desired mixture.
For this application, Straub specified a powerful general purpose drive from ABB. An ABB-authorised partner then used ABB's online, remote technical support platform to set up the parameters on the new drive. Nobody at Straub needed to worry about the technical details, and ABB's partner did not need to visit the site. This resulted in significant time and cost savings.
The same technology enables greater reliability and simpler maintenance. The drive can automatically detect anomalies in the drivetrain – without the need for external sensors – and alert a human operator. When maintenance is required, the online platform solution enables a member of staff to work with an expert from their smartphone. They can chat, share images, view parameters, and remotely send support packages. With maintenance time allocated correctly, employees can focus on value-adding activities rather than travelling around several facilities to conduct routine maintenance.
Going digital is as easy as "plug and play"
These benefits are within reach for industrial businesses because today's digital solutions are simple to install and operate. ABB's digitally connected drives are "plug and play" solutions, meaning that they do not require an outside expert or specialist equipment to install. An operator can easily use their smartphone to configure the installation, access technical information, and an expert can remotely connect to the drive via smartphone to provide support if required. This significantly reduces the time and cost commitments associated with upgrading.
Now is the ideal time for industrial businesses to commit to digitalisation. Those that do will unlock remarkable benefits: energy and cost savings, greater reliability and more effective decision making.
Learn more: ABB Ability™. Industrial Internet of Things — ABB Ability™ (global.abb)