Sustainability remains at the heart of Siemens' strategy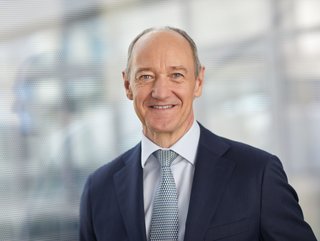 Roland Busch, CEO of Siemens. Picture: Siemens
Against the backdrop of Siemens AG publishing its Q3 results, Business Chief delves into the organisation's structure, strategy and sustainbility progress
Siemens is nothing less than a technology heavyweight across a range of industries.
The German giant is also widely recognised for its unwavering commitment to running a more sustainable operation, and recently placed second in Sustainability Magazine's list of the Top 100 Companies in the field.
Against the backdrop of Siemens AG publishing its Q3 results, Business Chief delves into the organisation's structure, strategy and ESG progress.

Who's in charge?
Roland Busch has been in charge at Siemens since the early part of 2021, stepping up from the role of Deputy CEO.
By this stage Busch had already become a company legend having worked his way up the ladder over the course of three decades, going from Project Head back in 1994 to a range of prominent leadership positions in various geographies and departments.
Away from Siemens, the CEO holds management positions on numerous industry boards and committees, demonstrating his influence on the world stage.
Busch is capably supported by his CFO, Ralf Thomas, himself a Siemens veteran having joined the business immediately after earning his doctorate in the mid-90s.
Thomas has been Chief Financial Officer and a member of the managing board since 2013, taking responsibility in the ensuing years for areas including Controlling and Finance, Siemens Healthineers, Siemens Financial Services and Siemens Real Estate Services.
The managing board is completed by: Cedrik Neike, CEO Digital Industries; Matthias Rebellius, CEO Smart Infrastructure; and Judith Wiese, Chief People and Sustainability Officer.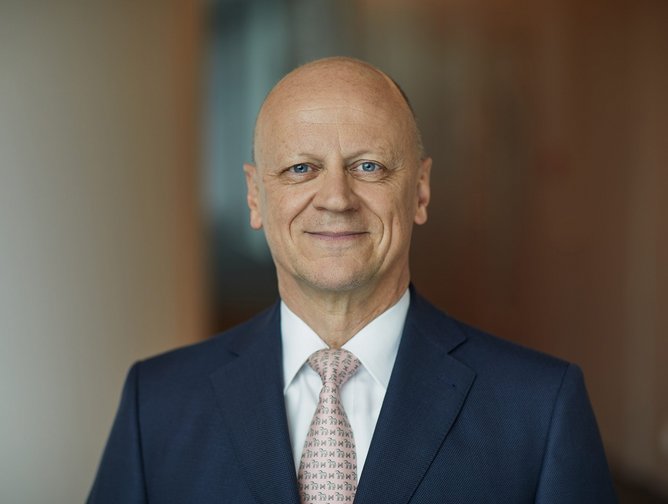 Ralf Thomas, CFO at Siemens. Picture: Siemens
Healthy financial performance from Siemens
Siemens continued its profitable growth trajectory in the third quarter of fiscal 2023, with all industrial businesses achieving strong revenue growth.
Revenue grew by 5.6% year-on-year to US$20.8 billion and was up an impressive 10% on a comparable basis. Moreover, order momentum in the company's major projects and systems business was also strong, rising to US$26.6bn.
Free cash flow across the group stood at US$3.3bn, up from US$2.5bn in the equivalent quarter last year.
Siemens has also reiterated its expectation that it will achieve revenue growth of between 9% and 11% for the fiscal year.
"We again achieved profitable growth and showed our competitive strength across all our businesses," commented Busch. "We have seen normalisation of demand, particularly in China and in short-cycle business.
"We continue to execute our strategy of creating high-value growth and accelerating our customers' digital transformation and sustainability journeys."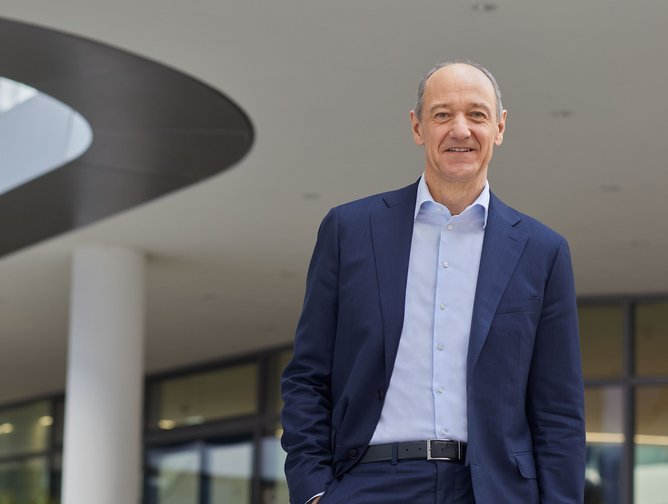 Roland Busch, CEO at Siemens. Picture: Siemens
Siemens remains at the heart of digital transformation
Siemens' position at the heart of technology and digital transformation is emphasised by the fact that a staggering 92% of Fortune 500 industry companies use its software. What's more, in the last decade, the firm has invested no less than US$15.4bn in digital companies.
Busch says himself that Siemens' commitment to creating technologies with purpose across infrastructure, transportation and healthcare is what attracted him to the company – and also explains why he never left.
Siemens continues to help customers using the Siemens Xcelerator, an open digital business platform that enables customers to accelerate their digital transformation more easily and at scale.
The Xcelerator allows users to access a curated portfolio of connected hardware and software, a powerful ecosystem of partners and an extensive marketplace – which Siemens calls its "three-pillar approach" to the challenges presented by digitalisation.
As we have come to expect with Siemens, virtually all its digital transformation activities are aligned with efforts to preserve the future of the planet.
Its technologies are transforming the backbone of economies and empowering customers to create agile factories, intelligent buildings and energy grids, sustainable transportation and better healthcare systems.

Siemens: A sustainable business from top to bottom
It's safe to say sustainability is deeply embedded in Siemens' activities and influences almost every decision.
"We are driven by the aspiration to address the world´s most profound challenges by leveraging the convergence of digitalisation and sustainability," says the company's mission and strategy.
Siemens' ESG commitment has been taken to the next level in recent times with its DEGREE framework, a 360-degree approach aimed at catering for all stakeholders including customers, suppliers, investors, employees, society and the planet:
Decarbonisation: Siemens is supporting the 1.5C target to fight global warming and aims to achieve net zero in its operations by 2030, with a 55% reduction in emissions by 2025 and 90% by 2030. Beyond that, the aim is for a net zero supply chain by 2050, with 20% emissions reduction by 2030.
Ethics: Siemens aims to foster a "culture of trust", adhere to ethical standards and handle data with care. One target is to train 100% of employees on Siemens' Business Conduct Guidelines every three years.
Governance: Siemens is striving to apply state-of-the-art systems for effective and ​responsible business conduct. Its future supply chain will be based on commitment to the Supplier Code of Conduct.
Resource Efficiency: Siemens is looking to achieve robust eco-design in 100% of relevant Siemens product families by 2030. Recycling targets include 50% waste-to-landfill reduction by 2025 and zero landfill waste by 2030.
Equity: Siemens is well on the way to fostering a culture that embraces diversity, inclusion and community ​development, creating a sense of belonging. It is hoped that, by 2025, 30% of top management positions will be occupied by women.
Employability: Siemens wants its people to stay resilient and relevant in an ever-changing employment landscape. By the end of 2025, staff should be benefitting from at least 25 hours of digital learning per year.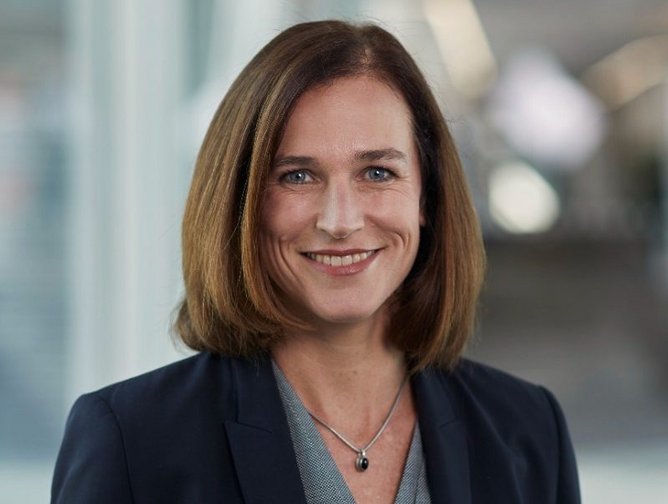 Judith Wiese, Chief People and Sustainability Officer at Siemens. Picture: Siemens
Leading the sustainability charge at Siemens is Judith Wiese, one of the best-known Chief Sustainability Officers in Europe and across the world. Her insistence is that good business practice goes hand in hand with what's good for people and the planet.
Wiese also plays a pivotal role in fostering diversity and managing wellbeing across the organisation, aided by her extensive experience overseeing culture and talent.
******
For more business insights, check out the latest edition of Business Chief Middle East & Africa and be sure to follow us on LinkedIn and Twitter.
You may also be interested in the Business Chief US website.
Please also check out our upcoming event – Sustainability LIVE in London on September 6-7, 2023.
BizClik is a global provider of B2B digital media platforms that cover executive communities for CEOs, CFOs and CMOs, as well as leaders in Sustainability, Procurement & Supply Chain, Technology & AI, Cyber, FinTech & InsurTech. We also cover industries including Manufacturing, Mining, Energy, EV, Construction, Healthcare and Food & Drink.
BizClik, based in London, Dubai and New York, offers services such as content creation, advertising and sponsorship solutions, webinars and events.