Digital disruption: how world-leading CEOs are taking action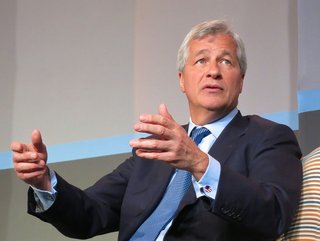 JPMorgan Chase CEO Jamie Dimon / Credit: Flickr
The world's leading CEOs say disruptive technology is having the biggest impact on how they lead, finds McKinsey. So, what digital action are they taking?
Digital disruption is nothing new. But the pace at which technology is advancing is dizzyingly disruptive.
You only need to look at the buzz and escalating war in the tech world over generative AI products like ChatGPT – which have the potential to impact business significantly.
Announcing this week that they are working with OpenAI to solve complex challenges, Boston Consulting Group said this will "have a huge impact on business and society" and while exciting, it also "comes with great responsibility".
Then there are the game-changing technologies, like 5G, AI, and Cloud, which are already hitting tipping points for mass adoption.
It's little wonder then that among 200 of the world's top-performing corporate CEOs, disruptive technology is the most urgent to address in 2023, the latest CEO Excellence Survey from McKinsey reveals.
Dealing with disruptive technology top priority for CEOs in 2023
More than half (58%) of the top CEOs surveyed identified the rise of disruptive digital technologies as having the biggest impact on how they are leading and will continue to lead their organisation in 2023 and beyond.
This urgency to confront and deal with rising technologies is a higher priority for leading CEOs than the economic downturn (56%), the escalation of geopolitical risks (47%), the war for talent (34%), and the increased importance of climate change and net-zero transition (29%).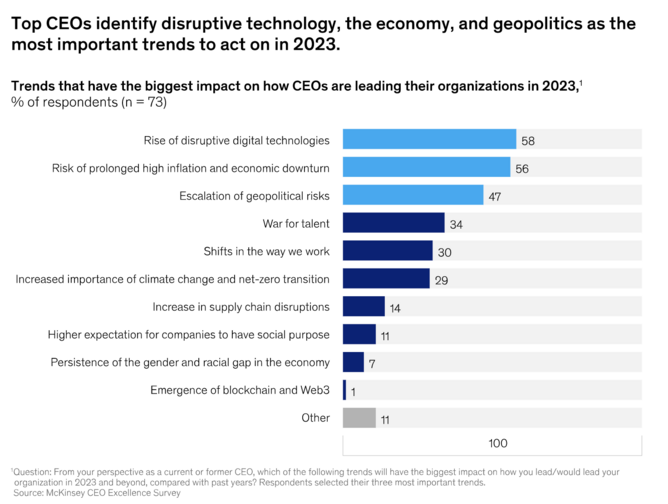 McKInsey & Company
For leading CEOs, leveraging innovative technologies is essential in gaining competitive advantage.
As one top chief executive puts it: "A CEO also has to be the chief technology architect. Think of the executive team – not just the chief digital officer – as owning the technology strategy of the company. There is too much at stake."
So, how then are the world's top corporate leaders dealing with the digital disruption? What specific and pragmatic actions are CEOs taking?
McKinsey found leaders are taking a consistent mix of defensive and offensive actions, to both protect against risks, and also capture new opportunities.
Advanced analytics a focus for 60% of top CEOs – in gaining competitive advantage
Six in 10 CEOs are developing advanced analytics, the study found, as many look to gain a competitive advantage in
"OpenAI's introduction of ChatGPT in late 2022 put gasoline on the already well-lit fire of companies looking to leverage advanced analytics for competitive advantage," McKinsey said in the report.
Companies like beverage giant Diageo are already seeing the value of applying advanced analytics, with its use of geolocation data to personalise and target content for consumers leading to a 17% increase in media spend return on investment.
Meanwhile, by using predictive analytics, financial services giant Sun Life is now able to process 60% of its life insurance policies without lab testing, creating a significantly improved experience for its customers.
Enhancement of cybersecurity key for half of top CEOs
Strengthening cybersecurity is also big on executive minds this year – not surprising given the geopolitical uncertainties, war in Ukraine, and that more than 70 elections are slated this year, which is likely to lead to an increase in criminal activity.
Nearly half (48%) of top CEOs surveyed said that in tackling digital disruption, they would be focusing on enhancing cybersecurity, McKinsey found.
JPMorgan Chase has been one of the most outspoken firms on why spending billions on cyber-related changes is vital – with changes ranging from modernising infrastructure and developer tools, to embedding cybersecurity controls into the business, to training employees to be wary.
"Cyberthreats post extreme hazards to our company and our country," CEO Jamie Dimon said in a letter to shareholders. "This has become even more evident as the cost of ransomware has increased dramatically… And it is evident to everyone, with the war in Ukraine, that grave damage could be inflicted if cyber is used as a tool of war."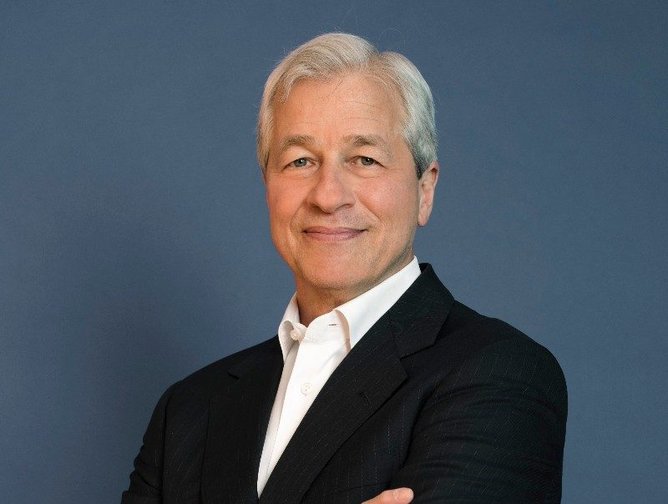 JPMorgan Chase CEO Jamie Dimon is one of the most outspoken firms on why spending billions on cyber-related changes is vital
Automating work priority for 45% of CEOs
Nearly half (45%) of CEOs say they are leveraging automation, as they look to capture opportunities and gain a competitive advantage. Automation is being used simplify and speed up processes and operations, and ultimately cutting costs.
As Morgan Stanley CEO James Gorman said when speaking to analysts: "Tech spend is going up… but that's good because it's displacing things we would otherwise be doing manually, which we shouldn't be doing naturally."
Healthcare provider Humana, for example, has reduced nursing turnover by leveraging technology to reduce administrative tasks. Walmart has used automation to cut in half the number of steps needed to ship products at some of its ecommerce distribution centres.