Southern Africa growth lagging but holds great potential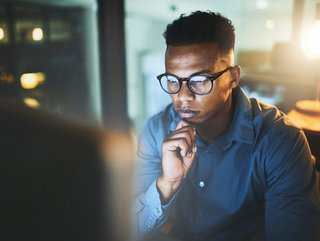 Economies in Southern Africa are facing growth slowdown
African Development Bank's economic outlook report on Southern Africa says although the regional growth has slowed, climate change investment shows promise
It has been a tough year for Southern Africa from an economic perspective as the region has battled with civil unrest, an energy crisis and natural disasters.
That's according to the 2023 Southern Africa Economic Outlook report produced by African Development Bank, which says although the current situation is 'subdued', there is scope for significant growth with climate change investments.
The theme of this year's annual report is mobilising private sector financing for climate and green growth in Africa – and it is easy to understand why.
In 2022, the Southern Africa region's GDP was just 2.7% compared to a global average of 3.4% and – more significantly – 3.8% for the rest of Africa.
The slowdown in South Africa – the region's largest economy – had wider impact, with downturns also reported in Zimbabwe, Zambia, Malawi, Madagascar, and São Tomé and Príncipe.
And it's not projected to get better before it gets worse.
Growth is expected to slide to 1.6% this year before rebounding to 2.7% in 2024 (matching the current rate of growth).
The report also says the external debt burden is holding economies back, standing at 48% in 2022.
"Per capita income growth for most countries in the Southern Africa region is short of the growth rate needed to reverse the increase in poverty induced by the (Covid-19) pandemic and to put the region on track to meet the SDG1. High poverty and inequality rates remain endemic across the Southern Africa region," the report states.
As well as the civil unrest and natural disasters, political issues in South Africa have dragged the region down, says the report, while the war in Ukraine has also heaped extra pressure on food and energy supply and prices.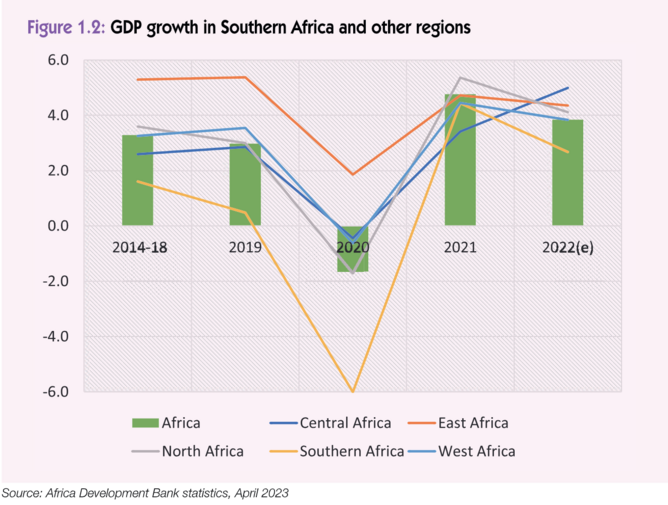 African Development Bank Statistics, April 2023.
Africa 'needs US$250 billion a year' to meet investment requirements
Kevin Urama, African Development Bank vice president and chief economist, rightly praised governments in the region for the resilience they have shown in the last 12 months.
Quoting from the report he said financial needs for climate action in Southern Africa stood at US$1 trillion, with an annual requirement of US$90.3 billion. Average annual climate finance flows to Southern Africa currently stand at US$6.2 billion.
"We estimate that the continent will need about US$235-250 billion annually between now and 2030 to meet investments needed under the Nationally Determined Contributions," said Urama. "So this leaves Africa, the African private sector and the global private sector with an investment opportunity of up to US$213.4 billion annually to address climate change alone."
The African Development Bank is leading initiatives that tackle climate adaptation, energy transition and sustainability across the continent. These include financial instruments, green bonds, technical expertise, and climate insurance schemes.
The bank's Southern Africa regional office covers 13 countries, including South Africa and Angola which are two of Africa's 10 largest economies.
The African Development Bank Group comprises the African Development Bank (AfDB), the African Development Fund (ADF) and the Nigeria Trust Fund (NTF).
READ the full report.
******
For more business insights check out the latest edition of Business Chief Middle East & Africa and be sure to follow us on LinkedIn & Twitter.
You may also be interested in Business Chief US & Canada.
Please also check out our upcoming event - Sustainability LIVE in London on September 6-7, 2023.
BizClik is a global provider of B2B digital media platforms that cover executive communities for CEOs, CFOs and CMOs, as well as leaders in Sustainability, Procurement & Supply Chain, Technology & AI, Cyber, FinTech & InsurTech. We also cover industries including Manufacturing, Mining, Energy, EV, Construction, Healthcare and Food & Drink.
BizClik, based in London, Dubai and New York, offers services such as content creation, advertising and sponsorship solutions, webinars and events