UAE, Qatar, Saudi in top 6 FDI emerging markets – Kearney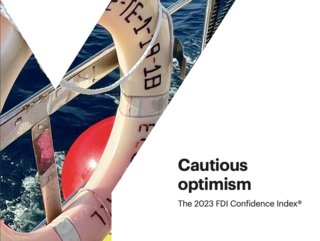 Kearney's 2023 FDI Confidence Index
Kearney's annual FDI Confidence Index lists top emerging markets for the first time, with UAE, Qatar and Saudi Arabia appearing in the top six globally
Confidence both inside and outside key Middle East economies is soaring. That may not come as a surprise for those familiar with the markets, but the sentiment is backed up by a global survey conducted by management consultancy Kearney, for its annual Foreign Direct Investment Confidence Index.
The FDICI survey was conducted in January when the global economic outlook appeared even gloomier. Since then, the picture is looking more positive, with the likes of the International Monetary Fund's World Economic Outlook suggesting it no longer expected a global recession in 2023.
This is the first time that Kearney has included a ranking for emerging markets, and the results make welcome reading for the region. Unsurprisingly perhaps, China and India are the most appealing markets for investors, but those economic superpowers are then followed by the United Arab Emirates, Qatar, Thailand, and Saudi Arabia. These six are also the only countries to make the global Top 25 list.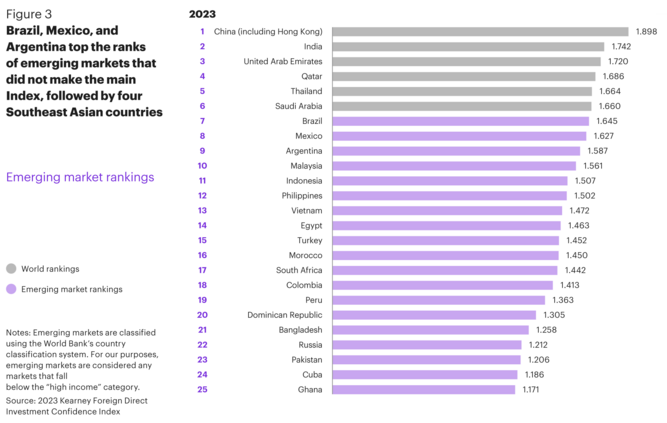 Emerging market rankings for FDI 2023
GCC countries included in the Global Top 25 for FDI
Saudi Arabia ranks 24th globally, Qatar is 21st, and the UAE is 18th. Saudi Arabia was boosted by 8.7% growth in 2022, fuelled by high oil prices, but is also making sweeping reforms in business and society, as well as investing heavily in high-profile gigaprojects – with a new one seemingly announced on a weekly, if not daily, basis.
Qatar rose from 24th to 21st on the list off the back of hosting the 2022 FIFA World Cup. The one surprise here may actually be regional leader the UAE dropping four places, but still remaining the go-to in the region. Since the survey, Dubai has also announced a slew of initiatives, including a US$8.7 trillion plan to boost its status as a global hub and centre for technology.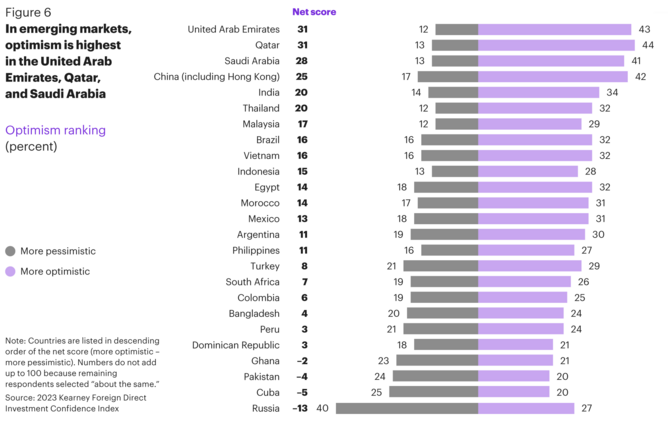 UAE, Qatar, Saudi top the optimism ratings
Globally, the United States tops the list for the 11th year running, and Canada climbs back to second. Japan rises to third, leapfrogging Germany who drop two places to fourth. Then comes the UK, closely followed by France.
Off the back of its recovery from COVID and severe lockdowns, China climbs from tenth to seventh place.
Singapore is the biggest winner on the FDICI, shooting up from 18th place to ninth, thanks to strong growth of 3.6%.
Read the full Kearney FDICI report here.