Watchmaker Audemars Piguet opens first hotel in Switzerland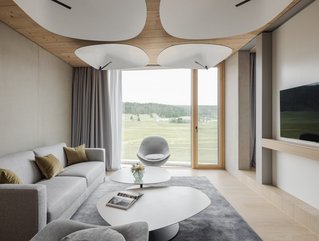 Located in the Swiss heart of watchmaking territory, Hotel des Horlogers from Audemars Piguet pays tribute to the watchmaker's values of origin and craft
Audemars Piguet has much to celebrate in 2022. Not only is the Swiss luxury watchmaker marking the 50th anniversary of its famed Royal Oak watch, but it opened its first-ever hotel.
Located in the Vallee de Joux, a centre of Swiss watchmaking and the home of Audemars Piguet since its founding in the village of Le Brassus in 1875, the four-star Hotel des Horlogers pays tribute to the watchmaker's values around origin and craft, while also championing sustainable practices and Switzerland's horological heritage.
Just steps from the Museum Atelier Audemars Piguet, the four-star avant-garde hotel was designed by the award-winning architectural studio Bjarke Ingles Group (BIG) and realised by Swiss architecture office CCHE.
The building, which meets the latest Minergie-Eco requirements for energy efficiency and eco-responsible construction, features a modern but rustic exterior whose cleverly-design vegetated ramp roofs meld seamlessly into the natural landscape.
The building harnesses a local wood-based heating network, which recycles bio waste, to provide hot water and heating. The entire hotel is paperless, and there is a zero-plastic policy.

Watch themed hotel also offers tours of Musee Atelier Audemars Piguet

The minimalistic interiors are similarly informed by the surroundings – think light fittings inspired by the large rock formations within the valley – with locally sourced raw materials, mainly stone and wood, dominating the design and décor.
The glulam beams used to construct the building are made from spruce sourced from the sustainable harvesting of the forests of the Joux Valley, while reclaimed white beech trees form the walls and ceilings.
More than 70% of ingredients used in the hotel's brasserie, restaurant, and bar – all helmed by three-Michelin-starred Chef Emmanuel Renaut – are also locally sourced – in a region dense with farmlands and vineyards, there is considerable choice.
The spa too offers 100% Swiss-made Alpeor products made using plants and flowers from the Vallee de Joux and the Valais region, and features a hammam, sensorial shower and relaxation lounge with panoramic views of the forests.
Each boasting floor-to-ceiling windows, the 50 rooms and suites also deliver unobstructed views of the Risoud forest, feature the latest technologies including in-ceiling speakers, Smart TVs and Nespresso machines, while the suites boast in-room wine cellars.
In a nod to the brand's high-end watchmaking heritage, the hotel features a library of books dedicated to the history and craft of watchmaking, and offers guests horological tours and packages, including visits to nearby manufacturers like Jaeger-LeCouture, as well as to the Musee Atelier Audemars Piguet, Espace Horloger and AstroVal observatory.
Hotel des Horlogers is located just 50 miles north of Geneva.