Two-thirds of UK corporate emissions not covered by targets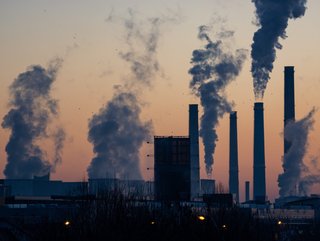 Two-thirds of corporate carbon emissions are not currently being covered by decarbonisation targets
UK businesses do not have targets covering 64% of their Scope 1 and 2 emissions and 69% of Scope 3 emissions, according to Bain & Company's new report
It has become commonplace in recent years for organisations to set sustainability targets to measure their contributions towards slowing the rate of climate change.
But damning new research has found almost two-thirds of corporate carbon emissions are not currently being covered by decarbonisation targets.
UK businesses do not have targets covering 64% of their Scope 1 and 2 emissions and 69% of Scope 3 emissions, according to a new report published by Bain & Company and CDP, the non-profit which runs the global disclosure system.
Scope 1 greenhouse gas emissions are those produced directly by a company, while Scope 2 emissions are created indirectly. Scope 3 emissions are those emitted further up and down the supply chain.
What's more, among UK companies setting targets, one in five (21%) are currently expected to miss their 2030 aims for Scope 1 and 2 emissions, while 31% are set to miss Scope 3 goals. The overall number of firms falling behind is likely to be much higher once more are setting targets or disclosing through the CDP.
Dexter Galvin, Chief Commercial and Partnerships Officer at CDP, says: "It is concerning that the majority of UK companies have yet to set and deliver on targets in line with the annual emissions reductions needed to align with a 1.5C pathway, especially given the various disclosure regulations being implemented across the globe that will have significant impacts on UK companies."
In producing the UK Climate Report, Bain & Co analysed disclosure of greenhouse gas emissions through CDP by 1,450 companies in the UK and compared them to disclosures made by organisations in North America and Europe.
Companies could fall foul of sustainability regulations
The apparent lack of decarbonisation progress means companies are at risk of falling foul of incoming regulation, including in the UK where it was announced at COP26 that listed companies and financial institutions would be mandated to disclose their transition plans.
Moreover, the US Securities and Exchange Commission (SEC) has proposed its own climate disclosure regulation, while European Sustainability Reporting Standards (ESRS) will also require disclosure of climate transition plans.
There are some causes for optimism, however. The UK Climate Report finds the number of UK businesses disclosing emission reduction targets through CDP increased by around 130% between 2020 and 2022, with average annual increases of 52% for the period.
British firms are also decarbonising faster than their European and North American counterparts, cutting emissions by an average of 8% since they began reporting through CDP, compared to just 4%.
"As the UK Climate Report shows, companies can truly embrace decarbonisation and add value to their business – these are not mutually exclusive," adds Galvin. "But you need to show leadership to do it, with credible transition plans aligned with 1.5C that bring your senior managers along with you and link decarbonisation to core value proposition and value creation.
"The fact is there are nowhere near enough companies taking the necessary steps to do this, even though it is good for business, people and the planet."