Microsoft and G42 collaborate on UAE digital transformation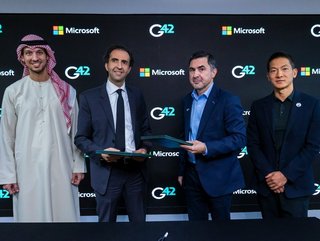 L-R: Talal Al Kaissi, CEO of G42 Cloud; Naim Yazbeck, General Manager of Microsoft UAE; Kiril Evtimov, G42's Group CTO and Chairman of G42 Cloud; and G42 Group CEO Peng Xiao.
Microsoft has teamed up with Abu Dhabi's G42 to boost digital infrastructure, cloud, and digital transformation in the United Arab Emirates
In a move that highlights the growing importance of homegrown and imported technology giants working in harmony in the region, Microsoft and Abu Dhabi-based G42 are going to collaborate on solutions.
Agreed in an MoU signed at G42 HQ, the agreement allows both organisations to explore opportunities across a variety of areas including healthcare, energy, public sector digital transformation, financial services, and climate action – vital in the year that the UAE hosts COP28.
The companies will explore joint opportunities to supercharge the UAE's digital economy and build digital infrastructure.
"Organisations globally, especially in the public sector, are increasingly looking for customised cloud solutions that offer additional choice and flexibility," said Naim Yazbeck, General Manager of Microsoft UAE.
"I am very excited about the potential that a collaboration with G42 could bring to the UAE, and I look forward to combining Microsoft's focus on resiliency, agility and security with G42's unique capabilities and vision."
Kiril Evtimov, G42's Group CTO and Chairman of G42 Cloud added: "G42 is keen to work closely with Microsoft to create a joint value proposition that can not only serve common customers better, but importantly, spur innovation and deliver agility for the technical community in the UAE and the region.
"The broad set of solutions that G42 and our clients have developed, will benefit from the rich ecosystem and global scale that Microsoft provides."
Evtimov wastes no time making an impact at G42 as CTO
G42, the leading UAE-based AI and cloud computing technology holding company, announced the appointment of Evtimov last week. He has wasted no time in leading G42's technology innovation and growth initiatives. He also supports Group CEO Peng Xiao in finding synergies between G42's portfolio companies and serves on the board of Presight AI, the big data analytics powered by artificial intelligence company that had a hugely successful IPO in March.
G42 is a UAE homegrown success story. Formed in 2018, the driving goal was to champion artificial intelligence to unleash innovation and progress for every industry and society worldwide.
As well as Presight, G42 companies include:
42X Fund – a growth equity partner for tech companies.
AIQ – a joint venture with energy giant ADNOC.
Bayanat – surveying technology providing 'geospatial intelligence'.
G42 Cloud – building the region's cloud infrastructure.
G42 Healthcare – transforming healthcare with technology.
Hayat Biotech – life sciences innovation.
Inception Institute of AI – researching AI applications.
Injazat – digital transformation, cloud and cyber security.
Khazna Data Centers – commercial data centre solutions.