Top 12 tech trends for 2022 from CB Insights report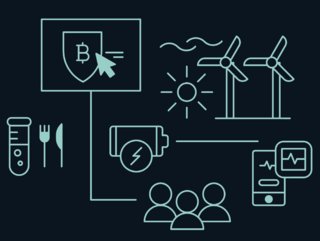 CB Insights identifies 12 technology trends for global leaders to watch in 2022, from telehealth to crypto crime, lab-grown meat to nuclear fusion.
We live in unsettled times, and that disruption has brought with it solutions based largely on technology and innovation.
CB Insights helps companies make smarter technology decisions based on data, and its latest report looks at emerging and developing trends and tech for 2022.
2021 saw significant supply chain disruption, vaccine rollouts, and other significant global milestones largely dependent on technology for a solution. With climate change and cybercrime thrown into the mix, 2022 looks like being another year of change.
"In 2022, expect to settle into the 'new normal' where disruption is always a possibility. To keep up with the sea change of the past couple of years, tech and industry players will rethink what they produce, and how," states the report.
"This year brings huge opportunities for tech companies to make major, meaningful moves in healthcare – an industry tech leaders have been after for years. Digital identities will also become a lucrative opportunity, as talk of the metaverse and NFTs further accelerates. But plunging deeper into virtual worlds opens up the playing field to more cybercrime: security solutions will become a major priority, especially as crypto hype and data privacy controversies continue to boom."
From lab-grown meat alternatives to ultrafast deliveries, here are CB Insights' Top 12 Trends to watch.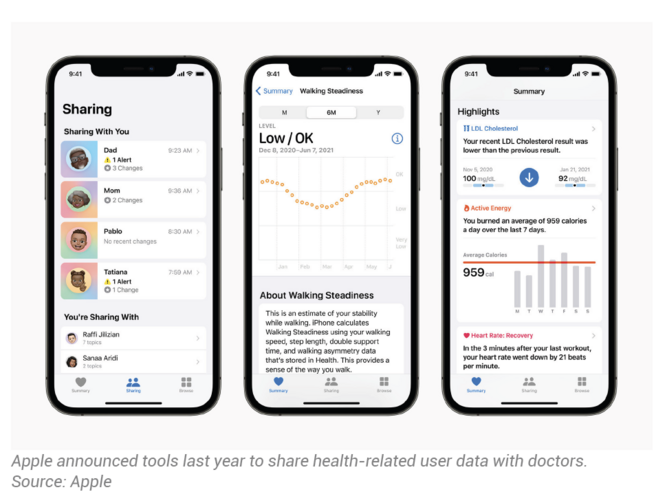 Telehealth and remote patient monitoring
Big tech companies, retailers, and telecoms will compete with existing healthcare players for the US$30bn+ remote patient monitoring (RPM) market – tech that tracks key vitals and metrics. RPM has been gaining traction as a way to reduce costs and improve the patient experience but lockdowns overrun hospitals led to an unprecedented surge in demand.
RPM could lead to earlier diagnoses and better treatments, reduce the cost of care, and even support decentralised clinical trials. Healthcare providers like Mayo Clinic and insurers are already enthusiastic about the prospect and are partnering with RPM startups and wearables makers. Corporations outside of healthcare are also spotting the opportunity to leverage their expertise in consumer electronics, data, AI and connectivity.
Consumers demanding ultrafast deliveries
The shift from physical retail to online has also brought with it high expectations. Back in 2005, Amazon shifted ecommerce with a 2-day delivery promise. Then Prime promised next-day delivery. However, it is startups promising deliveries within 10-20 minutes – so-called ultrafast – that are really grabbing consumer attention and VC funding.
The CB Insights report says 2022 could be a pivotal year for both retailers and delivery companies, with many partnerships expected, especially in European cities that have a high population density.
In October 2021, Carrefour announced "Carrefour Sprint," a partnership with Paris-based startup Cajoo and Uber Eats to deliver to customers in 15 minutes. Also that month, supermarket giant Tesco announced a partnership with Gorillas to pilot 5 UK-based dark stores using Tesco's products and Gorillas' app.
Aldi Nord partnered with Glovo in April 2021 to test a 30-minute delivery service in Spain and Portugal.
In the US, smaller convenience stores like 7-Eleven and Walgreens have launched delivery services in partnership with companies like Uber, Instacart, and DoorDash.

Taking the risk out of supply chains
"Supply chain disruption" is a phrase that simply refuses to go away after being virtually unheard of pre-pandemic.
The good news is, although supply chains were weak and stretched and exposed to their limits, technology already exists that can mitigate many of the problems organisations are facing with global supply.
Key market drivers in supply chain innovation include:
Digitisation: Technologies like digital freight matching and blockchain-based asset-tracking are better matching supply with demand and improving data access and value.

Visibility: Demand forecasting and visibility platforms are helping businesses identify and respond to inefficiencies and potential disruptions.

Automation: Robots are proliferating across the supply chain – from robotic fulfilment, autonomous ground and drone delivery, and more.
The opportunity is huge. According to Deliverr, being able to deliver a product in 2 days rather than 7-10 can boost sales by 40%. Making it happen in one day boosts sales by 70%.
Lab-grown meats compete against meat and plant-based alternatives
Regulatory approvals seem to be the only thing holding back lab-grown meat companies – who make meat in a laboratory setting using animal-derived cell cultures.
Some estimates say cultured meat could account for a third of US meat consumption by 2040, surpassing plant-based alternatives. In the US$2.7tn global meat market, even a fraction of market share could be massive. With regulatory bodies suggesting they could approve cultivated meat, this could provide significant disruption in the industry.
Key benefits include not killing animals for food and eliminating the significant greenhouse gas emissions associated with traditional meat production.
Currently, only one company has approval – Eat Just from Singapore which has been able to sell its "no-kill" chicken under the brand GOOD Meat.
In Israel, startups like Aleph Farms, SuperMeat, and Future Meat are also leading the way, raising funds to cultivate their lab-grown meat products. SuperMeat has a test restaurant, but guests have to sign waivers to try their no-kill, lab-grown chicken burgers.

Nuclear fusion promises clean, plentiful energy
Nuclear fusion has evaded scientists for decades but a number of innovative startups are making great strides in aiming to produce energy in the same way as the sun – at the same time providing vast amounts of clean energy to fight climate change and support renewables.
Fusion energy works by bringing the nuclei of two atoms together to make a new single nucleus. In the case of hydrogen, the energy holding together the resulting helium nucleus is less than that required for the two originals. The difference is released as energy.
At the moment, fusion is a reality, however it takes more energy to produce the reaction than is generated. Once that reaction produces net positive energy, which could happen in 2022, that could be a game-changer for energy and the climate.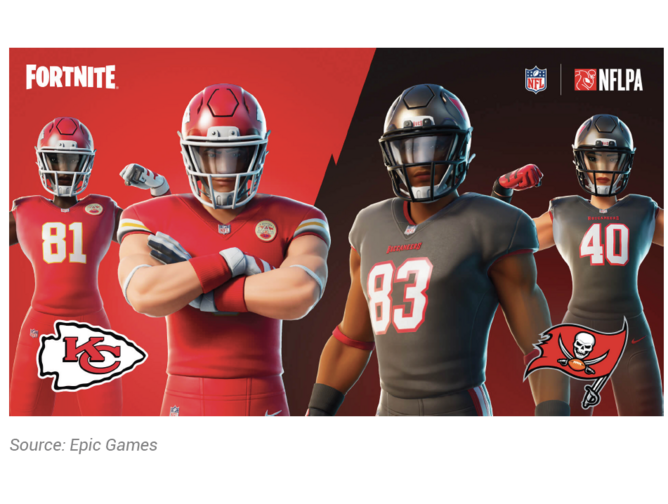 Metaverse, NFTs and digital identities
The metaverse is far more than Mark Zuckerberg's grand design for salvaging the flagging fortunes of Facebook – this is a world where leading brands and creatives are already cashing in.
These virtual worlds allow users to interact as avatars, which can be personalised with the latest designer outfits, or live in spaces adorned by unique artworks.
Alongside virtual worlds, avatars have become widespread through messaging apps like Snapchat, and social platforms like Zepeto and VRChat. These digital identities are becoming increasingly important for Gen Z, who say they feel more like themselves when online.
Non-fungible tokens (NFTs) are a key enabler for digital goods as they prove authenticity since users claim exclusive ownership of digital assets verified on the blockchain.
Fashion brands have also been quick to spot the potential, with Adidas, Gucci and Balenciaga teaming up with virtual worlds like Fortnite and Roblox.

Virtual clinical trials
In silico techniques – which uses computational models to simulate how a drug, medical device, or intervention will affect a virtual population – has the potential to cut the time and money it takes to develop a drug.
These trials are likely to sit alongside traditional in vivo clinical trials to increase speed and success rates.
Many European companies are leading the way here, including Dassault Systemes, Novadiscovery, while US-based Unlearn and GNS Healthcare are doing great work with partners.

Climate tech to help achieve net-zero
Tackling climate change is fast becoming the top priority, and with it a significant industry. With countries and companies all setting targets and making bold claims, now is the time to deliver. Consumers are also playing their part – demanding more sustainable products and services that go beyond climate change but also tackle issues of diversity, equity and inclusion.
Climate tech – a broad term covering technologies that can help tackle climate change – with investors queueing up to provide investment. This will only increase in 2022. Certainly, Larry Fink, CEO of investment management giant BlackRock believes so. In October 2021 he said the next 1,000 unicorns will come from climate tech. Bold.
Executives and leaders also need to be mindful of 'greenwashing' as measurement and reporting improves, and sustainability efforts become more transparent.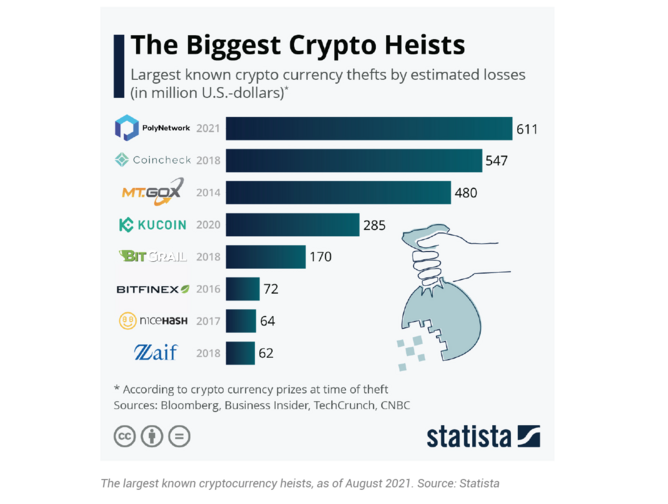 Cryptocurrencies targetted by cyber criminals
Interest in crypto, and public awareness, is higher than ever and growing, with companies from Starbucks to KFC accepting crypto as payment.
But as the technology becomes more widely adopted, the cyber security risks increase as hackers spot weaknesses and opportunities.
Hackers stole more than US$600 million of tokens from decentralised finance (DeFi) platform Poly Network in August 2021, and we can expect more large-scale attacks. Crypto exchange BitMart was hit for US$150mn in December 2021 while a month earlier, a teenager was arrested for stealing more than US$36mn in a crypto theft.
Regulators in the US are looking to mitigate risk in cryptocurrency markets, while China has gone even further – banning crypto trading and mining in September 2021.

Electrification will boost clean energy and batteries

We may be most familiar with the electrification of vehicles (EVs) but being able to harness renewable energy is going to impact our lives in wider ways.

Mainstream electrification will see companies, investors, and governments place big bets on the technology and cheap sources of clean energy become more abundant. This will also see leaps in battery technology that will set the stage for mass electrification across industries.

This lowering of cost and improving the efficiency of storage and generation from solar and wind, for example, will be game-changers, and companies already pioneering battery technology – like automakers Tesla, GM, Volvo, Honda, BMW – could have a head start.

Lighter, longer-lasting batteries could help electric planes take to the skies, remove range anxiety for EVs, make it cheaper for property owners to install on-premises energy storage, and much more.


Big tech's consumer privacy battle

There is a lot of data out there about every single one of us. With 20 years of exposure to the internet, Big Tech behemoths like Amazon, Facebook (aka Meta), Google, and Apple have acquired considerable data. This has in due course led to security concerns and triggered waves of consumer privacy regulation (like the EU's General Data Protection Regulation, or GDPR) over the past few years.

At the same time, consumers have also become more sceptical of how their data is managed and increased their demand for control over its collection, storage, and use. Organisations that do not comply are potentially facing ruin. Unless you have pockets as deep as Amazon, who was fined US$887mn in July 2021 for GDPR. In July 2019, Facebook was fined US$5bn for violating consumer privacy rules.

Rising executive interest in privacy and compliance management reveals that the protection of consumer data has increasingly become a priority for businesses across all industries.


Buy Now Pay Later (BNPL) kills the credit card

As the Covid-19 pandemic drove unprecedented levels of e-commerce, "buy now, pay later" (BNPL) saw a huge boost while credit card balances dropped.

BNPL startups such as Klarna and Afterpay, which was recently acquired by Block saw record-setting levels of funding and deals in 2021 and is expected to grow 10 to 15 times to reach more than US$1tn in annual gross merchandise volume by 2025.

Importantly, Big Tech players are also venturing into BNPL. Amazon has partnered with Affirm to be the exclusive BNPL provider. Apple and Goldman Sachs are said to be working on a solution potentially called Apple Pay Later. Google Pay has partnered with both Afterpay and Klarna to provide BNPL for in-store shopping.