World's largest tech event GITEX to showcase Web 3.0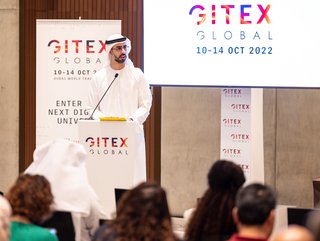 His Excellency Omar Al Olama, Minister of State for AI, Digital Economy & Remote Work Applications
Dubai is fast positioning itself as the global centre for the future of tech, which is why GITEX GLOBAL 2022 is the place to embrace the Web 3.0 economy
From the first public flight of XPENG flying car X2, to one of the world's most immersive metaverse journeys and Dubai's biggest unicorn meetup, GITEX GLOBAL 2022 will convene 100,000 attendees and more than 5,000 companies – from Huawei, Microsoft and ByteDance, to e&, Binance and Tencent – when it opens its doors on October 10.
With an expected attendance of more than 100,000 and a footprint of 2 million square feet, GITEX GLOBAL 2022 is the world's largest tech show. Held from 10-14 October at Dubai World Trade Centre, the official press launch of this 42nd edition was suitably ambitious in scale.
More than 5,000 companies will be featured, across 26 halls, with the already cavernous venue having to add additional temporary buildings to accommodate two new tech zones. But the most impressive aspect of the show is perhaps not the sheer scale, but the underlying opportunity.
Not content with simply shining a light on the companies and minds building the Web 3.0 economy, GITEX forms a physical hub for these virtual worlds to meet, exchange, and thrive.
This is a curation rather than a compilation, with seven multi-tech themes experimenting in the metaverse, a decentralised future of the internet, and a sustainable global digital economy.
New for GITEX GLOBAL 2022 are:
X-VERSE – sponsored by TMRW Foundation in collaboration with Decentraland – which promises to be one of the world's most immersive metaverse journeys featuring 28 experiential brands
Global DevSlam – the Middle East's largest coder and developer meetup
Dubai is fast positioning itself as the global centre for the future of technology. That is epitomised in an extended North Star hall, which will feature more than 1,000 global start-ups, with some 30% of those not currently having a presence in the UAE.
"GITEX this year is bigger than ever. It spans two million square feet with over 5,000 exhibitors from more than 90 countries, which makes this truly the biggest tech show in the world. This year, my office has partnered with GITEX to ensure that we're not just showcasing technology, but actually inventing and developing technology," said His Excellency Omar Al Olama, Minister of State for AI, Digital Economy & Remote Work Applications, who delivered the welcome note.
Trixie LohMirmand, Executive Vice President of Events Management at Dubai World Trade Centre, GITEX GLOBAL's organiser, added: "GITEX is not just a big gathering of people. It's the super-connector humanising the virtual and digital economies.
"GITEX serves a profound purpose of enabling and accelerating the digital economies of the UAE and many of its alliance partners through connecting earnest stakeholders with outstanding minds from the world, and materialising these connections into actionable partnerships."

UAE and MENA region rising as a global tech hub
More than half of the exhibitors at GITEX will be new this year, while North Star will host the biggest Unicorn meetup of the year in Dubai, with 35 Unicorns from 15 countries looking to explore new opportunities in the region.
Meanwhile, the Africa Fast 100 programme presents the largest gathering of African start-ups outside that continent.
Debut international exhibitors such as Binance, Ooku, AMD, Tencent, and ByteDance, are seeking to extend their brand reach to a global audience through GITEX, along with FTX Exchange, one of the world's largest cryptocurrency exchanges with a five million-plus global customer base and an average daily trading volume of US$12 billion.
Influential UAE entities inspire R&D
UAE companies are disrupting the global tech scene with bold commitments in tech R&D and inventions, including Technology Innovation Institute (TII) a leading global scientific institution and the applied research pillar of Abu Dhabi's Advanced Technology Research Council.
TII will have a significant presence at GITEX GLOBAL showcasing AI and Digital Science, Directed Energy, and Autonomous Robotics Research. Dr. Ray O. Johnson, CEO of TII, said: "Working at the intersection of discovery science and advanced technology, our research centres have announced, within the last two years, multiple research breakthroughs that give Abu Dhabi and the UAE greater tech sovereignty.
"Our journey has just begun. Research today is a collaborative field, and we look forward to the networking opportunities with the technology world's leaders to accelerate our breakthroughs in the years to come."
G42, a champion of AI and cloud technologies, will create a high-impact visitor experience showcasing powerful capabilities through its group of four companies.
"There couldn't be a better time to showcase G42 than at the 42nd edition of GITEX, the world's largest tech and start-up event," said Hasan Al Hosani, CEO of Bayanat, a G42 company.
"At GITEX, we aim to get some of our flagship companies to come under one roof and give a better sense on the spectrum of our offering under the theme 'The Answer is Yes'. We are looking forward to meeting our peers from the tech industry – from the region and beyond, and inviting them to experience the holistic offering of the G42 ecosystem."
The region's largest telecom operator e& (formerly known as Etisalat) was earlier this year ranked as the world's strongest telecom brand by Brand Finance. GITEX will be the first major exhibition for the firm since the launch of its new brand identity.
Hatem Dowidar, Group CEO of e&, said: "GITEX GLOBAL is the place where many futuristic ideas and solutions come to life, demonstrating the limitless possibilities technology advancements open up and inspiring participants with the immense opportunities that lay ahead.
"This is in line with our ambitious strategy to drive a brighter, digital future that will transform societies in meaningful ways. We look forward to showcasing our diverse portfolio and growth aspirations covering the metaverse, fintech, cybersecurity, AI, cloud computing, and so much more."
World's largest public-private partnership creation platform
GITEX unifies 250 government entities leading strategic digital projects and public-private partnerships, with Digital Dubai Authority and Abu Dhabi Digital Authority among the UAE government bodies advancing smart city and digital projects.
H.E. Tariq Al Janahi, Acting CEO, Digital Dubai Authority, said: "Following the vision of H.H. Sheikh Mohammed Bin Rashid Al Maktoum, Prime Minister and Vice President of the UAE, and Ruler of Dubai, to digitalise life in the city, this year Digital Dubai's participation at GITEX GLOBAL 2022, in partnership with 32 government and seven private sector partners, will showcase the latest digitalisation solutions built by Dubai Government, also displaying future plans to build a holistic city-wide digital ecosystem ensuring Dubai becomes a global benchmark for building digital economies."
H.E. Mansoor Al Marzooqi, Executive Director, Strategy & Innovation Sector, at Abu Dhabi Digital Authority, pointed out that the Abu Dhabi Government Pavilion at GITEX will be an advanced digital technology platform bringing together more than 30 government and academic entities, showcasing more than 100 innovative projects that highlight the Abu Dhabi government's key achievements in the field of digital transformation.
"GITEX Global 2022 is a global tech platform that gives the Abu Dhabi government the opportunity to showcase new digital initiatives in government services, digital government solutions, data and artificial intelligence, cybersecurity, and digital enablement, all of which have been carefully developed to further strengthen Abu Dhabi's digital capabilities, enabling, supporting and delivering a digital government that is proactive, personalised, collaborative and secure," said H.E Al Marzooqi.
Next-generation network leader Huawei is GITEX GLOBAL's headline sponsor, and will showcase its newest end-to-end products and advanced ICT solutions focusing on AI, digital power, cloud, 5G (and 5.5G), cybersecurity, and industry applications.
Alaa Elshimy, Managing Director and Senior Vice President of Enterprise Business Group, at Huawei Middle East, said: "GITEX GLOBAL provides us with a golden opportunity to network with our customers, partners, industry leaders and experts from the Middle East region and around the world to explore how to more effectively unleash digital productivity, promote the digital economy, and build up stronger digital ecosystems.
"Using its connectivity, computing, and cloud technologies, Huawei will continue to work with its partners to drive ongoing industry innovation and multi-tech synergy, creating scenario-based solutions for diverse customer needs. This will create greater value and make it easier for customers to go the 'last mile' of their digital transformation."
Tech giant Microsoft will also have an increased presence at GITEX, including participating in the new X-VERSE and Global DevSlam pavillions.
Naim Yazbeck, General Manager of Microsoft UAE, said the focus at the event will be on mixed reality.
"We recently announced the availability of the industry-leading HoloLens 2 mixed reality headset in the UAE," said Yazbeck. "Backed by the reliability, security, and scalability of our cloud, this state-of-the-art holographic device provides the most intuitive and immersive mixed reality experience which we will showcase at the event and demonstrate how mixed reality can support a wide variety of industry applications and use cases."
GITEX to host first public flight of XPENG flying car X2
eVTOL and electric car innovator XPENG will showcase its flying car X2 at GITEX and is sure to be one of the top attractions with visitors.
Dr. Brian Gu, Vice Chairman and President of XPENG, said the X2 produces zero carbon dioxide emissions during flight, and is designed for low-altitude city operations with a maximum flight speed of 130kmh.
"2022 is associated with many transformative trends like Metaverse and third generation web technologies that are unknown, amorphous and bourgeoning," added LohMirmand.
"These and other frontier techs can only finally impact our societies when there's large-scale expert discourses, collaborations and experimentations by protagonists and detractors. This is GITEX 3.0, where the decentralisation of the economy puts the power in the hands of every delegate in GITEX to participate in the shaping of our urban future."

BizClik, publisher of Business Chief, Technology magazine, AI magazine, Mobile magazine, Fintech magazine, Sustainability magazine, EV magazine and more industry-leading brands, is an official media sponsor of GITEX GLOBAL 2022.