Etisalat's pivot to e& – a transformation success story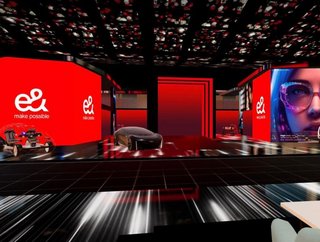 The transformation of UAE telco Etisalat Group to e&, a technology and investment conglomerate, has proven a successful pivot, as telcos look to diversify
As business transformation efforts go, Etisalat Group's transformation over the last few years from a telecoms company founded more than four decades ago in the UAE to e& – a technology and investment conglomerate with a global influence in digitalisation is nothing short of visionary.
Armed with a strategy to diversify and accelerate resilient long-term growth, by unlocking potential through its investment in state-of-the-art infrastructure and digital transformation, the telco Group's pivot to tech is certainly paying off.
The tech conglomerate, now present across 16 countries, achieved remarkable business growth and unwavering stakeholder confidence in 2022, with its portfolio of brands (including flagship telecoms brand EtiIsalat by e&) now exceeding a total value of US$14bn – and was recently named as the most valuable portfolio of telecom brands in the Middle East and Africa region, and among the top three in the world, according to the 2023 Brand Finance Global 500 Report, released at WEF, Davos.
e&'s transformation success story comes as "the telecommunication industry continues to struggle with commoditisation", David Haigh, Chairman and CEO of Brand Finance says, pointing to e& as a telecom operator that has got it right.
"e& has taken the bold and necessary step to reposition its brand identify to unlock new opportunities and services," says David. "The ongoing brand evolution enhances the ability to branch out into new services as well as stepping up from being a strong regional player to being a brand with global aspirations."

From telcos to techcos – diversification imperative for telecom operators
The continued emergence of technology is creating a new type of player in the telco industry – a Techco – a telco operator that has transformed into a tech-driven operators by providing tech-based products and services – and e& is at the forefront of this change.
As e& Group CEO Hatem Dowidar told Telcom Review last year, so much has changed in the past decade in the roles of telecom operators and internet tech companies.
"Where telcos focused their attention on building the best network infrastructure and acquiring spectrum based on geographical demarcations and a highly regulated environment, internet tech companies used any form of network (cable or wireless) to develop applications and provide these services to their customers.
"Given the new reality of the disrupted business landscape where technology and the needs of our customer segments are constantly evolving, it was critical to refine our business model and ultimately diversify our revenue streams and add more value."
Business diversification has been at the heart of telecom operator strategies for several years now as operators experience a stagnating connectivity market, and their core business becomes increasingly commoditised.
Aware of their predicament, operators around the world, like e&, are exploring ways to reignite growth, including establishing new businesses to reach beyond connectivity.
However, new business-building for many telco operators is not proving easy. A recent McKinsey survey of 50 senior executives from telco companies around the world showed that 77% had embarked on more than five business-building initiatives over the past 10 years. And while half of the execs said their new businesses were showing healthy profits, a quarter said the initiatives were not yet profitable, while a further quarter had net profitability of less than 10%.
e& transformation – collaboration and a growth mindset key
e& is one of a growing number of ou-tperformers demonstrating that it can be done – with the Group making significant strides in AI, blockchain, VR, AR, the IoT, cloud computing, and technologies supporting the emergence of the metaverse.
According to Dowidar, the Group's transformation has involved adopting a growth mindset, creating a future-ready business model, pursuing strategic partnerships and M&As more actively and setting its sights on new opportunities that the digitalisation of sectors brought.
This has led to the building of multiple revenue streams through specialist business pillars, including Etisalat by e&, e& international, e& life, e& enterprise and e& capital.
Dowidar said that e& had made significant strides in Artificial Intelligence (AI), blockchain, Virtual Reality (VR), Augmented Reality (AR), the Internet of Things (IoT), cloud computing, and technologies supporting the emergence of the metaverse.
"As we help usher in the next wave of digital tech transformation, we will continue exploring new business models in the digital space. Our strategic priority is to drive new partnerships and investment opportunities that will accelerate the growth of all our business verticals."
Collaboration with internet tech companies has been core to the company's transformation, a necessary step says Dowidar in bringing exceptional digital experiences jointly to the table. The Group has already orchestrated such collaboration for its enterprise customers through its end-to-end solutions in IoT, AI, cybersecurity, as well as cloud and 5G.
Its partnerships with world-renown ed companies like Microsoft and Meta have been game-changing, Dowidar said, making it possible "to compound growth while designing seamless digital experiences for customers and contributing to society".
Its partnership with Microsoft for example, which offers customers the benefits of using reliable, cost-effective public cloud solutions, is a perfect example of business integration that combines one of the world's fastest 5G networks from 3& with Microsoft's technology ecosystem based on cloud solutions, AI services and data services.
Meanwhile, the company is leveraging Meta's technologies through the use of e&'s advanced 5G network combined with a multitude of technologies to help customers embrace a digital-first lifestyle more efficiently.
"Guided by our 46-year legacy of pushing the boundaries of technology and service excellence, we have emerged as an inspiring global technology conglomerate; this international recognition makes us extremely proud," Dowidar says.