Abu Dhabi: the world's next big business events destination?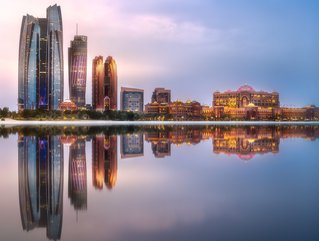 Abu Dhabi / Getty Images
As Abu Dhabi starts fund to boost events, and Fortune selects emirate to stage its Global Forum, we ask, is Abu Dhabi the next big business tourism city?
When it comes to business tourism, Dubai is a popular choice.
Named number one destination globally for association meetings and business events in 2021 by the International Congress and Convention Association, the Gulf city was the among the first destinations to resume in-person business events in the post pandemic era, opening itself up to hosting international meetings and attendees as early as October 2020.
From putting on the world's largest tech show, GITEX GLOBAL, for the last 42 years, to this year hosting Cop28, arguably the world's most significant event on climate change, Dubai continues to stage leading global events, conferences, forums, and summits.
And it's easy to see why. According to a 2019 report from UFI, the Global Association of the Exhibition Industry, the exhibitions sector generates more than US$81bn in direct GDP, making it the 56th largest economy in the world.
And now sister city Abu Dhabi, the UAE's capital, is looking to take a slice of the Mice (Meetings, Incentives, Conferences, Events) action – as it continues to diversify its economy beyond oil and into a knowledge-based economy.
Abu Dhabi launches fund to boost business tourism
To boost both its global profile and GDP, Abu Dhabi is launching a fund designed to boost business tourism in the emirate.
The new fund, formed from a partnership between Abu Dhabi Convention and Exhibition Bureau (ADCEB) and ADNEC, the owner-operator of the city's major exhibition venue, is aimed at further increasing corporate events and incentive travel in the emirate.
The fund will leverage public-private partnerships to boost B2B events, providing financial support and incentives to event organisers, agencies, and companies to host their meetings in Abu Dhabi.
"This comes as part of our efforts to strengthen the business tourism in Abu Dhabi and the UAE and attract more companies to choose Abu Dhabi as an ideal destination for hosting any meetings, conferences, exhibitions, or events," says Humaid Al Dhaheri, Group CEO of Adnec Group.
This new fund joins ADCEB's existing initiatives including the Advantage Abu Dhabi Meetings & Incentives 2.0, an upgraded programme that stimulates Mice activities in the region.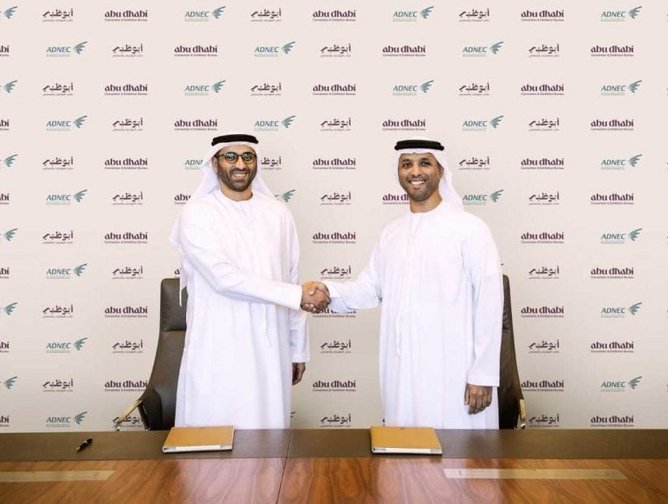 ADCEB signs an initial pact with Adnec Group to help boost. Credit: Abu Dhabi Media Office
Abu Dhabi – journey to becoming a bustling business destination
Abu Dhabi is no stranger to business tourism, with ADCEB having worked tirelessly since its inception 10 years ago to attract international conventions and business events to Abu Dhabi over the last decade.
"Abu Dhabi sees MICE as a catalyst for the recovery of the tourism sector and the overall economy," says Mubarak Al Shamisi, director of ADCEB. "Hence, we developed a 10-year strategy to grow and position the emirate as a global business events hub and our goal is to double the sector's size by 2030."
In 2019, the city licensed more than 13,000 events, with an estimated total of nearly 24,000 speakers.
And since emerging from the pandemic, has continued to draw events to the emirate – last year hosting ADIPEC, reportedly the world's largest annual assembly of energy industry professionals, which convened 15,000 attendees and generated an estimated US$8.2bn in business from some 2,200 exhibiting companies.
In February this year, the emirate played host over five days to the most important tri-service defence exhibition in the world (IDEX and NAVDEX), attracting more than 1,350 companies and some 132,500 visitors.
And there are plenty more to come. The Annual Investment Meeting, the world's leading platform for foreign direct investment, is set to attract 20,000 participants when it opens in May; while the UN Conference on Trade and Development's World Investment Forum, recognised by governments and business leaders as the pre-eminent global gathering for investment partnership and policymaking, will take to the Abu Dhabi stage in October.
And perhaps most significantly, the prestigious 2023 Fortune Global Forum, in November.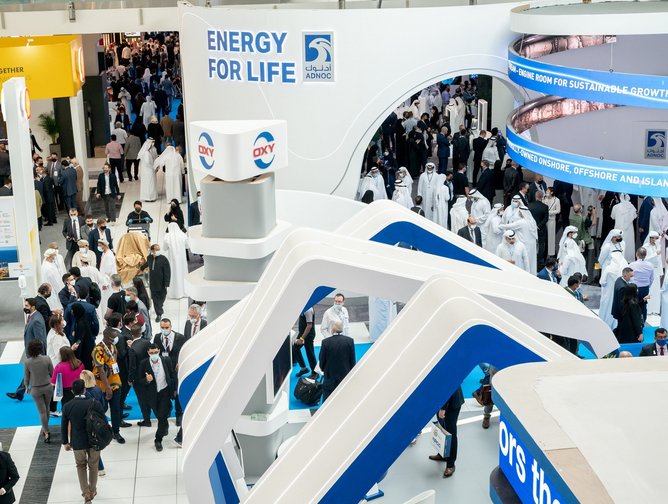 The largest-ever ADIPEC took place in Abu Dhabi this year
Abu Dhabi – host to the prestigious Fortune Global Forum
Marking the first time the MENA region has played host to Fortune's prestigious invitation-only Global Forum, Abu Dhabi was selected for its "location, climate, culture, infrastructure, and other assets", and for its "growing role as a business, economic and cultural hub", says Fortune CEO Alan Murray.
And given the calibre of CEOs who attend the forum, the event promises to put Abu Dhabi firmly on the Mice map.
Previous forums have featured heads of state, including former U.S. President Bill Clinton and Canadian PM Justin Trudeau, as well as CEOs of the world's largest companies, among these, Apple's Tim Cook, Nestle's Mark Schneider, J.P. Morgan Chase's Jamie Dimon, and Johnson & Johnson's Alex Gorsky.
"Abu Dhabi's progressive track record in hosting global business events of this calibre is testament to our proven capability, best-in-class infrastructure and year-round attractiveness of our destination," says Saood Abdulaziz Al Hosani, the Under-Secretary of the Department of Culture and Tourism, Abu Dhabi.
Held under the theme, 'A New Era for Business', the forum will address global agendas currently including market and trade dynamics, geopolitical tides, emerging technologies, talent, as well as workplace shifts, climate risk, and consumer trends.
As part of preparations and agenda development leading up to the Forum, Fortune will organise two events in key financial centres during the year.