Abu Dhabi Finance Week: 10 speakers you don't want to miss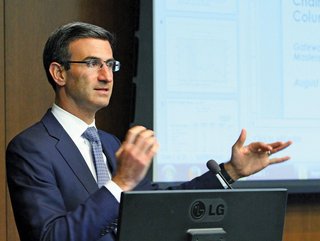 Peter Orszag is CEO of Lazard / Credit: Peter Orszag
ADFW will welcome 10,000 business leaders and a prestigious lineup of speakers – from iconic investor Ray Dalio to Franklin Templeton CEO Jenny Jones
When it comes to pulling power, nowhere on the planet will have quite the leadership pull of the UAE this winter.
The Gulf country is not only playing host to COP28, arguably the world's most important event, but also to the region's first Fortune Global Forum and the world-renowned Abu Dhabi Grand Prix.
From heads of state and government leaders to CEOs from the world's leading companies, Dubai and Abu Dhabi is expected to be awash with many of the world's most important decision-makers come November.
Adding to this prestigious lineup, Abu Dhabi Finance Week (ADFW) – which takes place in the days leading up to COP28 – is expected to pull in more than 10,000 business leaders, including heads of 3,500 top financial firms and banks from more than 100 countries.
Now in its second edition, ADFW is a series of five global leadership forums bringing together leaders from firms across private equity, capital markets, hedge funds, asset managers, venture capitalists, institutional investors, investment banks and fintechs – collectively managing over US$15 trillion in assets.
"We are part of an extraordinary era that is transitioning in every aspect whether it is economic, technological advancement or climate," says H.E. Ahmed Jasim Al Zaabi, Chairman of Abu Dhabi Global Market (ADGM). "As we navigate the complexities and challenges of this transformative phase, ADFW acts as a superb platform to gather impactful decision-makers that look at these aspects as opportunities."
With the theme of 'Investing in the Transition Era', ADFW will kick off with the inaugural Abu Dhabi Economic Forum which will gather high-level executives and decision-makers in the presence of an exclusive set of audience to discuss macroeconomic topics.
The first day will also witness the start of the globally renowned Fortune Global Leadership Summit 2023, where leaders can participate in strategy sessions, industry tours and panels, and hear from speakers including the CEOs of PayPal, Tata Sons and Geely Automobile Holdings.
ADFW will continue with Asset Abu Dhabi's second edition which is levelling up to be one of the world's strongest lineups of global private market leadership.
Returning for the sixth consecutive year, the MENA's biggest Fintech Festival will convene tech innovators, banks, developers, entrepreneurs and VC investors to examine the intersection of innovation and finance and transform the future of finance – across areas like payments, digital assets, cyber security, market integrity and credit. It will include The Regulators Summit, Blockchain Abu Dhabi, Risk4.0, A.I. Abu Dhabi and the 2023 Fintech Abu Dhabi Awards.
Adjacent to the critical launch of COP28, the 2023 edition of R.A.C.E (Regulation, Awareness, Collaboration & Ecosystem) is partnering with The Economist and will stage pivotal conversations on sustainable finance to find concrete actions by forward-thinking financial institutions, and their work in closing the capital gap needed to invest for net zero.
Across all co-staged events, from the Fortune Global Forum to the Abu Dhabi Economic Forum, attendees can expect to hear from world leaders in finance and business – including Mohammed Alardhi, Executive Chairman at Investcorp, H.E. Dr. Abdulrahman Al Hamidy, Chairman of the Arab Monetary Fund, Bob Steers, Executive Chairman of Cohen & Steers, and Loh China Hua, CEO of the Keppel Corporation, among many others.
Here are ten speakers not to be missed
1
Founder, CIO Mentor, and Member of the Bridgewater Board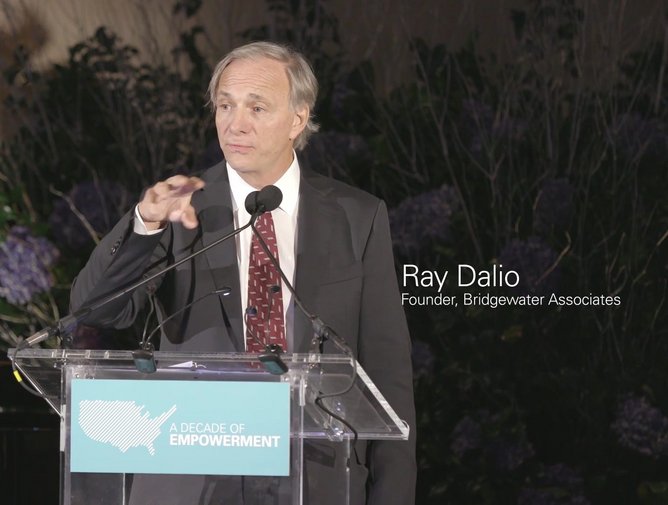 Ray Dalio opened a branch of the Dalio Family Office in Abu Dhabi's financial free zone ADGM
Described as "the Steve Jobs of investing", Ray Dalio is something of a maverick and pioneer when it comes to trading.
Born in 1949 in New York, Dalio established Bridgewater Associates in 1975. After McDonald's became a Bridgewater client, other large organisations soon followed, including the World Bank pension fund.
Dalio has made a name for himself when it comes to predicting market fluctuations and actually made money in the 1987 stock market crash. He also started ringing alarm bells about the global economy in 2007, estimating bad debuts of up to US$839 billion. He even took this to the White House, but his warnings were largely ignored, though Bridgewater clients were well-prepared for the global crash that followed in 2008.
Keen to share his insights with a larger audience, Dalio self-published a book, Principles in 2011. Bridgwater is now the biggest hedge fund in the world, with an estimated US$160 billion in AUM, and Dalio – who was named one of Time magazine's 100 most influential people – has an estimated worth of uS$15.7 billion.
In April this year, Dalio opened a branch of the Dalio Family Office in Abu Dhabi's financial free zone ADGM, to handle his private investments and his philanthropy work.

2
Laura Cha
Chair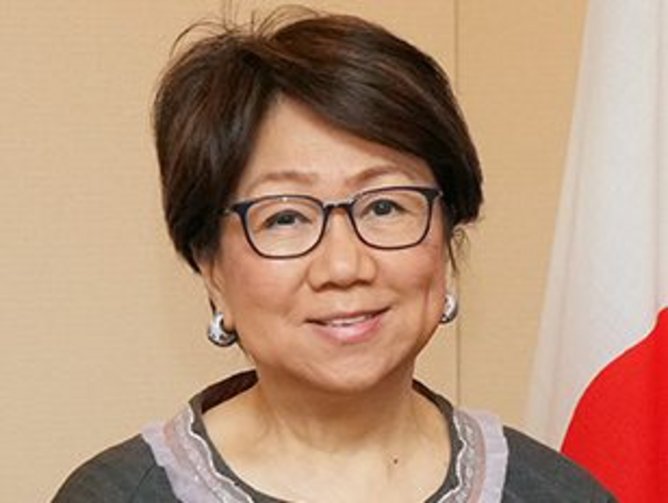 Laura Cha is a trailblazing leader in the world of finance
A trailblazing leader in the world of finance, and one of the most influential female business and political leaders in Hong Kong, Laura Cha has played an instrumental role in the development of Hong Kong as a key international financial centre, and in the continuing evolution of China's capital markets.
Cha made history in 2018 when she became the first female chair of the Hong Kong Stock Exchange (HKEX) where she leads the board in setting the direction and is focused on expanding HKEX's product ecosystem as well as its IPO activity.
The Shanghai-born lawyer was previously chairman of the Financial Services Development Council, where she was instrumental in pushing for the introduction of dual-class shares and led efforts to position the city as an offshore centre fro trading in yuan.
Earlier in her career, Cha worked for Hong Kong's Securities and Futures Commission and became its deputy chairman in 1998. She has also held non-executive board roles including for HSBC and Unilever.
3
Natarajan Chanrasekaran
Chairman
From an intern at Tata Consulting Services to chairman of the oldest and largest business in India, Tata Sons, Natarajan Chanrasekaran (known as Chandra in business circles) has had quite the career journey.
Chandra's appointment as Chairman of Tata Sons in 2017 follows a 30-year business career at TCS, where he rose through the ranks to. COO in 2007 and then CEO two years later. Chandra embedded a culture of customer focus and innovation at the firm and under his leadership, it became the largest private sector employer in India and the country's most valuable company.
In chairing Tata Sons, Chandra oversees the holding company and promoter of more than 100 Tata operating companies with annual revenues of more than US$100 billion, 29 of which are publicly listed. He also chairs the Boards of several group operating companies, including Tata Steel, Tata Motors and TCS.
His business leadership has been recognised with various corporate awards, honourary doctorates and memberships of leading global forums, including as Chairperson of the ICT Industry Govenors at the WEF in Davos.
4
President, CEO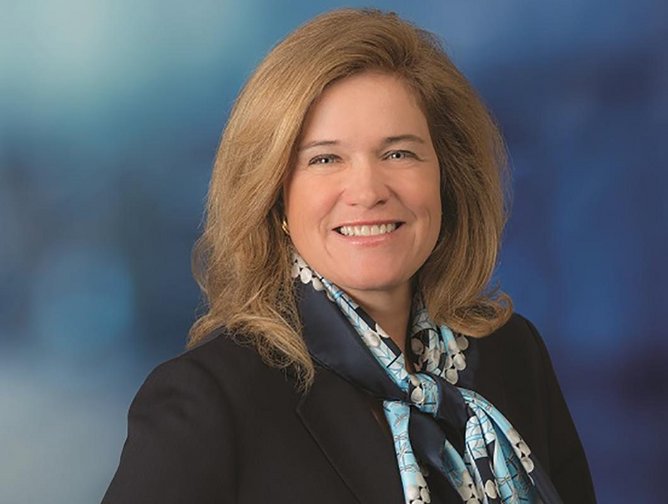 Jenny Johnson has been a key driver in the transformation of Franklin Templeton
Named among the 100 most influential women in US finance for four consecutive years by Barron's, Jenny Johnson is a financial force to reckoned with.
In a career spanning 35 years, Jenny Johnson has been a key driver in the transformation of Franklin Templeton into what is now one of the largest global investment managers in the world, with more than US$1.5 trillion in AUM and offices in over 30 countries.
She has held leadership roles across all major divisions of the business, from investment management to technology, rising to CEO in February 2020 and has since led the evolution of the business – diversifying the firm's investment capabilities and solutions for clients via key strategic acquisitions and investments. She led the acquisition of Legg Mason investments in 2020, resulting in an adjusted net income of US$1.9 billion for 2021.
For her efforts, Johnson has received many recognitions, including as the 2021 Financial Woman of the Year by The Financial Women of San Francisco, and has been named among Forbes' 100 most powerful women in the world.
Johnson is generous with her finance-related expertise, serving on various boards, including the International Advisory Panel of the Monetary Authority of Singapore, the NYSE Board Advisory Council.
5
Dr Samir Haj-Yehia
Chairman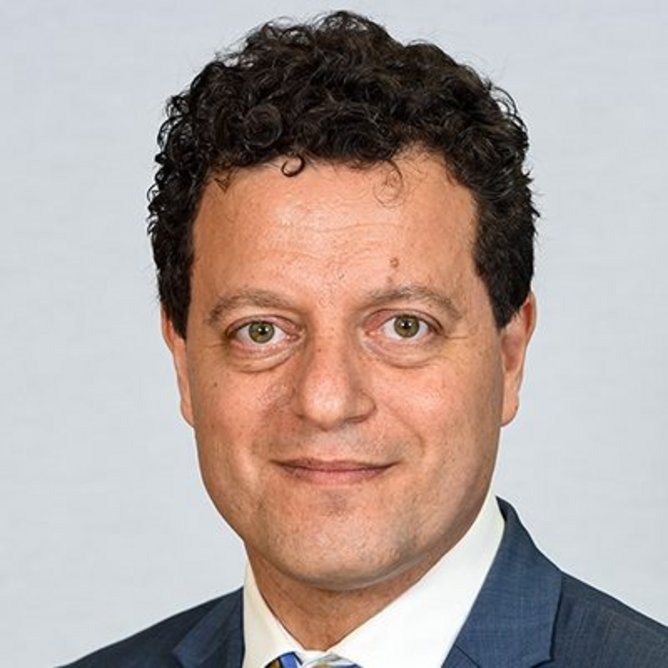 Dr Samer Haj-Yehia holds one of Israel's top economy positions
As Chairman of one of the oldest and largest banks in Israel, Dr Samer Haj-Yehia holds one of the country's top economy positions. His appointment as chairman of the board of directors of Bank Leumi in 2018 made a significant crack in the glass ceiling, marking the first time a major Israeli bank had appointed an Arab Chairman.
Israel's largest bank by assets, with a market share of 30% in the country, and one of the largest corporations in the Middle East region, the 120-year-old Bank Leumi posted the highest profit among Israel's banks for 2022, reporting a nearly 60% rise in net profits in the fourth quarter.
Often described as a 'brilliant economist', Haj Yehia is among the world's leading experts in global fintech, banking, investment management and capital markets.
A lawyer and certified public accountant, Haj-Yehia had five degrees by the time he was 30, including in law and economics, and by age 37 was named the VP of Fidelity Investments, one of the largest multinational financial services corporations in the world.
He has also served as a lecturer in economics at MIT and Harvard University.
Passionate about advancing the regional banking ecosystem, Dr Haj-Yehia is working to strengthen economic ties between Bank Leumi and countries in the Middle East.
6
President and CEO
Dan Schulman has led PayPal for the last nine years
As CEO of PayPal since 2014, Dan Schulman is focused on democratising and transforming financial services and e-commerce to improve the financial health of billions of people, families and businesses around the world.
With extensive experience in payments and mobile technology, Dan is leading PayPal to reimagine how people move and manage money, and how merchants and consumers interact and transact. Under Dan's leadership, PayPal has been named as one of the top companies on Forbes' JUST 100 list, which features "companies doing right by America', and recognised as a Fortune Change the World company.
For his own leadership too, Dan has secured numerous accolades, including the Excellence in Economic Empowerment Award (2022) and the Robert F. Kennedy human Rights Ripple of Hope Award (2020) for his commitment to social change. He ranked third on Fortune's list of world's greatest leaders in 2021 and has been named one of Glassdoor's top 50 CEOs.
As well as 18 years spent at AT&T, Dan served as President of the Prepaid Group following its acquisition of Virgin Mobile USA, and also as Group President at American Express.
He is actively involved in the WEF, is an international advisory council member of the Singapore Economic Development Board, and a director of Verizon Communications.
7
CEO
Daniel Li leads China's largest privately owned carmaker
As the head of Geely Holding Group since 2020, Daniel Li leads China's largest privately owned carmaker – with 2022 revenues surging 45.6% from a year earlier to US$21.49 billion.
The Geely group owns stakes in several large western carmakers, including Aston Martin, Volvo Cars and Mercedes, along with London taxi-maker LEVC and its own new Chinese EV brand, Zeekr.
Li joined Geely Group in 2011 as finance chief, and has led the completion of various major acqusitions including London taxi-maker LEVC, Volvo, Proton, Lotus, Saxo Bank, and made significant contributions to post-deal integration.
He has chairs a number of boards, including LEVC Global, Lotus, and most recently was appointed as a non-executive director of Aston Martin board following Geely's investment of US$299.4 million in the luxury carmaker, making Geely the third-largest shareholder.
He was honoured with the Best CFO for Institutional Investors Award in 2018 and 2019. He earned his master's degree in management engineering with a focus on finace from Beijing Institute of Machinery.
8
Mohamed Alabbar
Founder and investor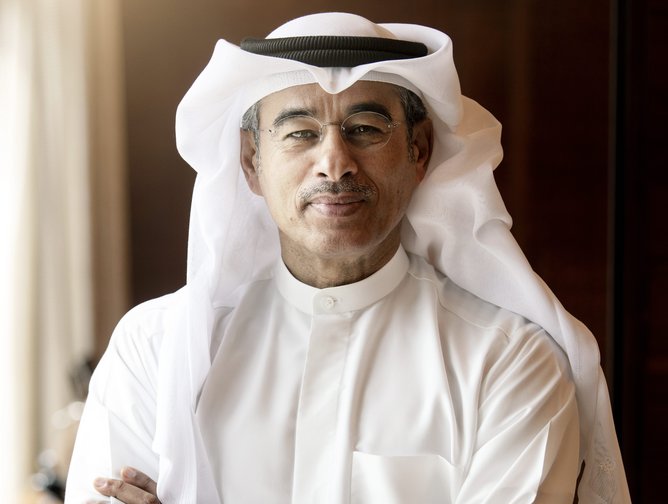 Founder and investor Mohamed Alabbar
As the man behind the world's tallest building, there is no doubting the powerful influence of Mohamed Alabbar in the Middle East.
The Emirati property tycoon is both founder and chairman of Emaar Properties, the regional real estate giant behind Burj Al Khalifa, Armani Hotel, Dubai Mall and property and development in more than 80 countries.
More than that, with interests spanning fashion, property, leisure and commodities, Alabbar is a driving force behind Dubai's economic growth. He has interests in Americana Restaurants, the Middle East operator of KFC and Pizza Hut, which recently listed and is now worth US$6.24 billion, and he set up Noon.com, the region's answer to Amazon.com.
Prior to founding Emaar in 1997, Alabbar held several government roles and was instrumental in helping to transforming Dubai into a global hub – setting up a shopping festival, gold tournament and the the Dubai World Trade centre.
9
CEO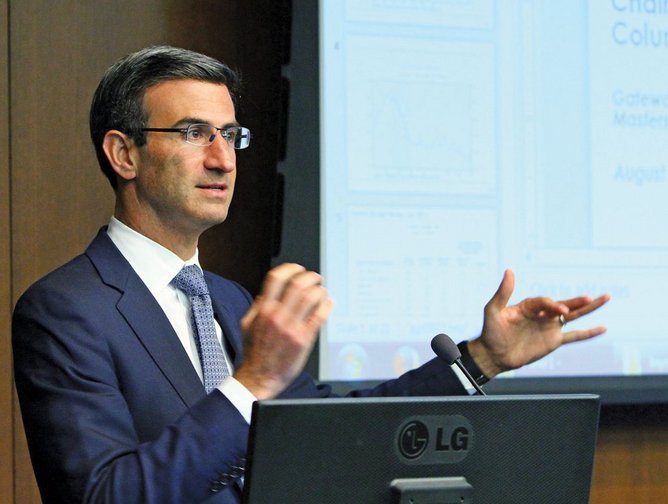 Peter Orszag has a career spanning both banking and government / Credit: Peter Orszag
When it comes to economic credentials, it doesn't get much more impressive than those of Peter Orszag.
Princeton educated and with a PhD in economics from the London School of Economics, Orszag served in the Obama Administration, as Director of Office of Management and Budget, and before that as the Director of the Congressional Budget Office.
With a career spanning both banking and government, Peter is widely regarded as a strategic, visionary and decisive leader with the ability to lead through evolving global markets and complex geopolitical dynamics.
Orszag has spent the last 14 years at Lazard, one of the world's preeminent financial advisory and asset management firms, with operations in 43 cities across 26 countries.
Serving as CEO of Financial Advisory since 2019, leading the firm's advisory businesses that serve companies and governments across the globe, Orszag was recently elected to the role of Lazard CEO, effective October 1.
10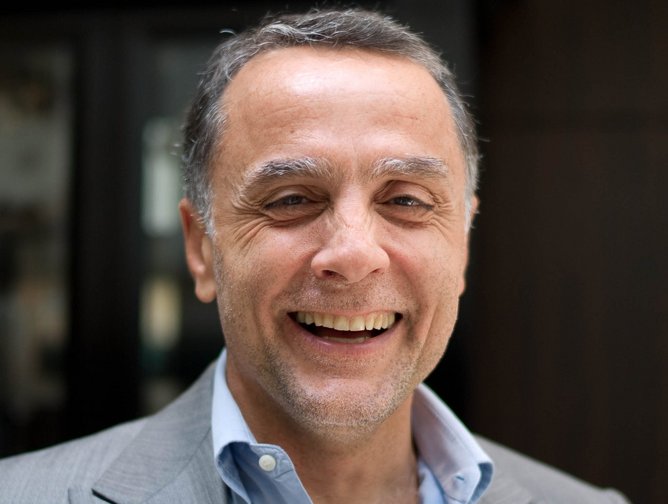 Aramex founder Fadi Ghandour is a serial entrepreneur and investor / Credit: Flickr
As founder, Vice-Chairman and former CEO of Aramex International, Fadi Ghandour has built one of the leading logistics and transportation companies in the Middle East and South Asia – which today has 15,000 employees in 250 offices across 90 countries.
Ghandour, who took the company public twice, first on the Nasdaq making it the first company from the Arab world to do so, then on Dubai Financial Market, remains active on the Aramex board – but has other interests too, including as Managing Partner of Wamda Capital.
The Jordanian-Lebanese entrepreneur, investor, and philanthropist has been involved with founding, investing and launching tens of companies and non-profits, ranging from digital tech to security.
He is is the co-founder and director of MENA Venture Investments, a seed capital fund that provides capital, access to networks, mentorship and technical expertise to startups, and is a member of the Board of Abraaj Capital.
Passionate about social entrepreneurship, he is founder and chairman of Ruwwad for Development, an Arab region private sector-led community empowerment initiative that helps communities across several countries in MENA overcome marginalisation through education and financial inclusion.
*****
For more business insights, check out the latest edition of Business Chief Middle East & Africa and be sure to follow us on LinkedIn and Twitter.
You may also be interested in the Business Chief EMEA website.
Please also check out our upcoming event – Sustainability LIVE in London on September 6-7, 2023.
BizClik is a global provider of B2B digital media platforms that cover executive communities for CEOs, CFOs and CMOs, as well as leaders in Sustainability, Procurement & Supply Chain, Technology & AI, Cyber, FinTech & InsurTech. We also cover industries including Manufacturing, Mining, Energy, EV, Construction, Healthcare and Food & Drink.
BizClik, based in London, Dubai and New York, offers services such as content creation, advertising and sponsorship solutions, webinars and events.