Dubai top destination for Executive Nomads, Abu Dhabi fourth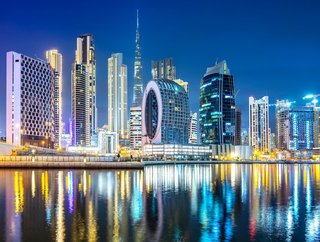 Savills Executive Nomad Index puts Dubai in top position thanks to lifestyle, business opportunities and low tax
Savills Executive Nomad Index puts Dubai in top position thanks to lifestyle, business opportunities and low tax, while UAE's Abu Dhabi also places fourth
Conjure up images of the classic digital nomad and you probably see some 20-something social media influencer or IT guru backpacking around Instagram-worthy locales, sitting on a laptop under a palm tree or some chic suburban coffee shop.
While that is certainly the case for many digital nomads – displaced or disillusioned with office life during the pandemic – there is also the executive nomad to consider, who prefers some of the finer things in life. These executives hold more senior positions or are founders and owners themselves, attracted to tech hotspots and luxury lifestyle destinations because, well, they can.
Real estate experts Savills produce an Executive Nomad Index which this year puts Dubai in top spot, thanks in no small part to its fabulous lifestyle, can-do business environment, and great connectivity (both physical and digital).
These nomads may well have family to consider, so favour destinations that are also safe, have good schooling, world-class healthcare and quality housing. Throw in the fact that Dubai currently charges no personal income tax and it could be something of a nomad no-brainer.
Spain launched its own version of the digital nomad visa in 2022 and that has seen Mediterranean hotspot Malaga leap from nowhere onto second place in this year's list. Miami, the only city from the US on the list, sits in third place while Abu Dhabi, just a 90-minute drive from Dubai, is fourth. There are no Asian cities in the top 20.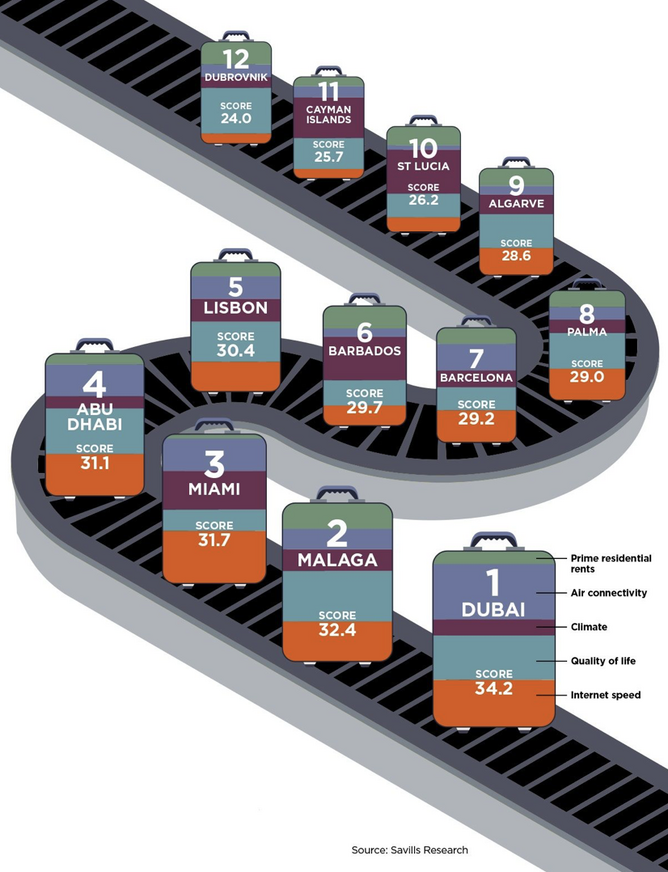 Real estate experts Savills produce an Executive Nomad Index which this years puts Dubai in top spot
Abu Dhabi does not need to copy Dubai to be popular
Swapnil Pillai, Savills Middle East associate director of research, says Dubai is attracting executives from global tech firms that may have been laid off elsewhere and are looking for a new challenge.
Most are Dinkies (Dual Income, No Kids), says Pillai, and favour high-end residential buildings in Downtown Dubai, close to the financial hub (DIFC), or in Dubai Marina which is close to the beach and Media City and Internet City – home to regional offices for the likes of Meta, Google and Microsoft.
"Most of the city's co-working spaces are operating at near 100% occupancy, which supports Dubai's ranking as a top destination for executive nomads," Pillai says.
A new entry in the index this year, Abu Dhabi isn't trying to copy near neighbour Dubai, says Stephen Forbes, Savills head of Abu Dhabi.
"Abu Dhabi has become far more outward-looking in the last two years and there is so much on offer now, including Yas Island, a huge leisure destination, and Saadiyat Island, where you have the Louvre and the Guggenheim, which is due to open in 2025," he says.