Top 10 latest venture capital investment trends in Europe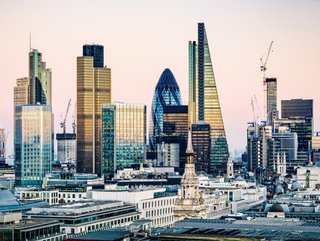 As Europe sees near-record high VC investment in the first quarter of 2022, we chart 10 regional VC trends – from the UK soaring to climate tech surging
VC investment in Europe was incredibly robust in the first quarter of 2022, despite declines elsewhere – in the US and Asia – and against a backdrop of global uncertainty including the Russian invasion of Ukraine and rising inflation.
That's according to KPMG's Venture Pulse Q1 2022 report, which provides a global overview of key findings from the first quarter of 2022.
Europe raised the second-highest tally of VC invested for a single quarter on record, thanks to significant government support of tech innovation and sustainability in particular, plus high levels of dry powder.
European VC investment was led by massive rounds by Checkout.com in the UK (US$1bn). Other large deals spanned a variety of countries, with the geographic diversity highlighting both the breadth of Europe's innovation and the rapid maturation of startups across the region.

Estonia – Bolt, US$710m
Finland – Relex, US$566m
France – Doctolib, US$571m and Qonto, US$549m
Turkey – Getir, US$768m
Italy – Scalapay, US$497m
Austria – GoStudent, US$339m
With a focus on the deals that went down in the first quarter of 2022, we highlight the VC investment trends that are dominating Europe right now and are likely to do so throughout 2022.
1. Tally of funds is skewed to larger firms
Fundraising is off to a strong start in Europe as the first quarter proves, at US$8.2bn, even after a record year of fundraising efforts in 2021. This comes as LPs continue to look to the future and plan for the longer term, hoping diversification gains and robust liquidity will continue despite volatility. Moving further into 2022, KPMG predicts that investors will focus more on due diligence resulting in scale-ups requiring more support to get deals done. Nevertheless, the actual deployment of investment will continue relatively strongly over the next few years because it is already raised and will need to be committed," says Jonathan Boyers, Partner, Corporate Finance, KPMG UK.
2. France has three of the top 10 biggest financing rounds
When it comes to the top 10 financings in the first quarter in Europe, France checked out with three, more than the UK (with two). In at number five is French health-tech startup Doctolib, which raised US$557.1m in a Series F round, followed closely in sixth place by Paris-based fintech Qonto, which secured US$549.8m in a Series D financing round. The final French financing round in the top 10 went to Paris-based ecommerce startup Back Market, which landed US$541.9m in a Series E round.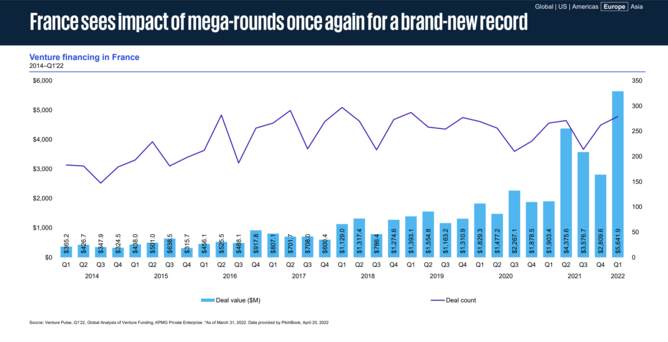 3. ESG and climate-tech well-positioned to see growth in VC investment
Europe-based VC investments in ESG and climate-tech surged during Q1 2022 driven in part by the COP26 summit held during Q4 2021, and the Russia-Ukraine war, which is shining a spotlight on the dependence that some European countries have on Russian gas. As a result of the crisis, Germany halted the certification process for the completed Nord Stream 2 gas line project from Russia in Q1 2022. The combination of geopolitical uncertainty and climate change pressures could spur additional investment in climate-tech and alternative energy sources and systems, and could increase interest in complementary startups, like fintechs focused on energy and carbon management.
4. UK venture capital investment surges to a new high
VC investment in the UK surged to a new high in the first quarter helped by a US$1bn megadeals for Checkout.com. A major convergence of factors has helped energise the UK's VC market, including businesses across industries embracing digitisation and tech-enablement, private equity funds looking for better returns, and increasing fundraising focused on earlier stage companies in order to achieve higher returns. While interest rates are on the rise, the significant amount of funds already raised will likely keep investment relatively steady heading into the second quarter. Also, given the uncertain geopolitical environment, some VC investors in the UK are feeling pressure to get deals done quickly. Fintech, B2B focused services were hot this quarter, with interest in cybersecurity growing.
5. VC investment in Germany remains robust – fintech, logistics and software hot
While VC investment in Germany this quarter dropped from the record high set in the last quarter of 2021, total investment remains solid, and is expected to remain strong in 2022, particularly in the fintech space. A number of health-tech companies in Germany attracted significant funding, among them digital health platforms Patient21 (US$142m) and Ada Health (US$120m), while logistics firm Forto raised US$250m, the latter an example of an ongoing trend for logistics sector VC investment, as firms continue to face bottlenecks and price increases within their supply chains. Fundraising activity by VC firms in Germany was also very strong in Q1 2022, well ahead or the pace set in 2021. Corporates continued to show interest in the VC market, particularly players in the automotive industry looking to expand their businesses by nurturing startups. The volume of software deals in Germany continues to grow, approaching the record level of the dot-com bubble.
6. Fintech continues to be a hot area of investment
During the first quarter, fintech was a very hot area of investment both in the UK and Europe-wide. According to Warren Middleton, Lead Partner, KPMG UK, the payments space has continued to grow, while BNPL has become incredibly hot in the eyes of investors, including other businesses diversifying into offering BNPL options. And the FCA in the UK has announced its intent to regulate the space in the near-future, "which could drive consolidation in the space moving forward", says Warren.
7. VC market in Israel stays hot as firms vie for talent
Israel witnessed very strong VC investment this quarter, with interest from both foreign VC investors and corporates. Cybersecurity continued to reign investment supreme, with Cheq raising US$150m, while agtech and health-tech also gained significant attention from investors – milk bioengineering company Remilk raised US$120m, medical diagnostics firm MeMed raised US$93m, and health-focused data analytics company MDClone secured US$63m. Given the competition for talent in the country, mature startups are expected to increasingly focus on acquiring other companies in Israel or in Europe in order to acquire the talent they need to drive growth quickly.
8. Fintech and ecommerce dominate top 10 financing rounds in Europe Q1 2022
While a number of sectors are represented in the top 10 financings this quarter in Europe, including automotive, edtech and healthtech, the sectors of fintech and ecommerce dominate, with three of the former and two of the latter securing the biggest rounds. Fintech reigned financing supreme with London-based Checkout.com proving the largest raising US$1bn, French fintech Qonto securing US$549.8m, Italian fintech Scalapay landing US$497m to give Italy its first-ever unicorn, and UK-based Market Financial Solutions raising US$398.095m. In ecommerce, Turkish grocery delivery startup Getir landed the second-largest financing round in Europe this quarter, raising US$768m; while French startup Back Market, a marketplace for refurbished electronics, secured US$541.9m.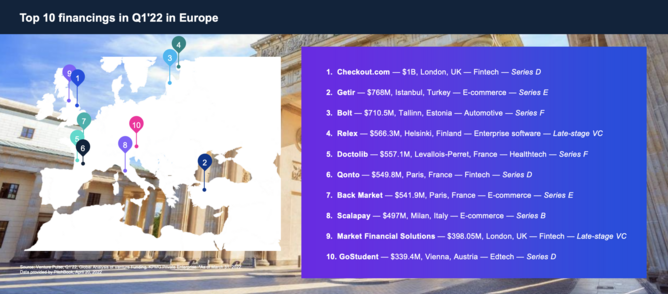 9. Corporates continue to stay active
While the second half of 2021 saw a choppy slide in volume, venture invested tallies stayed strong for the fifth consecutive quarter, indicating corporate players are all still willing to stay active, likely at the more mature stages. Their incentives to do so remain intact, and in fact would even intensify given economic pressures as long as they do not begin impacting actual financial resources much.
10. Tailwinds from 2021 help drive VC investment in the Nordics
During the first quarter of 2022, VC investment in the Nordics was robust, driven in part by deals initiated late in 2021, with the startup ecosystem in the region having grown considerably in recent quarters. Most activity and larger deals are spread across Sweden, Finland, Norway, and Denmark. In the first quarter, all four countries attracted US$100m-plus rounds, including Finland-based business productivity firm Relex Solutions (US$566m), satellite imaging company ICEYE (US$135m), and mobile phone refurbishment company Swappie (US$122m). However, according to Jussi Paski, head of Startup Services at KPMG Finland, "the current geopolitical tension could slow down VC investment heading in the second quarters, as investors become more cautious, particularly about doing larger deals".