Inspiring the entrepreneurial spirit of the next generation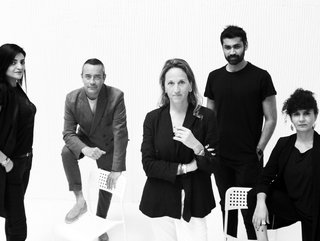 Marloes Knippenberg (centre) with members of her team
For Marloes Knippenberg, CEO of Kerten Hospitality, Gen Z employees bring a unique mindset and are wired to address the key industry challenges
For Marloes Knippenberg, CEO of Kerten Hospitality, a mixed-use, ESG and lifestyle operator with 50 projects in more than 12 countries, Gen Z employees bring a unique mindset and are wired to address the key industry challenges.

"They think outside the box," says Marloes, who attributes the leveraging of Gen Z in enabling Kerten Hospitality to disrupt the hospitality industry "with non-conventional ideas about the direction of hospitality".

It helps too that the Middle East region, where a number of the Kerten Hospitality portfolio sits, offers the largest pool of young talent – within seven years, 70% of the region's population will be under 25.

There are no traditional hotels in Kerten Hospitality's portfolio, which instead spotlights properties that are characterised by open spaces, co-working areas, social hubs, collaborative brands, and multi-use purposes.

Marloes says they are building the destinations of the future where communities, businesspeople, social groups, as well as travellers and residents can meet, stay, and play. And by repurposing spaces, landscaping and creating spaces for community engagement, they are challenging the status quo of the industry – replacing traditional meeting rooms and big hotel spaces with flexible connection-enthusing environments.

Much like Gen Zers themselves, who seek both flexibility and connection.

"The Gen-Z mindset is quite unique," declares Marloes. "They are wired to address the key industry challenges of the day with a futuristic outlook and an authentic toolkit, accepting nothing less than the ownership of a genuine narrative about the origin of everything."

Empowering Gen Z employees to take ownership
Importantly, Marloes says she gives employees the chance to choose ownership above anything else and the freedom to apply it in their projects, project management and work styles.

"We incentivise young people by allowing them to be the lead in our social engineering for impact in decision-taking. Entrepreneurship is at the heart of all our projects, communities, and neighbourhoods, and our employees add an entrepreneurial twist to most tasks and projects. They like to create and curate on the go."

She points to the company's Business Development Lead, Theo Bortoluzzi, who joined Kerten Hospitality straight out of college, and in less than two years was leading a team, had signed the company's first project in Italy, was project managing pre-openings and new opportunities and had been invited to speak at multiple industry events.

Theo has been recognised in the most promising 30 Under 30 Young Leaders in the industry, and now leads a team of young interns as part of the company's award-winning remoteship program.

Marloes insists the younger generation are highly motivated by being empowered, are always curious, and are inherently entrepreneurial, all of which makes them a great fit for teams and organisations that are constantly evolving, and disrupting, she says.

They also have a genuine understanding and passion for the planet and are driven by purpose, she says, and are committed to making choices that benefit the planet and the future of generations to come.

With a master's in Sustainable Hospitality under her belt, Tiana Amann, Head of ESG (UBBU – United. Building a Better Universe), is passionate about sustainability in a way that only the younger generation can be, Marloes says.

"She is our most fervent sustainability advocate, policing all teams to live and breathe greener, fairer, cleaner planet and more inclusive societies where inclusivity is no longer a nice-to-have but a must-have."

This means the company's sustainability and CSR initiatives are embedded in making a better world for the future, and not just pushing sustainability because every other company is doing it.

"For us, the best success stems from empowerment of young leaders, and we are passionate about finding the next batch of change-makers who seek to achieve and join a more inclusive world and industry.

"We mentor young talents, give opportunities, and lead by example. Youth development and female mentorship are important in fostering change and that is why we include them in everything we do."