Middle East airlines take business suites to 5-star heights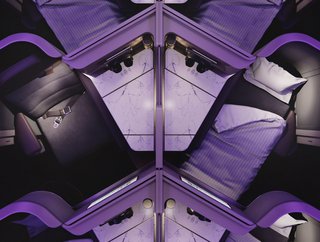 Etihad's second evolution of its Business Studio
Airlines are battling it out for sky supremacy, unveiling swanky new suites and seats as business travel in the Middle East recovers at fastest rate
Airlines across the Middle East mean business this week, rolling out shiny new seats and suites for business-class travellers at Dubai-based Arabian Travel Market.
This comes as business travel in the Middle East and Africa region recovers at a faster pace than in any other part of the world, according to the most recent Business Travel Index Outlook forecast from the GBTA.
The sector reached 86% of its 2019 levels in 2022, surpassing the Americas, APAC, and Europe.
This positive trend is expected to continue, says Catherine Logan, Regional VP EMEA, APAC at GBTA, with "the MEA region project to return to pre-pandemic business travel spending levels by 2024".
This is backed up by recent data from RateGain's Pulse powered by Adara which finds business travel to the MEA region soaring in 2023, with estimates that arrivals to MEA in summer 2023 will be 15% higher than the all-time high figures of 2019.
And with Saudi Arabia opening its doors ever wider for business and tourism, 'bleisure' travellers will no doubt flock there.
In response to increasing demand, and to compete with global airlines, flag carriers from across the region, from Saudia to Etihad, are battling it out to offer the ultimate premium business-class experience – unveiling everything from suite doors for total privacy, to extra-long beds for more comfort, and multiple charging points for increased convenience.
Saudia, Etihad, Flydubai unveil spacious and swanky business suites
Saudi Arabia's flagship carrier Saudia was the first airline out of the business seat blocks introducing a brand-new suite for its Airbus A321XLR. Fifteen of these new and improved planes are on order with the first expected to land in 2024.
Saudia's new VantageSOLO suite features a shield at the back and a door at the aisle, giving travellers significantly more privacy than before. There is also more storage space than before, and seats recline fully into bed mode and feature an 18-inch screen.
Suite doors and long beds are the business-class features du jour it seems, with more airlines prioritising privacy and comfort.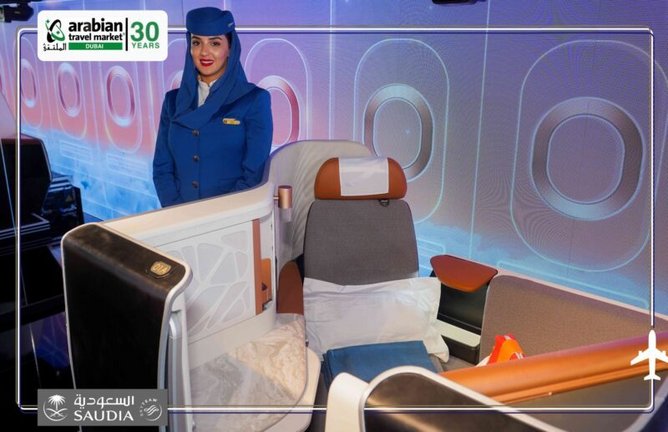 Saudia unveils new VantageSOLO suite at Arabian Travel Market
Not one to be out-premium'ed, as one of the world's most awarded airlines, Abu Dhabi's Etihad this week unveiled the second evolution of its Business Studio, initially launched on the Airbus A350-1000 last year.
This second evolution introduces the Collins Aerospace's new Elements suite, a product that raises the bar for business-class seating and will be part of the new 787 Dreamliners scheduled to join the fleet later this year.
Each of the 32 Business seats has direct access with the cabin designed in a 1-2-1 configuration, providing the ultimate in comfort, convenience, and privacy whether passengers are travelling solo or with colleagues.
Not only are all suites super-spacious with increased height, a suite door for greater privacy, and plenty of storage, but they deliver seats that fully lie-flat into extra-long beds at 78-inches. Multiple charging ports, wireless charging, Bluetooth headphone pairing, and a 17.3-inch 4K TV screen make working and relaxing a breeze,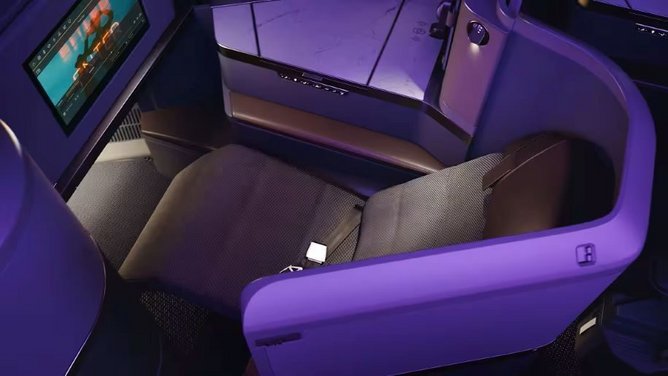 Etihad unveils the second evolution of its Business Studio
Emirati airline Flydubai is also getting in on the premium business-class action, becoming the first airline in the world to introduce business-class suites to single-aisle Boeing aircraft.
Dubbed the Business Suite, travellers get an enclosed compartment with a design aimed at providing the privacy needed to work or relax. All suites offer direct aisle access and more space and come equipped with a sliding door, lie-flat seat, plenty of storage, ambient lighting, and built-in 17-inch 4K entertainment screens with Bluetooth headphones.
Three years in the making, 10 Business Suites will join the Flydubai fleet starting in November this year.
All three airlines join global peers Qatar, Delta, British Airways, Aer Lingus and Air France, in the delivery of business suites with doors.
Global airlines competing for business travellers with swanky upgrades
Middle East carriers aren't the only ones overhauling the business flying experience with swanky new suites and seats.
Airlines the world over are refreshing and upgrading business-class products and services, as they look to compete in the post-pandemic era.
Like German national carrier Lufthansa, which, as part of a sweeping overhaul of its international passenger experience, has rolled out the Allegris business class.
In the new Allegris layout, business-class passengers have the choice of a whopping seven seat types, with options such as a large suite with a sliding door and mini bar, a seat angled closer to the window and further from the aisle, extra-space seats with more work surface and extra-long beds that stretch to 86 inches, even longer than Etihad's.
This follows the roll-out earlier this year of Air France's new business class suite, which like many of the others, comes complete with doors and with extra-long beds that lie flat to nearly 80 inches. For those travelling in pairs, there are double berths with a retractable centre console.
In typical French style, they are also super-stylish and feature Cirrus herringbone seats, which point away from the aisle, and full grain French leather. Not to mention, a seat design that enables optimum back support.
The new suites have been rolled out across 12 Boeing 777-33ERs (48 suites in each) flying international routes in 2023.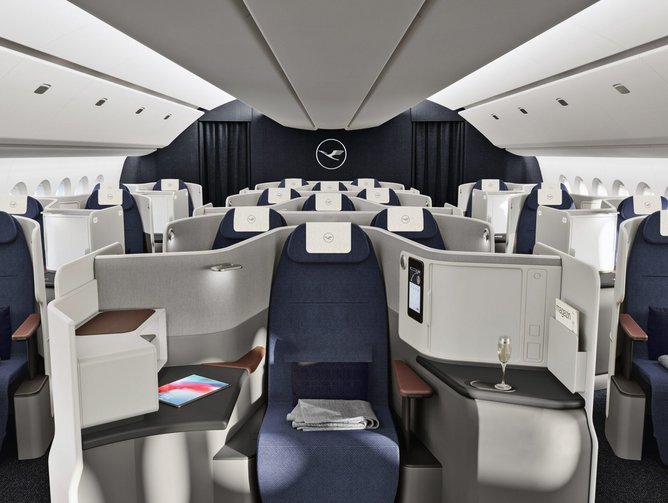 Lufthansa rolled out the Allegris business-class suites earlier this year
Here is our pick of 5 more best business-class seats and suites:
Qatar Airways Qsuite The pioneer in fully enclosed business-class seating, Qatar introduced the Qsuite in 2017 and it remains the crème de la crème of business-class comfort and privacy. Seats can be configured in multiple ways so couples or colleagues can have adjoining seats combined into a single suite with a double bed, for example.

All Nippon Airways' The Room Introduced by Japan's largest airline in 2019 to rival the Qsuite, The Room is a spacious, fully enclosed suite nearly 3-feet wide with all 64 suites arranged in a 1-2-1 configuration giving each direct-aisle access.

Delta One Suites Seclusion is the secret behind Delta One Suites with closing doors that shield passiongers from aisle activity. Configured in a front-facing 1-2-1 pattern means every passenger has direct aisle access. Seats have memory-foam cushions and extend out to lie-flat mode, to an incredible 81 inches. Lighting is customisable.

Singapore Airlines Another 1-2-1 configuration, business-class seats are wide at 30 inches and recline to lie-flat beds measuring 78 inches. Centre seats can be turned into a double bed for couples travelling.

Qantas Business Suite Another staggered 1-2-1 layout where seats are separated from one another and from the aisle via large screens. Sweats are up to 24 inches wide and inches long when in bed mode giving plenty of space for R&R. On the Airbus A380, business-class passengers can access a share lounge space to work or relax.