Saudi solar energy projects backed by ACWA, Badeel, Aramco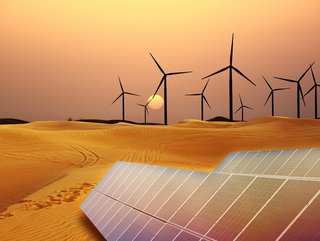 The global shift towards renewables is gathering pace in the MENA region
Saudi Arabia adding 2.5GW of solar capacity with ACWA, Badeel, Aramco project as it aims to hit 50% renewables by 2030 target and power megaprojects
Sprawling desert-scapes and an abundance of powerful, predictable sunlight mean that the Middle East and Africa seem perfectly suited to solar power.
The global shift towards renewables is also gathering pace in the region as many countries make net zero pledges and also transition their economies away from oil and gas.
The UAE, Egypt and Morocco have been leading the solar charge – with the UAE home to one of the world's biggest projects – Dubai Electricity and Water Authority's (DEWA) Mohammed bin Rashid Al Maktoum Solar Park.
The first phase of this solar park was inaugurated a decade ago, and Phase 5 was recently added, powering 270,000 households in the city. The park is set for completion by 2030 when it will have a total capacity of 5GW.
One of the companies involved in that project is ACWA Power, the Saudi Arabia listed company and a leader in energy transition.
Saudi boosting solar power capability with new parks
ACWA is also working closer to home, on the Al Shuaibah 1 and Al Shuaibah 2 solar projects which will generate more than 2.6GW of clean electricity for Saudi.
ACWA is working alongside the Water and Electricity Holding Company (Badeel), which is wholly owned by Public Investment Fund (PIF), and Saudi Aramco Power Company (SAPCO), a wholly owned subsidiary of energy giant Aramco.
The recent financial close for the solar park is a key milestone in Saudi's National Renewable Energy Program (NREP) and central to the target of generating 50% of electricity from renewable sources by 2030. PIF also has a commitment to develop 70% of the Kingdom's renewable energy by 2030.
Saudi Power Procurement Company (SPPC) is the procurer and the off-taker for the projects, which will be jointly owned by ACWA Power (35.01%), Badeel (34.99%), and SAPCO (30%).
The US$1.63 billion financing for the plant includes a US$450 million loan from the National Development Fund on top of US$1.18 billion from a consortium of banks, including Bank Saudi Fransi, First Abu Dhabi Bank, Mizuho Bank, Riyad Bank, Saudi National Bank, Standard Chartered Bank and Saudi Investment Bank.
Al Shuaibah PV 1 and Al Shuaibah PV 2 will have a capacity of 600 MW and 2,031 MW respectively, and will be capable of powering 450,000 households. Total investment amounts to US$2.37 billion with commercial operations due to commence in 2025.
With these two projects, ACWA Power's solar portfolio in Saudi is more than 12GW. This includes three new projects with Badeel: the 2GW Ar Rass 2, 1.125GW Saad 2, and 1.4GW Al Kahfah solar plants.
Globally, ACWA Power's renewable energy capacity is 23.4GW.
UAE solar park – centre of excellence in renewable energy
It was more than a decade ago, in January 2012, when His Highness Sheikh Mohammed bin Rashid announced the launch of the Mohammed bin Rashid Al Maktoum Solar Park in Seih Al Dahl.
In the 11 years since, the park has undertaken five phases and has recently accepted Masdar's bid for phase six, due to become operational in stages starting quarter four of 2024.
Final completion of the solar park is set for 2030 when it will have a total capacity of 5GW.
The production capacity of the park has so far reached 2,427 MW, which is 16.3% of Dubai's total production capacity, according to Saeed Mohammed Al Tayer, MD and CEO of DEWA.
Among the many awards for innovation, the solar park has secured two Guinness World Records – one for the first 3D-printed laboratory in the world and the other for the largest green data centre in the world (100% solar-powered).
The solar park also houses an Innovation Centre and R&D Centre, which support DEWA's efforts in transforming Dubai into a centre of excellence in renewable and clean energy.
"In Dubai, we have a clear strategy and roadmap to transform Dubai into a centre of excellence in essential new technologies to achieve net zero carbon emissions in line with the Dubai Clean Energy Strategy 2050 and the Dubai Net Zero Carbon Emissions Strategy to provide 100% of Dubai's total power production capacity from clean energy sources by 2050," said Al Tayer.
****************
For more business insights, check out the latest edition of Business Chief Middle East & Africa and be sure to follow us on LinkedIn and Twitter.
You may also be interested in the Business Chief EMEA website.
Please also check out our upcoming event – Sustainability LIVE in London on September 6-7, 2023.
BizClik is a global provider of B2B digital media platforms that cover executive communities for CEOs, CFOs and CMOs, as well as leaders in Sustainability, Procurement & Supply Chain, Technology & AI, Cyber, FinTech & InsurTech. We also cover industries including Manufacturing, Mining, Energy, EV, Construction, Healthcare and Food & Drink.
BizClik, based in London, Dubai and New York, offers services such as content creation, advertising and sponsorship solutions, webinars and events.