Top 10 workplaces prioritising people and planet in the UAE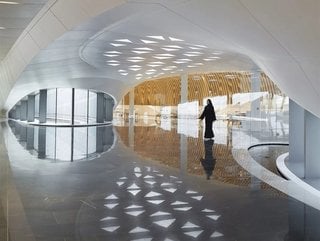 BEEAH Group is setting a new benchmark for future workplaces with one of the most sustainable and smartest buildings in the world
Sustainable, flexible, collaborative, tech-driven, and amenities-rich, the office of the future considers both people and planet – here are 10 in the UAE
What does it take to lure employees back to the office? Nature views. Social spaces, A focus on employee wellbeing. Renewable energy. A creche.
All of these and more it seems – if the roll-out of revolutionary new office spaces is anything to go by. More and more businesses are turning to architects, real estate developers and fit-out firms to conceptualise a workplace that, well, works in the post-pandemic age.
Businesses worldwide are reconsidering workplace layouts and adding in amenities (creche, anyone?) as they look to cater to today's hybrid working and entice employees back to the office.
So, what does the future of the office look like?
Flexible workspaces reign office supreme, with a focus on multi-functional areas, while community and collaboration are taking centre stage with the delivery of social spaces and brainstorming areas.
Comfort and convenience are other organisational goals, something remote workers have become used to. Companies are adjusting the lighting, delivering more comfortable seating areas, adding 'biophilic elements like plants and access to natural light, and even enriching the workplace with amenities, like a café, library, a creche.
Sustainability is also key, not just for employees who increasingly want to know a company's green credentials, but for the businesses themselves, as they look towards net-zero gains – with many striving to secure the prestigious LEED Platinum certification.
No more so is this evident than in the UAE, where, in 2021, Dubai ranked third in the list of most green buildings in the world, according to Core SAVILLS; while, more recently, Emirates Green Building Council reported a three-fold increase in the number of net-zero certification applications the council received in 2022 (compared to 2021).
And increasingly, multinationals and other organisations are revamping their regional headquarters as they look to prioritise people and planet and ensure innovation, collaboration, productivity and wellbeing take centre stage.
Here, we round up 10 workplaces in the UAE doing just that.
1
BEEAH Group
Headquarters
Sharjah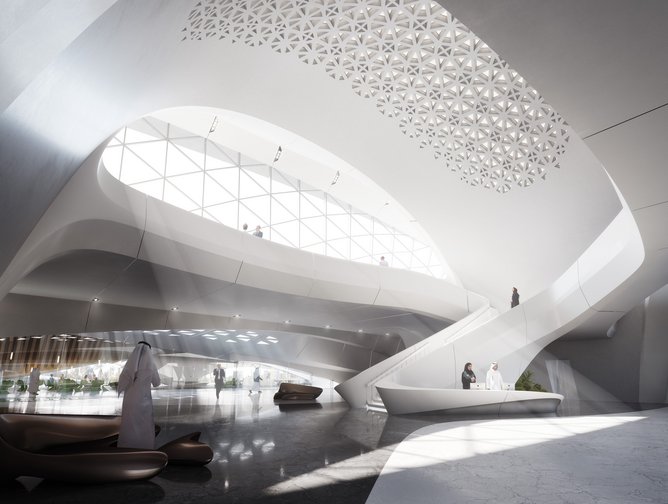 Beeah Group HQ in Sharjah is equipped to operate at LEED Platinum standards and realise net-zero emissions
Credited with being one of the most sustainable and smartest buildings in the world, and the most AI-enabled office in the Middle East, the Sharjah-based headquarters for sustainability pioneer BEEAH Group is setting a new benchmark for future workplaces as the Office of the Future.
As BEEAH pursues its ambitions to accelerate sustainable impact globally, the iconic HQ, designed by the late Dame Zaha Hadid, serves as the organisation's blueprint in shaping tomorrow's smart, sustainable cities.
According to CEO Khaled Al Huramel, it's the "ideal example of the smart built architecture in tomorrow's sustainable cities, where environmental responsibility and quality of life are of utmost importance".
The building is equipped to operate at LEED Platinum standards and realise net-zero emissions. The curved façade, inspired by sand dunes, boasts exteriors made up of glass-reinforced concrete, reflecting the sun's rays for a natural cooling effect. Inside, slab and glass cooling help to naturally regulate the building with ambient temperatures.
The internal spaces, which comprise courtyards, a visitor's centre, and state-of-the-art auditorium, deliver daylight and views, and smart meeting rooms are all equipped for remote and hybrid work scenarios, with powerful collaboration tools. The employee experience includes contactless pathways with secure facial recognition check-in, a virtual concierge, smart meeting rooms and a companion app to automate day-to-day tasks.
The building is also powered by a solar farm with energy stored in Tesla battery packs, while an onsite grey water recycling plant and water-efficient systems for landscaping also ensure ultra-low water consumption. Light and temperature in the smart meeting rooms are managed automatically depending on occupancy and time of day.
2
Bain & Company
MENA Headquarters
One Central, Dubai World Trade Centre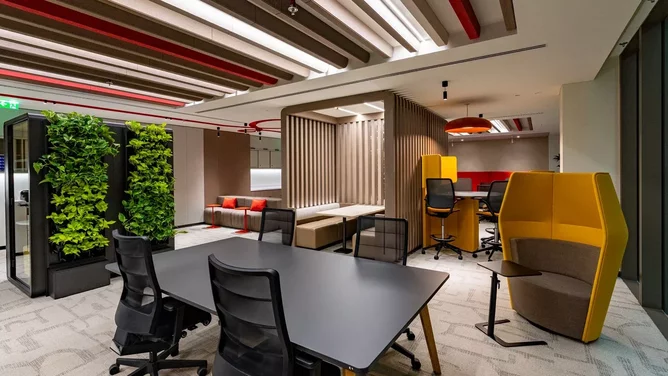 Bain's new regional office design enables modern ways of working
Global management consultancy Bain & Company recently opened its new regional office in Dubai, on the back of expanding its UAE and Middle East team, doubling the space for Bain employees. The consultancy has had a presence in the region for more than two decades.
Located at One Central, Dubai World Trade Centre, an award-winning commercial development where life and business converge, Bain's new state-of-the-art space not only gives employees access to the latest technologies, and achieves the highest environmental rating, but the design enables modern ways of working. Sustainability is at the heart of the move, with the office delivering LEED Platinum certification, and optimising energy efficiency.
The new space delivers hybrid working spaces for individual use or teamwork and in-person or remote sessions with collaboration zones dotted around. The colour scheme designed by AAID Studios features bright, bolder tones in the open areas to energise and promote interaction, while colour-blocked pods in deep, saturated tones in the quiet areas are design to facilitate focus and productivity.
There is seamless integration of internal and external landscaping to ensure employees always maintain line of sight of biophilia for the ultimate in wellness, while a café offers varied seating styles and extends into a large outdoor terrace.
3
Office of the Future
The Dubai Future Foundation HQ
Dubai Museum of the Future Campus

As the world's first 3D-printed office, Dubai Future foundation's Office of the Future bagged a Guinness World Record
Credited with being the world's first 3D-printed office, and bagging a Guinness World Record to boot, Dubai Future foundation's Office of the Future is home to DFF's Dubai Future Academy, a knowledge hub for future emerging technologies in the region. It is part of the Dubai Future Agenda strategy to become a major incubator in innovation.
Just by virtue of its construction via 3D-printing, the office is one of the most sustainable. Created with just one printer, the building took 17 days to print, two days to install, and three months to build – resulting in an 80% reduction on construction costs, 60% on labour, and 60% on waste.
A 2,700 sq-ft, single-storey structure, the office complex radiates around a tree-shaded café courtyard and comprises various spaces to facilitate a mix of creative interactions, quiet reflective work, and impromptu meetings and pave "the way for stimulating innovation and communication within teams", says Ben Piper, partner at Killa Design, the architect behind the office.
There is also a gallery for exhibitions, events and workshops, a flexible space for team brainstorming and private meeting rooms for quiet work. Openings throughout bring natural daylight deep into the space and allows workers to stay connected to the nature outside.
4
Dubai Electricity & Water Authority (DEWA)
Headquarters
Al Shera'a Building, Dubai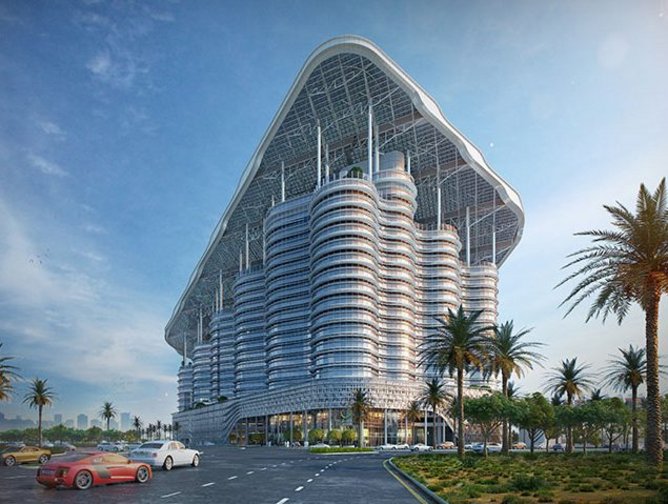 When complete at the end of 2024, DEWA HQ will be the world's tallest, largest and smartest government net zero energy building with net zero carbon emissions
When complete at the end of 2024, the HQ of government-owned utility company Dubai Electricity & Water Authority (DEWA) will be the world's "tallest, largest, and smartest government net zero energy building with net zero carbon emissions", DEWA has said.
Aiming for LEED Platinum certification, DEWA's new HQ is targeting Zero Energy Building, where the total energy used in the building during a year is equal to or less than the energy produced onsite during that year.
The 15-storey building, which will feature employee amenities such as an auditorium, nursery, library and jogging track, is projected to generate more than 7,000 MWh of renewable energy per year using integrated and distributed solar photovoltaic panels.
Al Shera'a will have a state-of-the-art building management and control centre, which will allow necessary systems to function and shut down systems that are now required to run, while landscaping will integrate green spaces within the building and the surrounding area, with the ratio of green spaces almost 50%. Close to 1000 indigenous trees will be used.
Keen to involve employees, every worker will have an energy budget managed through a smart app, which will help them be aware of their energy consumption and assist them in improving energy budget management, while the building's location directly linked to Dubai Metro via a 150m covered bridge, will promote the use of public transportation.
This comes as DEWA increases its contribution to accelerating the shift towards Net Zero Energy Buildings. In 2013, DEWA's Sustainable Building in Dubai secured 98 points in the coveted LEED Platinum level of certification, making it the first government-owned building in the world to achieve such a score.
The three-storey office building uses 66% less energy and 50% less water consumption thanks to additional insulation, special glass to reduce heat transfer into the building, low-powered LED lights and occupancy sensors, and a green roof that ensures the reuse of treated wastewater.
5
Aldar Properties
Headquarters
Aldar Square, Abu Dhabi
Aldar Properties' new office space on Yas Island in Abu Dhabi has been designed with connection, collaboration and community in mind
Named Aldar Square, Aldar Properties' new headquarters on Yas Island in Abu Dhabi is focused on the way people work today, and has been designed with connection, collaboration, community and sustainability in mind. The existing space was reimagined by ATS, JLL and Mustard&Linen.
As well as being LEED Platinum certified, Aldar's new 16,000sqm HQ is also WELL Sustainability accredited.
Built over three floors with a rooftop garden and facilities including a café, gym, yoga room, basketball and paddle tennis courts, the Square is designed as a home away from away with flexible workspaces, including collaboration rooms, touchdown areas, privacy booths and social lounges to foster interaction, creativity and boost productivity.
The interior space is dominated by a large central skylight installation providing plenty of natural lighting, and minimising energy. On the sustainability front, the headquarters was built with a 20% reduction in embodied carbon.
6
JLL
Headquarters

ICD Brookfield Place, DIFC Dubai
Fortune 500 firm and global real estate professional services firm JLL recently reimagined its MENA headquarters in Dubai, opening new multifunctional, future-ready and sustainable offices.
First up, the office is housed in one of the most environmentally and occupant-conscious buildings globally, in IDC Brookfield Place, DIFC, the tallest and largest LEED Platinum certified office building in the EMEA region. The building was constructed using only wood from certified sustainable forests and recycled materials and has achieved over 30% reduction in energy and has bathrooms that use 40% less water. but it has been built to the highest standards of sustainability, prioritising employee wellbeing and productivity.
As Arif Amiri, CEO of DIFC Authority puts it: JLL's new LEED Platinum certified premises "exemplify the cutting-edge sustainable workplace design, setting a high standard for the DIFC community".
Designed on the principles of the workplace of the future, JLL's office is further primed to achieve LEED Gold and WELL Gold Certification, thanks to JLL setting a new benchmark for sustainable, health, energy-efficient offices regionally. And it also adheres to the WELL Building Standard, having incorporated evidence-based health and wellness interventions.
The new office has optimised the use of natural resources to achieve energy savings of 17%, while a biophilic design that embraces the connection with nature minimises negative environmental and human health consequences for employees.
This brings JLL one step closer to fulfilling its own sustainability targets and is part of the Fortune 500 company's vision to shape the future real estate.

"JLL has a very ambitious sustainability road map and the forward-thinking design of the new Dubai office builds on these commitments while also providing a positive people experience," says Christian Ulbrich, JLL CEO.
7
Mashreq Bank

Global Headquarters
Financial Centre, Dubai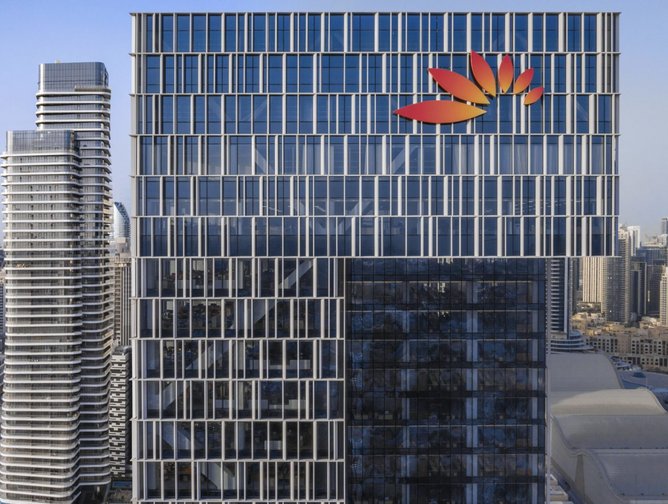 Mashreq Global Headquarters in Dubai is the only building headquarters within the financial sector regionally to secure LEED recognition
Completed in 2020, Mashreq Bank HQ is the only building headquarters within the financial sector regionally to secure the coveted LEED recognition (Gold certified). With this, the bank has committed to effective waste management, sustainability, energy and water efficiency, indoor environmental quality and transportation.
The 32-storey offices build on the sustainable self-shading strategy pioneered in the Middle East by architectural consultancy SOM. The glass facades of the building enable daylight harvesting and limit solar gain through a sophisticated series of horizontal and vertical shading devices that articulate the building's primary facades. As well as office space, there is a roof-top terrace, landscaped gardens, water features and a café and dining space.
The bank recently joined the World Green Buildings Council's advancing net zero readiness framework as a collaborator in the MENA region, giving the bank a platform to showcase industry best practices while furthering its own commitment to net zero. This follows the banks' joining of the UN Global Compact initiative last year to further push its efforts to embed strong ESG practices across the organisation.
8
Masdar City Square (MC2)
Abu Dhabi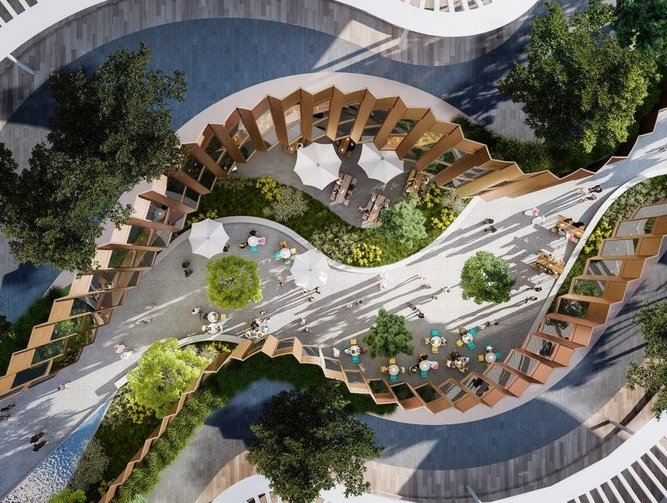 When complete in 2024, Masdar City Square HQ will be Abu Dhabi's first net-zero energy office building
Forming part of the Masdar City Square (MC2) currently under development in Abu Dhabi, Masdar City's new HQ will be the first net-zero energy office building in Abu Dhabi.
A regional pioneer in net zero and green construction, Masdar City is already home to one of the world's largest clusters of green buildings, including Siemens' Middle East HQ, which boasts LEED Platinum credentials including using 60% less materials in construction and an external shading system that minimises solar gain whilst maximising daylight and views.
Currently under construction within Masdar City, with completion expected in 2024, is MC2 – seven new green buildings, six of which will be 4-Pearl Estidama, LEED Platinum, and WELL Gold certified, including the International Renewable Energy Agency (IRENA) headquarters.
Windows in the buildings are design so that 90% of the time, direct solar radiation doesn't enter the room, while permanent shades outside the windows minimise the heating effect.
Included in this cluster of buildings is MC2 headquarters. Identifiable by its innovative solar photovoltaic panel canopy, the HQ will be Abu Dhabi's first net-zero energy office building once complete in 2024.
With a focus not only on net-zero and sustainability, but also on wellbeing and innovation, the Headquarters will include courtyards, a daycare centre, amphitheatre plaza, shaded pedestrian boulevards, a fitness centre, meditation room, and more.
9
Cigna
MENA Headquarters
Dubai World Trade Centre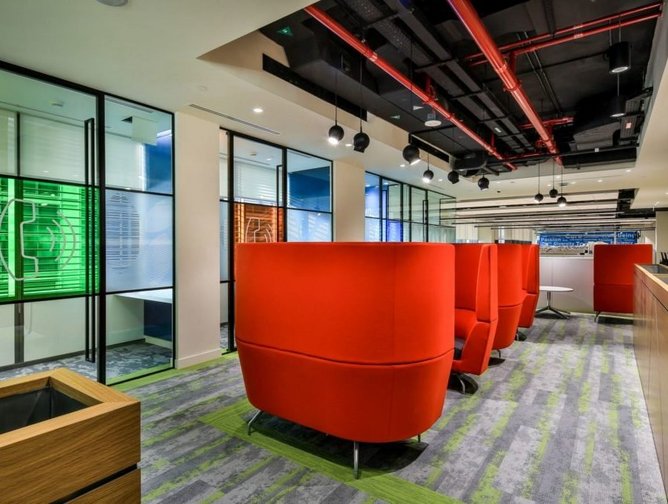 Among design features at Cigna's MENA HQ in Dubai are Design features such as circadian lighting design, low-glare workstations, increased ventilation
Cigna Corporation recently landed the WELL Gold accreditation for its headquarters in the Dubai World Trade Centre, making it the first global health services company in the MENA region to achieve this prestigious distinction. The rating comes as Cigna continues to focus on adopting and promoting employee wellbeing in the workplace, most recently working with AESG for consultancy on the changes.
The new and reinvigorated space is designed to provide a "better and more holistic workplace that improves [employee] health and positively impacts their overall wellbeing", says Isil Ata, Head of HR at Cigna Middle East & Africa.
Accommodating more than 200 Cigna employee across the company's group health and individual private medical insurance businesses, the 20,000sqft space incorporates several innovative design features, many of which are a first for the region.
Design features such as circadian lighting design, low-glare workstations, increased ventilation, and advanced air filtration all ensure a health and comfortable indoor working environment. While an extensive education and awareness campaign, including wall art and signate, as well as incentive programmes, contribute towards engagement with Cigna employees on wider health issues to promote a healthier, happier environment.
9
du
Headquarters
Dubai Hills Business Park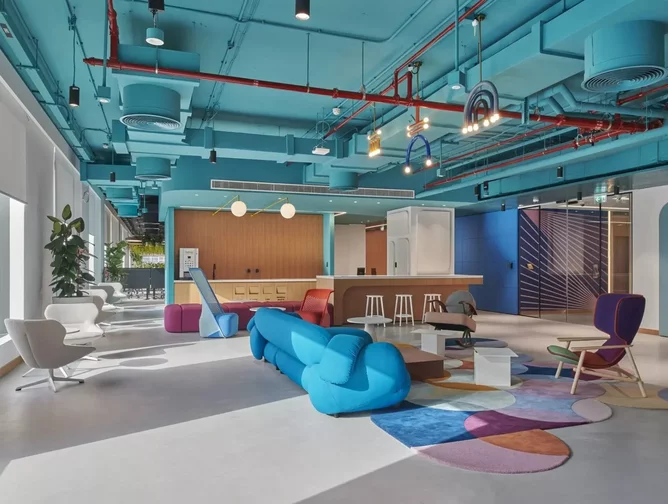 du's HQ is full of colours and spaces designed to improve collaboration and prioritise employee wellbeing
Last year, Dubai-based telecoms company du reinvented its headquarters to not only accommodate its rapid growth and transformation to a digital telco, but to cater to a different way of working, putting the fostering of collaboration and engagement first.
Featuring 140,000 sqft of high-end office and recreational space for the firm's 1,000 employees, the new purpose-built HQ is full of colours and spaces designed to inspire innovation, improve collaboration, increase efficiency and prioritise employee wellbeing.
As well as both open and closed offices, there are activity-based areas and cosy spaces that encourage collaboration and reflection, as well as breakout areas, wellness facilities, café and lounge, a multipurpose hall and innovation hub.
Housed in a seven-storey standalone building, the offices have been constructed using certified sustainable products and practices, ensuring all waste materials are recycled.
And one more... coming soon
AstraZeneca HQ
Dubai Science Park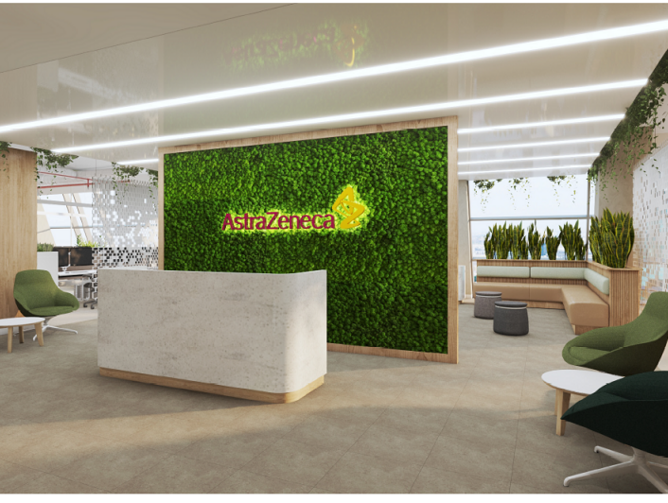 Opening later this year, AstraZeneca's new regional HQ will meet platinum standards in LEED
AstraZeneca MENA HQ
Dubai Science Park
Global pharma firm AstraZeneca recently announced plans to construct sustainable offices at Dubai Science Park, a community of global and regional businesses across the health, energy and environmental sectors.
The new sustainable offices, set to open in the third quarter of 2023, will be home to biopharma's regional headquarters.
The move is part of the biopharma giant's Ambition Zero Carbon strategy and in line with the UAE's Year of Sustainability and will "demonstrate our support for the government's ambition to drive and accelerate sustainable development in healthcare, aligning with the 'We the UAE 2031' vision".
The new office design, construction, and materials will meet platinum standards in LEED set out by the U.S. Green Building Council.