Microsoft sustainability chief Tawfik on COP28 opportunity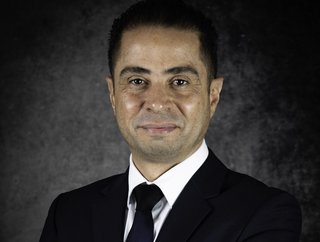 Sherif Tawfik
Sherif Tawfik, Microsoft's regional Chief Sustainability Commercial Officer, shares his high hopes for meaningful climate action at COP28 in the UAE
As the world wakes up to global boiling, having experienced the hottest month on record for 120,000 years, the sheer scale of the climate crisis can paralyse any efforts to make a meaningful difference.
Size and complexity does not faze Sherif Tawfik, who instead sees these as an opportunity when it comes to making businesses – and the world – more sustainable.
In his role as Chief Sustainability Commercial Officer - Central, Southeast Europe, Middle East, and Africa at Microsoft – Tawfik has a wide remit spanning more than 100 countries on three continents.
He drives a vision aligned with the Microsoft mission to empower every person and every organisation with the technologies to build a more sustainable future, and where better than the region he represents.
"Sitting in a region that represents 55% of the world's countries – close to 110 – you can just imagine the possibilities," says Tawfik, speaking from his base in the UAE which he has called home for 20 years.
"There is the Middle East, which is home to 50% of the world's largest energy producers and multi-billion-dollar sovereign wealth funds now dedicated to renewable energy and decarbonisation.
"You have Africa, which by 2030 will be home to 40% of the world's youth and also home to 50% of the world's best solar resources. You have digital native nations in Southeast Europe and Central Europe, home to amazing tech talent and manufacturing hubs.
"I think this diversity on its own represents tremendous opportunities for change."
Change is required, and fast, but there also needs to be a coherent and cohesive approach. When overseeing sustainability strategies for more than 100 countries, you can imagine the lack of consistency when it comes to standards and regulations.
The European Union, for instance, is a leader in ESG regulations, but some regions do not have the same level of maturity when it comes to seeing the economic value to investing in sustainable technologies.
Tawfik calls the many standards in circulation "sustainability alphabet soup" but welcomes the latest adoption of the Corporate Sustainability Reporting Directive (CSRD) – standards that cover the full range of environmental, social, and governance issues, including climate change, biodiversity and human rights. Importantly, they will also work alongside global standards to ease the need for multiple reporting for companies.
However, reaching a global consensus or standardising regulations is still a long way off, but Tawfik says recent data could change that.
"You cannot deny climate change any more," he says. "When every summer is the hottest, and every winter the coldest, there is no escaping that climate change is real. I think there is consensus on what people are seeing – the trick is how countries, companies and people react to that in a unified way."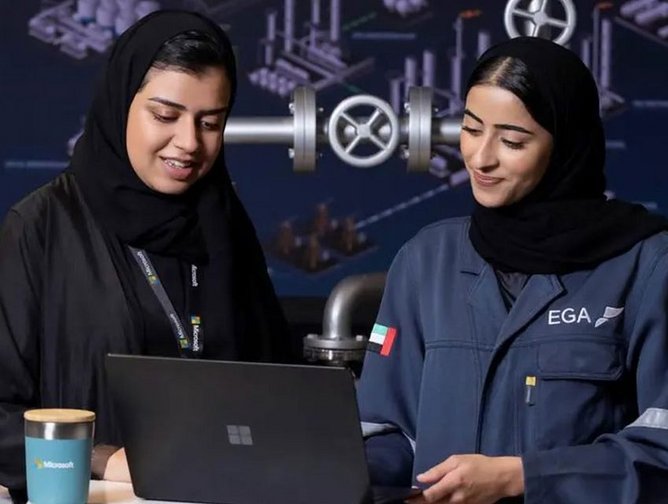 Microsoft working with local talent at EGA
Which brings us nicely to COP28 – the United Nations Climate Change Conference being hosted this year in the UAE. It's fair to say that oil-producing countries in the Middle East have been a contributing factor to climate change, but many of those state-controlled energy companies are already transitioning towards renewables. Financial strengths and a clear vision also mean many of these nations are leading the way and setting a global example.
In many ways, the UAE hosting COP28 is a case of being in the right place at the right time. At the crossroads of East and West, and not part of the Western industrial establishment – the UAE has the opportunity to encourage conversation rather than talking down to developing and emerging nations.
COP President designate Dr Sultan Al Jaber promised to "champion an inclusive agenda that ramps up action on mitigation, encourages a just energy transition that leaves no one behind, ensures substantial, affordable climate finance is directed to the most vulnerable, accelerates funding for adaptation and builds out a robust funding facility to address loss and damage."
The UAE was the first country in the region to sign the Paris Agreement, and the first to announce a net zero by 2050 pledge. That puts the UAE level in line with the EU, the US and the UK, 10 years ahead of China and 20 ahead of India.
"We have seen multiple Middle Eastern countries announcing their net zero targets," says Tawfik.
"The UAE announced a net zero pledge by 2050, Saudi Arabia 2060. Just last week, the national oil company for UAE – ADNOC – brought the deadline forward from its previous target for net zero from 2050 to 2045. So that's a steep commitment.
"I think the translation of our political will to action is something that is worth mentioning in this region. We see multiple multi-billion sovereign wealth funds totally dedicated to renewable energy investments, specifically solar and wind."
Tawfik also highlights sustainable-first megaprojects like NEOM in Saudi Arabia – a city growing from the sea, sands and mountains of the kingdom to be a new "net zero-by-design city 33 times the size of New York".
Outside of the Middle East, Tawfik highlights South Africa as one to watch when it comes to sustainability efforts, adding "we see multiple large corporations in South Africa announcing steep commitments".
Positive outlook for COP28 being held in UAE

There is tangible progress within the region, Tawfik believes, because of the political will that is translated into actual progress.
Most of the previous discussions around climate action have been accused of being all talk no action. However, the UAE has a reputation for being a place that 'gets things done' no matter the challenge. Plus there is the fact that oil-producing countries in the region have a vested interest in change, and are diversifying their economies. The UAE already has – with the tourism and real estate boom of the last 20 years – and Saudi is investing heavily in new companies, cities and industries in a bid to future-proof its society.
Tawfik believes the COP we see in the UAE in November and December will be unlike previous incarnations, with a closer collaboration between governments and the private sector.
"I think this year there will be much more representation from the private sector involved in decision making," he says. "The UAE has always prided itself on leading the technology and innovation agenda and I think that's something we will see at COP28 – how technology and innovation can help the climate change agenda, not only policy, not only regulation."
It must be tough working for one of the world's largest technology companies in a leading sustainability role. Public perception, at times, seems to be that technology will somehow provide a silver bullet to the climate crisis.
Like carbon capture technologies being pioneered in Oman by startup 44.01 (named after the molecular mass of carbon dioxide). The company won the 2022 Earthshot Prize for its solution that involves mineralising CO2 – removing it from the atmosphere and turning it into rock. The technology is proven, but on a tiny scale – so small that it may not make a meaningful difference. The company hopes to mineralise a billion tonnes of CO2 by 2040, but emissions are already above 40 billion tonnes per year.
"You cannot afford not to heavily rely on technology," says Tawfik. "Just look at healthcare, transportation, the financial sector – technology is becoming a foundation. It's how we use technology as input. So if there is a climate change agenda, definitely technology should be a foundation. It's just a question of how you use it, how responsibly you use it, and how innovative you are."
Microsoft is going to be involved extensively in COP28, and while Tawfik plays his cards close to his chest, he says the company is committed to showcasing the power of technology in driving and accelerating sustainability.
Unsurprisingly, he points to the importance of measurement ("because you cannot progress what you cannot measure") and AI ("at the forefront of everything").
He also says every organisation should adopt the three spheres of influence approach that Microsoft itself uses when it comes to sustainability.
"The first sphere is your own house – how you can get your own house in order, how you can get your organisation to achieve net zero and to reduce its footprint on the environment," he says.
"The second sphere is your value chain – how can you work with your customer and partners to achieve a collective outcome of a better, sustainable future.
"The third is what collectively you as an organisation as well as the ecosystem can do for the world. Things like skilling, like investment, like standards, like policies. I think those elements are for collective action from private as well as public sector to look at. It's not only you, not only your customers and partners, but also what you do for a greater good and a greater impact on the world."
Tawfik's expanded role – in March 2023 he was promoted to his current position from Chief Sustainability Officer Middle East & Africa – means he travels extensively and meets with leading organisations and public sector decision makers. Of course, his role is to ultimately sell Microsoft's products and services, so how is he helping others achieve their climate goals?
He points to data centres – which we recognise contribute more CO2 emissions globally than the aviation industry due to the huge amounts of electricity required to power these warehouses full of servers.
"We need to provide our customers with sustainable technology. Using Microsoft Cloud reduces emissions from 90 to 98% rather than using their own on-premise data centres," he says.
"Moving from there, we provide technologies that help them with measurement. Again, you cannot progress what you cannot measure. So Microsoft Cloud for Sustainability is a platform that helps customers report their ESG performance. Then you need to start improving, by using artificial intelligence and machine learning.
"Last but not least, you want to embed your sustainability into everything you do, into your products, your supply chain, and your DNA. Then you can achieve your sustainable outcomes."
Tawfik on Microsoft's sustainability efforts
"In 2020, we announced our bold ambitions to be carbon negative across all scopes of emissions by 2030, to be water positive, and produce zero waste.
We will leverage our carbon negative status by 2030 to achieve another milestone by 2050, which is to erase all of our historical emissions since our inception as a company. So that's a very steep commitment.
I think it's pretty important that we focus on our own operations, being a hyperscaler as well as a company that actually sells products like Xbox and Surface and other devices. So, I think there is a very crisp focus on reducing our direct emissions in scope 1 and scope 2, as well as reducing our value chain emissions for scope 3.
We are also heavily investing in renewable energy. We have what we refer to as the 100/100/0 programme, which is for 100% of our electricity consumption to be matched by zero carbon energy purchases 100% of the time by 2030.
We're one of the largest corporate purchasers of renewable energy power purchase agreements. Last year, we purchased 13.5GW of carbon-free energy and were also one of the largest purchasers for carbon removal offsets.
We innovate how we operate our data centres, like Project Natick where we basically submerse a whole data centre underwater to leverage ocean cooling.
With the commitment that we put upon ourselves, we have to innovate for us to operate in a much more efficient way – leveraging renewable energy, decarbonising our operations end to end, even how we design, manufacture, package, and distribute our products is something that we focus on, because it impacts our scope 3 emissions."