Deloitte reinvents hybrid working in new Scottish office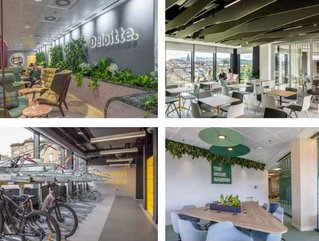 Deloitte's new Edinburgh offices. Credit | Deloitte
The Edinburgh office design is a physical manifestation of Deloitte's culture — a place for collaboration, connection and innovation — says Douglas Farish
Global consultancy leader Deloitte is re-designing office working, beginning with its Edinburgh office.
The re-designed 16,383 square foot space was a response to the requests of the 433 people who are based out of the central office, after a Deloitte people survey found that 86% of respondents ranked 'collaborating with team colleagues' and 'interacting with others' within their top three ways they envisage using the office.
Supporting successful hybrid working
The office is designed to create opportunities for people to build relationships and work together in an inclusive way, featuring new technology including 360-degree cameras and adjustable height desks throughout the open floors, supporting the hybrid working habits and ensuring everyone has an equal voice in meetings.
To further aid interactive meetings, 'dancing' walls have been introduced that double as interactive screens to allow for easy presenting and workshops.
"We're not mandating a set number of days in the office," shares Douglas Farish, Senior Partner and Head of Tax for Scotland at Deloitte.
"Instead, we trust our people to manage their working week between client site, the office and home — and the new technology will enable seamless connection between our people and clients wherever they choose to work.
"The configuration of the space, and the variety in the style and size of its rooms, allows those using it to be agile and productive, and creates environments that are easily adaptable for multiple use cases and changing business needs."
Staff wellbeing has been prioritised from the start, with a rooftop terrace featuring bee hives, and honey available for those working in the building.
The interior design incorporates low volatile organic compounds (VOC) to reduce the harsh smells often omitted by fresh paint and new furniture to ensure a pleasant working environment from the outset.
The city itself features over a hundred parks, as well as being home to the largest arts festival in the world, the Edinburgh Fringe Festival, and the world famous Hogmanay new year celebrations.
"I am amazed at this office, it's so different to how I imagined a professional services office to look," says Kitty Milnes, Risk Analytics Consultant for Deloitte says.
"There are loads of collaboration spaces which suit my style of team working, and I can now swap between sitting and standing at the adjustable height desks.
"There are so many textures and I love the sunflower seed eco cupboard doors and chain mail curtains. For those rare Scottish sunny days, there is also a lovely roof terrace, where our in-house beekeeper will be providing meet the bee sessions.
"This really is so much more than an office and I'm excited that my career has started at Deloitte Scotland."
Prioritising sustainability from the foundations up
The building itself — 9 Haymarket Square — was chosen to align with Deloitte's WorldClimate ambitions, as it has an energy efficient design and fossil fuel-free building systems.
Additionally, the building comes with 136 secure bicycle parking spaces, as well as shower and changing facilities.
"We listened to our people and incorporated what they wanted into the design of our new Edinburgh office," Farish says.
"The way we deliver work for our clients has evolved, so we needed to rethink our office environment based on how, when, and where we want to work to deliver the best for our clients' needs. We've created a very open and welcoming space for our people and clients, and it really is a physical manifestation of our culture – a place for collaboration, connection and innovation."
******
For more business insights, check out the latest edition of Business Chief Middle East & Africa and be sure to follow us on LinkedIn and Twitter.
You may also be interested in the Business Chief EMEA website.
Please also check out our upcoming event – Sustainability LIVE in London on September 6-7, 2023..
BizClik is a global provider of B2B digital media platforms that cover executive communities for CEOs, CFOs and CMOs, as well as leaders in Sustainability, Procurement & Supply Chain, Technology & AI, Cyber, FinTech & InsurTech. We also cover industries including Manufacturing, Mining, Energy, EV, Construction, Healthcare and Food & Drink.
BizClik, based in London, Dubai and New York, offers services such as content creation, advertising and sponsorship solutions, webinars and events.