Why tackling social mobility in the UK is good for business
Businesses ramp up initiatives to tackle social inequality, as new research finds the UK is near the bottom of the global ranking for social mobility
Some inequalities are more equal than others. While race and gender get their fair share of airtime and corporate attention (and quite rightly so), other inequalities like age, disability, and social immobility – often less visible barriers to advancement – have been slower to gain traction.
And yet, social inequity continues to be one of the most pervasive, and worsening inequalities, particularly in the UK.
According to recently released Goldman Sachs research, the UK has one of the worst rates of social mobility in the developed world, which means the most disadvantaged are less likely to climb the income ladder as they don't have the same access to opportunities, and the economically advantaged tend to stay at the top.
Only the US and Switzerland have lower social mobility.
And it's a problem that is only likely to worsen. Covid-19 has increased inequality further, and recent rises in inflation, especially energy costs, are intensifying the problem with real pay falling by 4% over the last year for households in the lowest 10% of income distribution.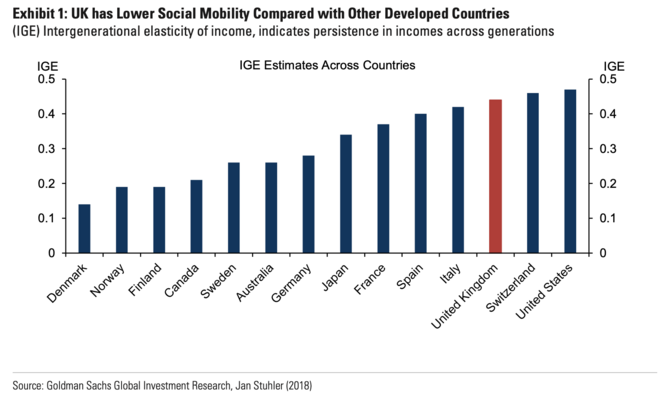 Addressing the social inequality issue in the UK
Addressing the issue requires a multi-pronged approach that includes increasing public investment in less well-off regions in the UK, equalising opportunities in education (and business), and providing apprenticeships and training programmes along with digital access.
This means business has a big part to play. According to Sharon Bell, Goldman Sachs' European Strategist, the corporate sector can have "quite a huge influence" in the UK.
"Who businesses choose to hire, who they decide to train, what safety nets they give people in terms of pay, healthcare, pensions, other benefits – all of those things are incredibly important," she says.
"They should think of social mobility as part of the diversity spectrum… so they can look at the social backgrounds of their employees and think more broadly about their talent pool. It's about looking for diversity of thought and not just picking from one area of the community."
Diverse social backgrounds is good for business
For companies that do think more broadly about their talent pool, the business outcomes are favourable.
KPMG Chair Bina Mehta, who hails from a working-class background and is a passionate believer that greater diversity improves business performance, says "diversity brings fresh thinking and different perspectives to decision-making, which in turn delivers better outcomes for our clients."
One recent HBR study suggests that individuals with lower social-class origins are less self-centred, which "sets them up to be more effective as leaders"; while another study from the UK found that "lawyers from less-elite backgrounds are more motivated and capable than their privileged peers".
In fact, the business case for diversity in the workplace is overwhelming. A BCG study found that companies with more diverse management teams have 19% higher revenues due to innovation.
And in the current business climate, amid tight labour conditions, providing opportunities for individuals from lower socio-economic groups gives companies access to a larger pool of potential talent – 39% of the UK workforce aged 16-plus are working class, according to Social Mobility Commission data.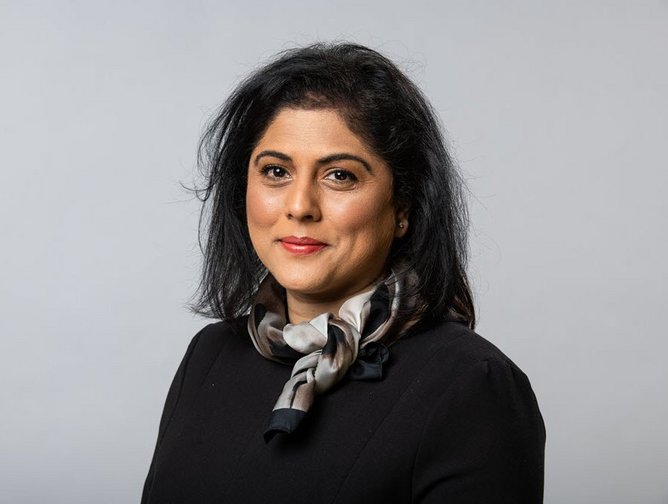 Bina Mehta, KPMG Chair, says diversity brings fresh thinking
How the UK is accelerating social mobility in 2022 and beyond
Social mobility is already recognised as an area of DEI by corporations thanks to the UK Government's Social Mobility Commission, which was created to ensure "the circumstances of birth do not determine outcomes in life."
And forward-thinking companies are realising both the social and business value of incorporating social mobility into their corporate DEI.
Since the launch of the Social Mobility Pledge in March this year, more than 500 businesses have signed up. Founded by former UK Cabinet Minister, Rt Hon. Justine Greening, and UK entrepreneur David Harrison, the Pledge encourages organisations to be a force for good by putting social mobility at the heart of their purpose.
As well as the Big Four firms, among large organisations signed up to the Pledge are Tesco, adidas, Diageo, Citi, Santander, Unilever, Knight Frank, Rolls-Royce, bp, Capita, Accenture, CBRE, BlackRock, BNY Mellon, AXA, Credit Suisse, BUPA and BT.
The issue is clearly gaining momentum, as the Pledge is not the only major initiative targeting social mobility to have launched in recent months.
Led by the City of London Corporation, and launched in May, membership body Progress Together is looking to close the finance class divide, as it encourages people from less privileged backgrounds into senior roles across London.
With 12 founding members including Accenture, Aviva, EY, PwC, Santander, Paragon Bank and Schroders, and 17 supporters, Progress Together organises workshops, resources, and mentoring schemes by firms for people who have the talent but who may lack the social networks and more privileged background to reach the top-tier in financial and professional services.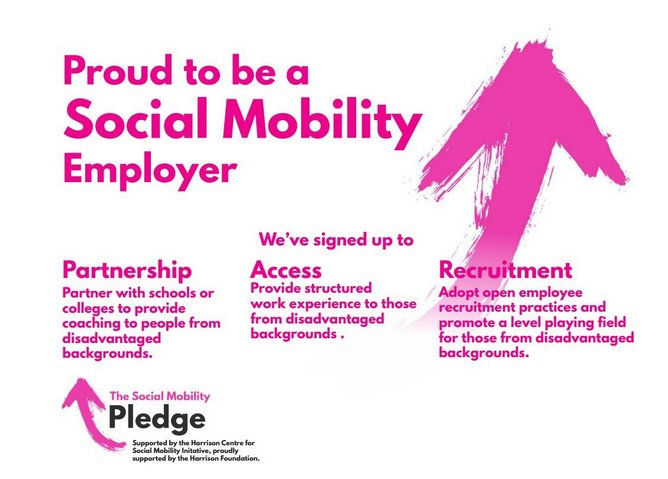 Addressing the class divide in financial and professional services
The need for a body to address the class divide in the financial services sector is very real, given that 89% of senior roles in financial services are held by people from higher-socio-economic backgrounds, compared with 37% across the UK working population, according to a survey by Bridge Group.
Research further found that employees from lower socio-economic backgrounds progress 25% slower than peers, with no link to performance, and the class pay gap in financial services is US$22,000, the largest of any sector.
"There are too many talented people in the financial services sector that fail to reach senior levels, which is a detriment to the individual firms and the sector as a whole," says Richard Rowntree, MD of mortgages at Paragon Bank, one of the body's founding members.
When it comes to taking action in financial and professional services, the UK's major accounting consultancies are leading the way, with KPMG, PwC, Accenture, Deloitte and Grant Thornton all ranking in the top 12 employers for social mobility in 2021, according to the Social Mobility Index.
Last year, KPMG was the first big business in Britain to set a target for the number of working-class staff – pledging 29% of its partners and directors by 2030.
This pledge followed the firm's publishing of its socio-economic background pay gaps for the first time as part of its ESG plan, which revealed that just 23% of KPMG partners and 20% of directors are currently working class; and are paid 8.6% less than those from other socio-economic groups.
"In publishing pay gaps by socio-economic background for the first time, and using this to inform a strategy for change, KPMG is leading the way," Nick Miller, CEO of Bridge Group, said.
KPMG is further training its 16,000 employees to understand the issue of socio-economic background and to recognise "invisible barriers" to progression.
In fact, all four big four accountancy firms are now offering unconscious bias training for staff, designed to increase awareness about race, sex, sexuality or disability prejudices and patterns of discrimination in the workplace.
This month, PwC stepped into the social mobility limelight announcing the scrapping of its minimum requirement of 2:1 at university for undergraduate and graduate roles.
By making this significant change in entry criteria for new joiners, PwC said it was trying to attract job starters from a broader range of backgrounds including those from lower-income households.
"While academic achievement has its place, for far too many students there are other factors that influence results," Ian Elliott, PwC's chief people officer says. "Talent and potential are determined by more than academic grades. Removing the 2:1 criteria allows us to make real progress in driving social mobility of PwC recruits."
EY scrapped its 2:1 entry requirement in 2015, but Deloitte and KPMG still have theirs in place. Though Deloitte tackles the issue in different ways, having offered an alternative path to university with an apprenticeship programme, BrightStart higher apprenticeship programme, for a number of years.
EY, KPMG, PwC, BDO and Grant Thornton also look beyond university in tackling social mobility. All five accountancy firms have recently collaborated with ICAEW on a new apprenticeship programme called Rise, designed to raise the aspirations of young people from socio-economic backgrounds. According to a recent poll by Grant Thornton of 608 mid-sized UK employers, 40% of employers say school leaver programmes promote social mobility in their organisation.
"We know that apprenticeships are a useful tool to promote social mobility as they increase opportunities for people, providing in-depth, practical learning and development and ensure a future pipeline of diverse talent," Richard Waite, Head of Resourcing at Grant Thornton UK LLP said.
"With ongoing skills shortages challenging employers, and the increasing cost of living, it is more important than ever for large organisations to provide high-quality, paid programmes that provide opportunities for the widest range of talent, creating benefit for both business and people."