Bahrain's Tamkeen transforming the digital-ready workforce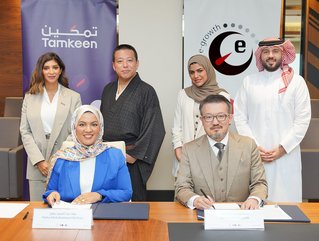 Tamkeen signed a deal with Japan's E-Growth to train Bahraini tech talent
Bahrain's Labour Fund, Tamkeen, is creating digital factories and training local talent for the jobs of the future in digital transformation drive
In the GCC, it's fair to say that the United Arab Emirates, Saudi Arabia and Qatar command much of the limelight when it comes to business news, but the Kingdom of Bahrain is also making great strides when it comes to digital transformation and driving growth.
Much of that is down to Tamkeen, which has a dual mandate to make the private sector the key driver of economic growth and Bahrainis the employees of choice.
Founded in 2006, Tamkeen works with enterprises to 'innovate, grow, transform, digitalise, and internationalise' in line with the Kingdom's vision towards creating a thriving business-friendly ecosystem with a highly skilled local workforce.
The US$5.3 billion investment seems to be gathering pace, with Tamkeen now involved in literally building the future, by transforming 300 existing factories into smart factories by 2026.
The iFactories initiative will assess levels of digital maturity and help deliver the technology infrastructure and automation capabilities required to become a Factory of the Future.
This will also create those all-important Fourth Industrial Revolution jobs that Bahrainis are being prepared for.
"Last year we saw economic recovery on a national scale in the form of renewed and better growth in many areas partly attributed to higher oil prices and forward-looking government policies," said Chief Executive Her Excellency Maha Mofeez in her annual report.
"We have exceeded our targets with 10K new private sector job opportunities for Bahrainis while facilitating a record number for training with 8.4K training opportunities."

Bahrain tech talent training with Japanese app giant
That training is being extended beyond Bahrain's borders, with a new initiative with Japanese app development company E-Growth.
As part of Tamkeen's Global-Ready Talent Program, this 12-month programme will see Bahrainis join E-Growth to work on mission-critical applications – building, designing, and developing Java applications.
"The partnership between Tamkeen and E-Growth signifies a transformative opportunity for young Bahrainis in the vastly growing ICT sector," said HE Maha Mofeez.
"By aligning with Japan's technological advancement, which opens doors to world-class training, knowledge transfer, and hands-on experience with industry giants, the initiative not only empowers Bahraini youth with specialised skills, but gives them experience in cross-border collaboration, enhancing their global readiness. It's a strategic investment in the future, nurturing talent, driving innovation, and reinforcing Bahrain's position as a hub for technological excellence."
E-Growth is a major app developer in Japan, working with the likes of IBM Japan, HP Japan, Sega and Softbank.
******
For more business insights, check out the latest edition of Business Chief Middle East & Africa and be sure to follow us on LinkedIn and Twitter.
You may also be interested in the Business Chief US website.
Please also check out our upcoming event – Procurement & Supply Chain LIVE in London on September 26-27, 2023.
BizClik is a global provider of B2B digital media platforms that cover executive communities for CEOs, CFOs and CMOs, as well as leaders in Sustainability, Procurement & Supply Chain, Technology & AI, Cyber, FinTech & InsurTech. We also cover industries including Manufacturing, Mining, Energy, EV, Construction, Healthcare and Food & Drink.
BizClik, based in London, Dubai and New York, offers services such as content creation, advertising and sponsorship solutions, webinars and events.