Big Five football leagues post record revenue, but net loss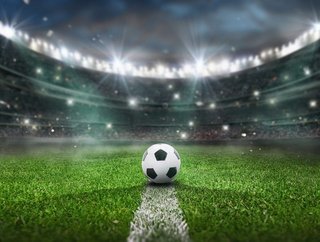 Football is a booming business across Europe.
Deloitte's Annual Review of Football Finance shows the Big Five European leagues saw revenue jump above pre-pandemic levels, but soaring wages deliver loss
Football in Europe continues to thrive and deliver impressive revenue and profits. According to Deloitte's Annual Review of Football Finance, revenue in the 'Big Five' European leagues grew 10% to €17.2 billion (US$18.8 billion) in the 2021/22 season – a figure that beats pre-pandemic levels.
This performance was not just down to an exuberant return to live events, but also higher commercial revenues – plus the fact 2022 was a World Cup year, which usually provides a welcome boost.
Those Big Five leagues in England (Premier League), Germany (Bundesliga), Spain (La Liga), Italy (Serie A) and France (Ligue 1) saw wages rise to €12.3 billion. That is a 15% hike from the 2018/19 season and also resulted in a loss of €324 million for 2021/22.
Across the continent, football revenues rose by 7% to hit €29.5 billion in the 2021/22 season.
"Topline figures show that European football has emerged resiliently from its most challenging period to date," said Tim Bridge, lead partner in Deloitte's Sports Business Group.
"Following the lifting of COVID-19 restrictions, fans' pent-up demand gave rise to record matchday and commercial revenues across Europe. However, with operating profits declining by €1.8bn since 2018/19, it's clear that overall recovery is still a work in progress."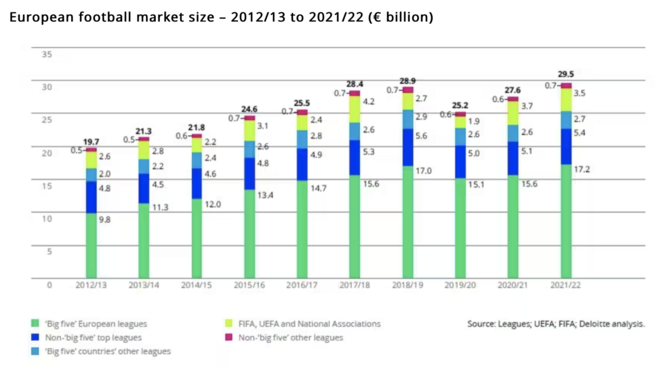 Revenue for the Big Five has reached a new high
English Premier League dominates European revenue
Of the Big Five, it is the English Premier League that is dominating the business of football.
Premier League clubs reported a 12% rise in overall revenues in the 2021/22 season, resulting in record aggregate revenue of €6.4bn – almost twice as much as the next best league, La Liga (€3.3 billion). Not far behind that is the Bundesliga (€3.1 billion).
Interestingly, reduced revenue from broadcasting rights in Italy saw Serie A record a decrease in aggregate revenues in 2021/22, tumbling 7% to €2.4 billion. In fifth place is Ligue 1, which actually saw the biggest growth, with revenue up 26%, thanks largely to new commercial deals.
However, what will be a concern for all clubs in the Big Five leagues is the spiralling wage bill which has stripped away operating profit to deliver that €324 million loss in 2021/22.
"The focus for all clubs must now shift to ensure long-term financial sustainability across the football system, and the introduction of new regulations across European football are appropriately timed to support this," adds Bridge.
"Record growth in the Premier League continues to increase revenue polarisation between and within European football leagues, and every league faces new challenges brought by increased competition, regulation and the strain of a challenging macroeconomic climate.
"With the gradual introduction of UEFA's Financial Sustainability Regulations from 2022/23, European clubs and leagues are set between the crossroads of some of the most pivotal regulatory changes that the game has ever seen, and a wave of investment into global football in an attempt to challenge the established system. And with emerging leagues looking to grow their offering and secure the best in on-pitch talent, European clubs' future may be dependent on how sound their financial foundation will be and whether they can use that to remain competitive and relevant."
Bridge is spot-on. Recent big-money moves in Saudi Arabia have seen high-profile players from Europe join the burgeoning domestic Pro League in the Kingdom.
The likes of Cristiano Ronaldo, Karim Benzema, Ruben Neves, N'Golo Kante and Kalidou Koulibaly have all signed lucrative, big-money packages with Saudi clubs, which will inevitably have a knock-on effect on wage demands and expectations across Europe.

Could the Saudi Pro League rival the Big Five? Watch this space.
Read the full report.