CSCOs accelerating data-led innovation see 11% revenue hike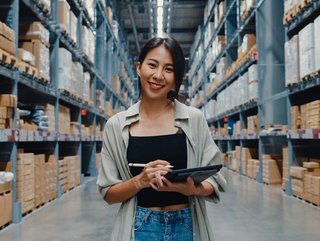 To combat the unprecedented supply chain stressors like inflation, it's imperative CSCOs focus on using analytics, AI and automation, IBM report finds
It's no secret that since the onset of the pandemic, the role of the Chief Supply Chain Officer (CSCO) has taken centre stage.
While the CSCO's role traditionally was overseeing the end-to-end supply chain operation, including sourcing, procuring, planning, manufacturing, and distributing the enterprise's products and services, today, nearly every CSCO role not only encompasses operations but also increasingly emphasises the strategic or future-focused side of supply chain.
This is in large part thanks to the pandemic, which has pushed global supply chains to the brink over the last three years, while rising inflation, economic uncertainty and a global geopolitical conflict have exacerbated disruptions.
The situation has put supply chains and their leaders into the spotlight with organisations realising the importance of prioritising supply chains and sustainability.
Mike Corbo, CSCO for Colgate Palmolive, US, believes CEOs and boards got everyone into this situation by looking at the supply chain as a way to cut costs. "We did that very well for 20 years, but then we had a major tremor – and now they understand. Supply chain can't just be a cost centre. It's got be an enabler of growth."
These ongoing challenges don't play favourites, with CSCOs reporting in a recent IBM study substantial issues related to demand volatility (46%), logistics availability (46%), supply base inventory availability (45%), technology inadequacy (42%), and availability of skilled labour (41%) – with rising inflation also making labour more expensive (38%).
Such challenges are likely to persist, with CSCOs saying that issues related to supply chain disruptions, technology infrastructure, sustainability, and market shifts will be their greatest challenges over the next 2-3 years.
With disruptions looming around every corner, there is an urgency for CSCOs to reimagine and future-proof their supply chains, and technology investment is central to this.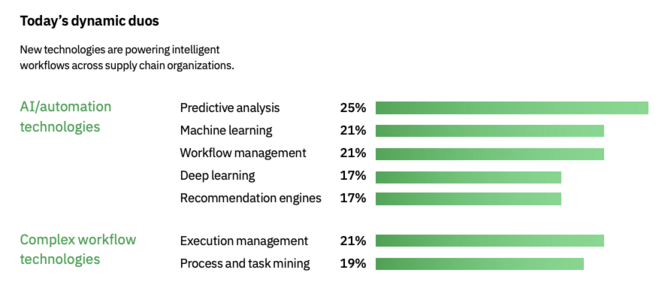 Analytics, AI and automation are key to future-proofing supply chains
According to IBM's study, CSCOs are embracing AI and automation technologies, with almost half (47%) saying they have introduced them in the last two years.
And no wonder. They are powerful tools that can deliver more timely insights across ecosystems and intelligent workflows, supporting data-based decisions, and helping supply chain organisations quickly identify, prioritise, and recommend next best actions.
Automation can also augment employee skills, by helping reduce wasteful cognitive re-processing of similar analysis, decisions, and actions, freeing employees to focus on more strategic, analytical, value-added responsibilities.
Jonathan Wright, IBM Consulting Global Managing Partner, says that to effectively combat the unprecedented supply chain stressors like inflation, it's imperative CSCOs focus on using analytics, AI and automation initiatives to build intelligent, resilient, and sustainable supply chains.
"Automation and Ai can enable CSCOs and their organisations to collect data, identify risk, validate documentation, and provide audit trails, even in high inflationary periods, while also managing their carbon waste, energy and water consumption," he says.
AI and intelligent workflows can help to deliver 360-degree insights and impact analysis that provide interconnectivity with partners and suppliers and enable sustainable operations and predictability. These workflows can help the workforce, both digital and human, dynamically adjust to the unforeseen with both self-learning and self-calibration. And automation, ranging from chatbots to robots, is an essential component.
According to Sophie Bechu, COO at Philips, anything that could give us more horizontal data visibility into n-tier suppliers with connectivity all the way through logistics delivery is immense. "Then, if you can add AI and smart insights, not only are you building better planning, but you are building insights for risk management."
And while AI has the biggest backing of most CSCOs, with the majority believing investment in artificial intelligence will deliver results over the next three years, other exponential technologies are also on their confidence radar – including hybrid cloud (49%), IoT (49%), process and task mining (43%) and predictive advanced analytics (41%).
Innovative CSCOs outperforming their peers
The report finds that the CSCOs investing in transformational technology, ratcheting up automated and intelligent strategies and adopting a data-driven approach in four key areas are outperforming their peers. These include:
scaling a hybrid cloud infrastructure
creating AI-enabled workflows
transparent, customer-focused sustainability
a deeper focus on cybersecurity.
Dubbed 'innovators' by IBM, the 20% of CSCOs that stand apart for accelerating their data-led innovation are already outperforming peers on key metrics including reporting 11% higher annual revenue growth, the report finds.
According to Halide Alagoz, EVP, Supply Chain & Sustainability Officer at Ralph Lauren, US, all the big players realise the importance of data and integrated planning for real-time decision-making for both dealing with the short-term challenges and also to continue building long-term, agile strategies.