DAMAC founder Hussain Sajwani – a pioneer in Dubai property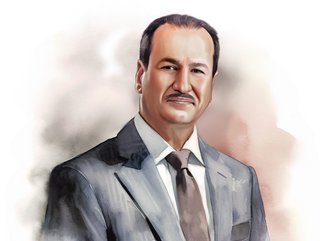 Hussain Sajwani
When opportunity knocks, Hussain Sajwani does not just answer the door, he builds an entire development around it. Meet the founder of DAMAC Properties
For those living and working in the Middle East, Hussain Sajwani needs little introduction.
As the billionaire founder and Chairman of DAMAC Properties, a Dubai-based luxury mega developer that recently celebrated 40 years, the Emirati businessman is a familiar face on lists of the most powerful Arabs.
Not only has he built a global luxury real estate development empire with revenues of more than US$1.6 billion and over 2,000 employees, but he spearheaded one of the world's biggest-ever property booms, in Dubai, and has pioneered many regional real estate trends.
Today, his luxury property empire encompasses award-winning residential, commercial, hospitality, leisure, retail, and even data centre properties across the Middle East region, and further afield – counting 43,700 homes and eight hotel properties in 15 cities, including in Miami, Toronto, and London, and with properties for development and sales reaching more than U$2 billion (AED7.53bn).
But it hasn't all been smooth sailing for the 70-year-old businessman, who, according to Forbes, is among the world's richest Arabs, with an estimated net worth of US$2.7 billion – with the financial crash of 2008 and recent pandemic throwing the property market into disarray.
Daring and bold – how to build a property empire
Widely considered a property visionary, Salwani's bold entrepreneurial journey reflects that of the equally bold city of Dubai, in which he lives and upon which he has built his empire.
Daring, ambitious and often deemed extravagant, Sajwani – whose entrepreneurial father traded at a souk in Dubai and whose own entrepreneurial journey began with a catering venture in the early 80s – puts his success down to a combination of luck and vision.
"Someone would open the door, and I would run and grab the opportunity," he once said.
Which is exactly how Sajwani's property empire first came to be. Spotting an opportunity in the mid-nineties to accommodate the growing influx of expats coming into Dubai to do business, Sajwani constructed five three-star hotels; and following the announcement in 2002 to allow foreigners to own property in the emirate, he established DAMAC Properties.
And so began Dubai's six-year building boom with Sajwani leading the way.
Using capital from his stock market investments and from his businesses, including his UAE catering company, an insurance firm in Bahrain and a ceramics factory in Oman, the Arab billionaire began buying up land and building residential complexes, first in Dubai and then in Egypt, Jordan, Saudi and Lebanon.
And then Dubai's buoyant property bubble burst. The arrival of the global financial crisis put an end to the real estate boom he had spearheaded, with residential prices in the emirate falling 50% from a third-quarter 2008 peak to mid-2009.
But in true entrepreneurial fashion, the property mogul rose from the ashes of the crisis to build back bigger, bolder, and better. And business boomed once more with DAMAC ranking number one on the Forbes 2017 Global 2000 list of revenues between 2013 and 2016.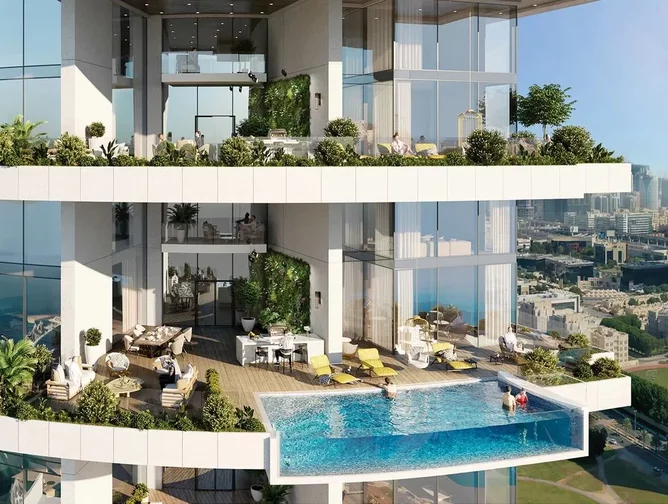 Cavalli Tower by DAMAC
Diversification at the heart of success
As well as expanding global reach, Sajwani diversified from his foundations in freehold developments into hospitality, fashion, retail, leisure, and capital markets, pioneered regional real estate trends, and made bold acquisitions – and even bolder marketing decisions. He has been known to offer free Lamborghinis or BMWs to customers buying properties here.
He has learned to take risks, he said in an interview in 2019, and believes that entrepreneurs today "cannot be afraid of making mistakes".
And he has certainly put his money where his mouth is, orchestrating some of the boldest projects in the country – like Akoya Oxygen, a US$6.5 billion Dubai residential megaproject launched in 2017, which has since been renamed DAMAC Hills and DAMAC Hills 2 and which sets the highest bar when it comes to community living.
But it is in pioneering the concept of luxury branded living in the region for which Sajwani is most widely celebrated – joining forces with the world's leading luxury and fashion brands to deliver ambitious, exclusive, and innovative properties that not only grab global headlines, but also customers.
He has partnered with Donald Trump on branded golf courses, and made bold acquisitions, securing Italian fashion group Roberto Cavalli and Swiss jeweller de Grisogono for his private investment portfolio.
Among his many ambitious co-branded properties is the recently launched Canal Heights, a collaboration with de Grisogono, which features a one-of-a-kind underwater pearl museum; and the 70-storey, ultra-luxury tower Cavalli Tower where residents have access to vertical hydroponics for their own garden crops. Not forgetting the Versace-branded 50-storey DAMAC Towers Nine Elms that is being built in central London as I write.
His dream, he told Arabian Business in 2018, is to have DAMAC Towers in gateway cities around the world, including in Asia and the US.
And while the pandemic took its toll on his property empire, halting many projects, and delivering net losses of US$646m in 2020 and US$144.5 million in 2021, it also gave Sajwani renewed drive, with a focus on accelerated global expansion and yet further diversification.
Data centres – the next Big Thing
As well as recently transitioning DAMAC Properties back from being publicly listed to his complete ownership, Sajwani is forging ahead with the construction of ambitious projects, like Dubai-based DAMAC Lagoons, the mega builder's third master community development, as well as a condo project in Miami and a partnership with Mandarin Oriental Hotel Group to operate a new resort in The Maldives.
And he is diversifying once more, this time into the growing digital sector, establishing DAMAC Data Centres and investing US$1 billion to build a global network of cloud data centres in Europe, Asia, Africa, the Middle East and CIS. Two DAMAC data centres are due to live in Saudi (Riyadh and Dammam) before the end of 2023.
An extension of the real estate sector, Sajwani believes data centres "blend well with the fabric of our flagship business – property development" and he is aiming for 20-30% profit from data centres for the group.
"DAMAC is in a digital transition period, and we are constantly looking towards new, innovative, and technologically enhanced industries, sectors and investments to add to our portfolio," he recently told Gulf News.
This commitment to diversification over the last 40 years, along with bold decision making and taking risks is certainly paying off.
DAMAC Properties recorded a net profit of Dh1.4bn last year on the back of Dh3 billion revenues and has properties in the pipeline for development and sales totalling Dhs7.53bn.