Deloitte: France leads on boardroom gender diversity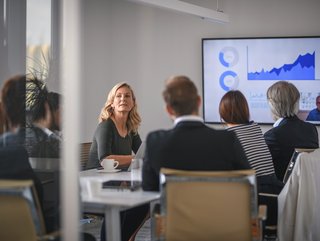 France achieves its quota for boardroom diversity with women holding more than 43% of seats, more than double the global average of 19.7%, reveals Deloitte
France is leading the world for the first time on boardroom diversity with an average board composition of 43.2% women, according to Deloitte's 7th edition of the Women in the Boardroom report.
This leading French milestone not only exceeds the 30% female representation recommended by The 30% Club, one of the world's largest and most influential organisations advocating for more women on boards of listed companies, but importantly exceeds France's own gender quota of 40%. It also puts the country just 6.8% short of gender parity.
Deloitte's data, conducted in collaboration with The 30% Club, saw France increase representation by 5.8% compared to 2018. Norway ranked a close second at 42.4%, but France is well ahead of the UK (30.1%) and the US (23.9%).
France's board representation is double that of the global average (19.7%), and considerably more than countries such as Qatar, Saudi Arabia and South Korea which report less than 5% of women on their largest company boards.
France and Norway prove that gender quotas are working
France's leading position on female representation is largely driven by the country's gender quota, which was set at 40% over a decade ago.
Norway and Italy also introduced quotas or other legislation to accelerate change more than 10 years ago and these countries now rank in the top three for gender diversity, suggesting such quotas can and do work. Although, a frequent criticism of quotas is that a small cohort of the same women will take on a large number of board seats.
Europe as a whole is further ahead than the US which, much like the UK, has always pushed back on mandatory measures. The US and the UK, along with Canada and South Africa among others, have no national quotas in place for women on boards. Though, in the US, there are a number of state measures to help increase women's representation, including in California. In the UK, there have been several government initiatives promoting board diversity in recent years, including the Hampton-Alexander Review.
Irene Dorner, chair at Taylor Wimpey plc, states that for many years there has been a cultural resistance to quotas in the UK. "The UK has a completely different culture and governance structure compared to those countries that have implemented quotas," she says.
This puts the emphasis on businesses themselves to set their own diversity targets and deliver more transparent reporting.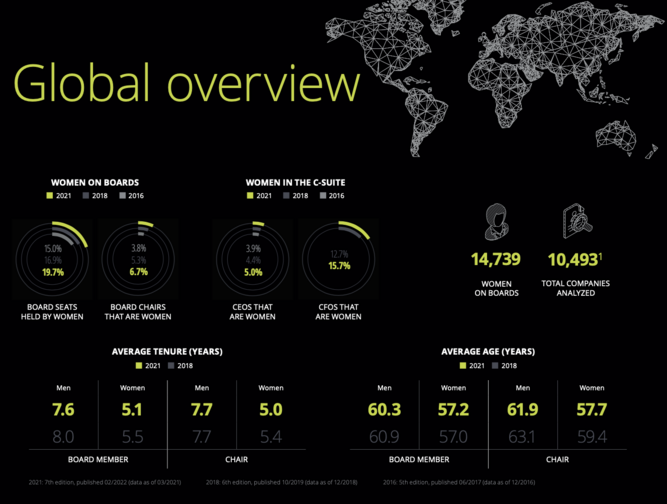 Acceleration on equality in progress, but remains slow
While diversity leaders France and Norway have already hit their quotas, and a number of other European countries are hot on their heels – including Belgium, Sweden and Finland – progress to increase the number of women on corporate boards across most countries remains slow.
The worldwide average of women on boards has increased just 2.8% since 2018. If such a rate of change were to continue every two years then global parity would not be reached until 2045. That's more than two decades away, although it is an acceleration in the pace of change.
Take the UK. While lagging behind many European countries with just 30.1% female representation, the UK has seen good progress with a 7.4% increase of women holding UK board seats since 2018 – moving from 13th to 9th. So, while the world is expected to reach near parity in 2045, the UK could realise gender parity as soon as 2027 if current progress continues at the same pace.
"Whilst the number of board seats held by those identifying as women in the UK is moving in the right direction, we're still a long way behind our European neighbours," says Jackie Henry, managing partner people and purpose at Deloitte UK.
"UK businesses need to be even more proactive in taking diversity targets seriously, improving disclosure and more transparent reporting".
Companies with women CEOs have significantly more balanced boards than those led by men – 33.5% women versus 19.4% respectively.
Leadership roles for women remain low
However, the presence of more women does not mean they are reaching leadership positions. So while the percentage of women on boards inched close to a 20% global average, there are comparatively few female board chairs, just 6.7% globally, compared to 5.3% in 2019. Female CEOs are even rarer, at 5% in 2021 and 4.4% in 2018.
"Even in countries with diverse boards, progress at the executive level remains underwhelming," says Ann Cairns, global co-chair of The 30% Club. "In the UK, women at the executive committee level across the FTSE 100 account for just 22% of the total. There are just eight female CEOs, and only 16 CFOs. There are also only 15 female board chairs. So, we won't be changing our name to the 50% Club anytime soon."
Read Deloitte's Women in the Boardroom report HERE.