Dubai DXB is world's busiest international airport, says ACI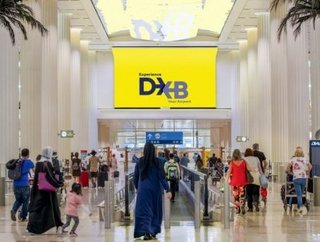 Dubai International Airport Terminal 3. Photo: Dubai Airports
For the ninth consecutive year, Dubai airport has been named the world's busiest for international passengers, according to Airports Council International
It's official – Dubai International Airport (DXB) is the busiest in the world when it comes to international passengers, and in fifth place for total passengers, as numbers soared by 127% from 2021 to 2022.
That's according to Airports Council International (ACI), the trade association of the world's airports, in its latest traffic report. Globally, the top four places are taken by US airports which have a strong domestic market.
Dubai welcomed 66.1 million passengers to top the international rankings while Hartsfield-Jackson Atlanta International Airport saw a 24% increase in traffic to reach 93.7 million passengers, making it the busiest in the world.
"While we continue to march forward cautiously amidst multiple headwinds that could impact the speed and magnitude of global air traffic recovery, the latest rankings represent an important milestone in reaching pre-pandemic levels," said ACI World's director general Luis Felipe de Oliveira.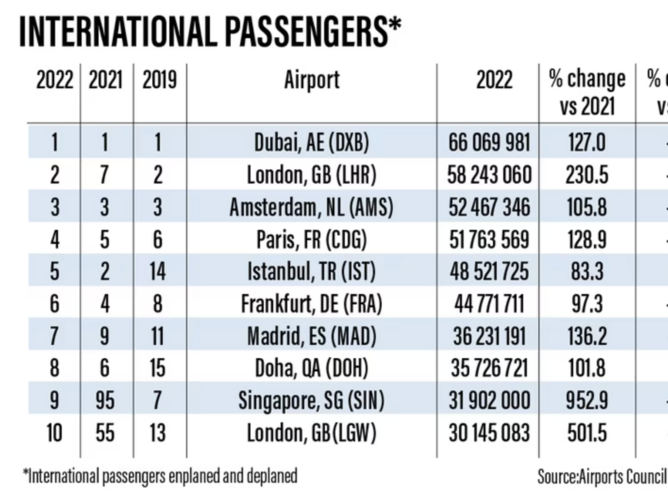 Dubai is the busiest airport globally for international passengers
Dubai pipped London's Heathrow into second place, which also saw a strong rebound in demand to serve 58.2 million passengers, up 230% year on year. Amsterdam came third with 52.5 million.
However, despite huge increases in passenger numbers making the most of a return to international travel, the figures for 2022 are still around 25% down on pre-pandemic numbers for 2019.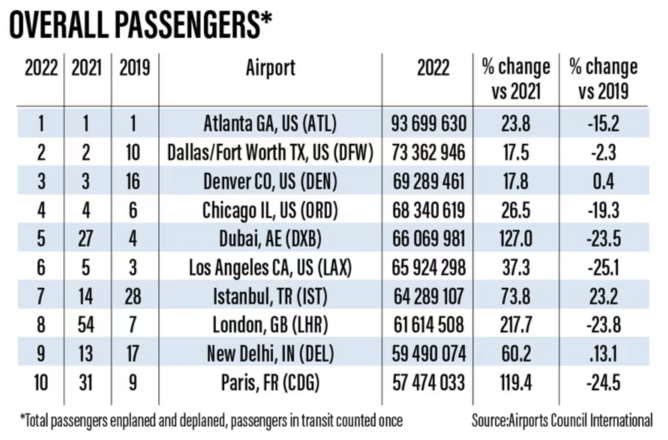 Four of the top 5 airports overall are in the US
Asia passenger numbers rebound but more to come from China
One standout in the international top 10 is Singapore Changi Airport. Often cited as the world's best airport, Changi saw 31.9 million passengers in 2022, and while that is a 953% increase on 2021, it is down more than half compared to 2019 – heavily impacted by the strict lockdowns seen across Asia Pacific and the impact on the Chinese market.
"The reopening of China, the second-largest aviation market after the US, is now expected to bring an overall gain, both domestically and for international travel," added Oliveira.
Just recently, Singapore Changi was named the World's Best Aiport by Skytrax, voted for by passengers. Doha's Hamad International Airport came second in the Skytrax ranking for 2023, which is a great achievement and no doubt showcased during the recent FIFA World Cup, but also a drop for Doha which came top in 2022 – perhaps in part due to Singapore being affected by COVID-19. Dubai came 17th in that Skytrax list.
ACI – which as of January 2023 serves 712 members, operating 1,925 airports in 171 countries – also has its own rankings.
Accolades for Abu Dhabi, Muscat, Doha, Salalah, Amman
Abu Dhabi International Airport has been named Best Airport at Arrivals Globally by ACI, alongside Hartsfield-Jackson Atlanta International Airport and Bangalore's Kempegowda International Airport.
In the Middle East, Salalah Airport in Oman was named the best airport under 2 million passengers, Queen Alia International Airport (Amman, Jordan) best between 5 and 15 million, and Muscat International Airport best for 15 to 25 million passengers.