Dubai to Switzerland – hotels where you can pay in crypto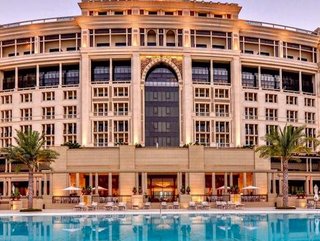 Palazzo Versace Dubai
Crypto payments are becoming increasingly popular among travellers with numerous luxury hotels now accepting digital payment – from Dubai to Switzerland
There was big news in the cryptocurrency market last month when Expedia – one of the world's leading online travel agencies – announced it will begin accepting bitcoin as a form of payment for hotel bookings.
While the NASDAQ-listed travel firm, which has partnered with Coinbase to process the bitcoin payments, is the first major travel agency to accept the digital currency – there is a growing list of destinations (hotels and resorts) that are embracing virtual currencies.
These hospitality pioneers recognise that guests find cryptocurrency as an attractive, safe, and convenient way to pay, and are partnering with varying cryptocurrency payment solution providers to enable transactions without any risk of price volatility.
Cryptocurrency payments are becoming increasingly popular among travellers across the world, with the global crypto market projected to reach US$4.94 billion by 2030. Airlines including Alternative Airlines, Air Baltic, and luxury tour operator Travala also accept Bitcoin as a means of payment for fights and trips.
From the Maldives to Dubai, Switzerland to the US, here are 10 luxury hotels where cryptocurrency is now accepted payment.
Palazzo Versace Dubai
Just this month, the opulent Palazzo Versace Dubai began accepting crypto payments via the Binance payment platform. This follows its partnership with the world's biggest cryptocurrency infrastructure provider. Guests to the five-star hotel and resort, located in the Culture Village by Dubai Creek, can now pay in Bitcoin, Ethereum and BNB for dining, room stays, spa experiences, and meetings and events. The lavish high-fashion hotel, designed like a 16th-century Italian palace, will also accept crypto from guests using its ecommerce platforms to buy gift vouchers. The next phase, online payment integration, will go live soon.
Soneva, Maldives and Thailand
Soneva hotels recently announced it is now accepting Bitcoin and Ethereum cryptocurrencies as a payment option across its five-star resorts in both the Maldives (Soneva Fushi, Soneva Jani, Soneva in Aqua) and Thailand (Soneva Kiri). These cryptocurrencies can also be used for Soneva Villa Ownership, an initiative that offers real estate to foreign buyers in the Maldives. Soneva has partnered with cryptocurrency payments solutions provider TripleA and platform provider Pomelo Pay. Soneva chief financial officer and deputy CEO Bruce Bromley said: "At Soneva, we have always endeavoured to be a pioneer in the hospitality industry, hence accepting cryptocurrencies as a payment method is another example of enabling our international guests to easily make payments from anywhere in the world."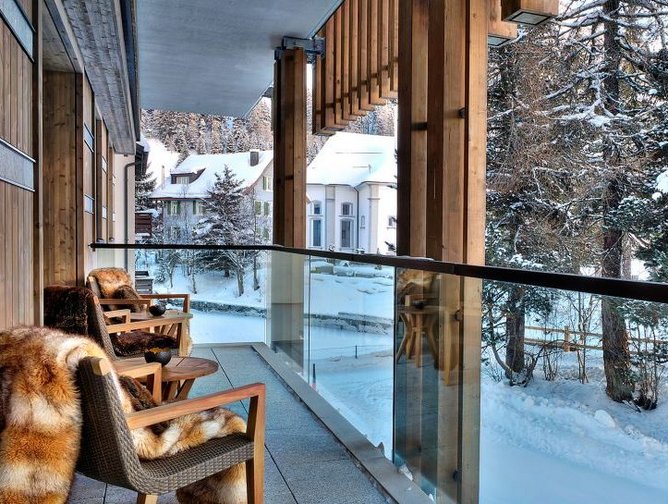 Chedi Andermatt, Switzerland
The Chedi Andermatt in the Swiss Alps has partnered with crypto providers Worldline and Bitcoin Suisse to enable cryptocurrency transactions. Guests can now pay for their stay at this luxury hotel with both Bitcoin and Ethereum for amounts starting at chf 200.00. "As cryptocurrency payments become ever more widespread and gain ever more acceptance, we are proud to be one of the first Swiss luxury hotels to offer guests secure cryptocurrency payment options," says Jean-Yves Blatt, General Manager of The Chedi Andermatt. "This makes a clear statement to our clientele that we are open to new technologies, as we offer this new payment experience as an additional service."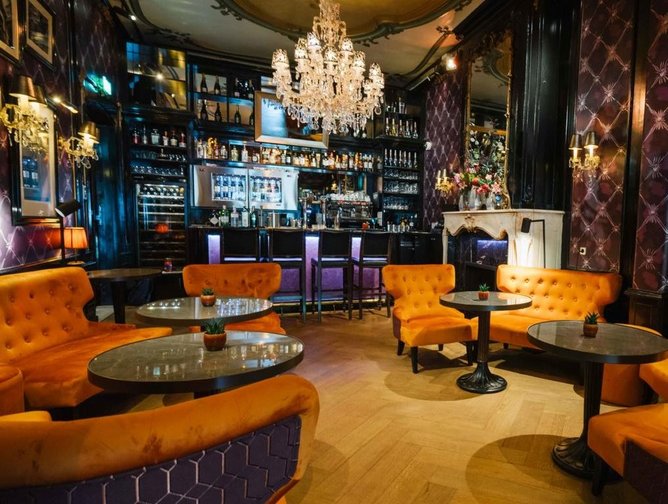 The Pavilions Hotels & Resorts, Europe and Asia
The Pavilions Hotels & Resorts last summer became the world's first global boutique hotel group to accept cryptocurrency payments for hotel bookings. Guests can use Bitcoin, Ethereum and 40 other virtual currencies to pay for bookings at any Pavilions residence – with locations across Europe and Asia, including hotels in Phuket, Bali, the Himalayas, Mongolia, Amsterdam, Madrid, Lisbon and Rome. The hotel chain has partnered with leading global crypto-payment gateway, Coindirect, with crypto-payments made via a booking centre through email. Many of the resorts offer investment opportunities which you can pay with cryptos.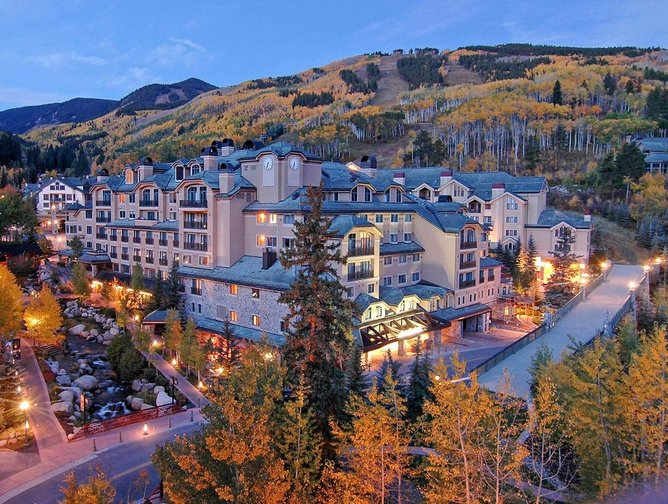 Kessler Collection, US
Luxury US hotel group Kessler Collection was an early adopter of cryptocurrencies announcing in March last year that guests could now use Bitcoin, Bitcoin cash, Ether and Dogecoin, as well as stablecoins USDC, Binance USD, Gemini Dollar and PAX, to pay for bookings. Kessler Collection hotels send guests an email invoice allowing them to pay from their BitPay wallet. According to Kessler CFO Fravy Collazo, it makes it easier for guests travelling globally, "both in time saved from going to a local currency exchange and in money saved with a lower exchange rate". The group has various hotels across the US, including Beaver Creek Lodge, Casa Monica Resort & Spa and Elliot Park Hotel.
Sri Panwa, Thailand
Luxury resort and residences Sri Panwa Phuket, in Thailand, accepts various types of cryptos including bitcoin, Ethereum, USDT and USDC, as payment. They also accept crypto transactions across other Sri Panwa properties including Baba Beach Club of Hua Hin and the Baba Beach Club of Natai. Perched high atop Cape Panwa, the luxury resort offers breath-taking views of the Southeastern tip of Phuket from its luxury villas.
FIVE Hotels and Resorts, Switzerland
Switzerland's pro-crypto legislation prompted Dubai-based hospitality firm FIVE Hotels and Resorts to begin accepting crypto payments with the launch of its first international property, in Zurich, in June. This move to digital assets reflects the hotel group's young clientele – 78% of guests are under the age of 35 – and help them relate to a new, emerging demographic of guests. CEO Aloki Batra says there's a group of customers who would much raher pay with their crpto wallets, and "would therefore rather choose our hotel over having to pay by traditional means." Guests can pay for bookings at the entertainment hotel using Bitcoin and Ethereum.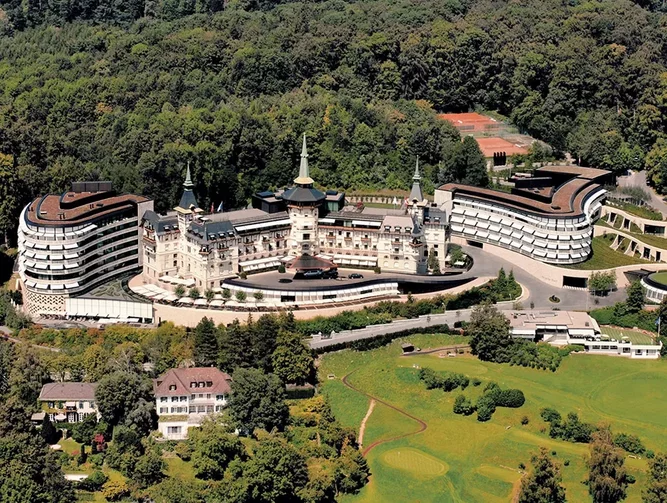 Dolder Grand, Switzerland
Switzerland's famed Dolder Grand hotel paved the way for other luxury properties around the world to embrace crypto when it became the first to do so back in 2019. Unsurprising considering Switzerland has been one of the fastest nations to adapt to digital assets. Then in 2021, the five-star Zurich hotel teamed up with BitLux private jets for the world's first crypto-based luxury travel partnership, allowing travellers to foot the bill for both their flights and stays with digital currency. The 122-year-old hotel, which offers amazing views of Lake Zurich, the Alps, and the skyline, and delivers two-Michelin-starred cuisine, partners with Swiss fintech Inacta AG to enable transactions via Bitcoin.
Manor Hotel by JA, Dubai
This five-star Manor Hotel by JA in the luxurious area of Al Furjan in Dubai announced in May it was prepared to accept Bitcoin, Ether and Binance's stablecoin as payment. Guests can book rooms and settle their bills using these cryptocurrencies, with the hotel converting any crypto received immediately through a payment gateway for hotels managed by Binance. According to the hotel's Managing Partner, Hanif Al Qassim, virtual assets are in line with the hotel's vision for sustainability and digital transformation.