Emirates Palace and the rise of the vegan hotel room
One of six vegan suites at Mandarin Oriental Emirates Palace
Animal lovers can now sleep easy in the Middle East as Abu Dhabi-based Emirates Palace unveils six vegan rooms and joins a growing global animal-free trend
Animal lovers can finally sleep easy in the emirates.
Following a rebrand to Mandarin Oriental, Abu Dhabi-based Emirates Palace recently unveiled six rooms that are entirely free from animal products.
This makes the luxury beachside hotel, once famed for all things dripping in gold (including 24K gold edible flakes on coffee) the first property in the Middle East to offer vegan rooms, and one of very few five-star vegan hotels globally.
Wool-based carpets have been replaced with wooden floors, leather furniture with faux leather, while duvets are feather-free, linens are vegan, bathroom toiletries are made only from botanicals, and in-room dining is entirely plant-based.
Even the mini bars are stocked with almond and oak milk options, not to mention a choice of kombuchas.
What's more, the vegan approach at this newly rebranded Abu Dhabi landmark property extends beyond the six rooms to the hotel's luxury spa, where guests can try vegan products and treatments; as well as to the restaurants, where plant-based options have expanded with a menu that's packed with produce from the hotel's very own vegetable garden.
Even the staff have received training to ensure they fully understand vegan lifestyles and can answer any questions or requests that a vegan guest may have.
As Michael Koth, the Swiss GM of Emirates Palace puts it: "When veganism is helped by us to become more mainstream, and not tucked away into a small niche, that is the real deal".
While Emirates Palace is a plant-based pioneer regionally, and one of few five-star properties to offer vegan, it is certainly not the first.
London home to first vegan hotel room
That accolade goes to the five-star Hilton London Bankside, which, in 2019, launched the world's first vegan suite, in a bid to show that veganism is no longer just a dining trend.

Crafted solely from plant-based materials, courtesy of food design studio Bompas & Parr, the 3-room suite is upholstered in Pinatex, a leather-alternative fabric made from cellulose fibres found in waste pineapple leaves. Feather stuffing in pillows has been swapped for organic buckwheat, millet seeds, or bamboo fibres, while cotton, not wool, has been used to make the carpet.

Toiletries are made with vegetable extracts, mini bar snacks are all vegan, as is the stationery (printed with vegan-friendly ink), cleaning products and in-dining menu.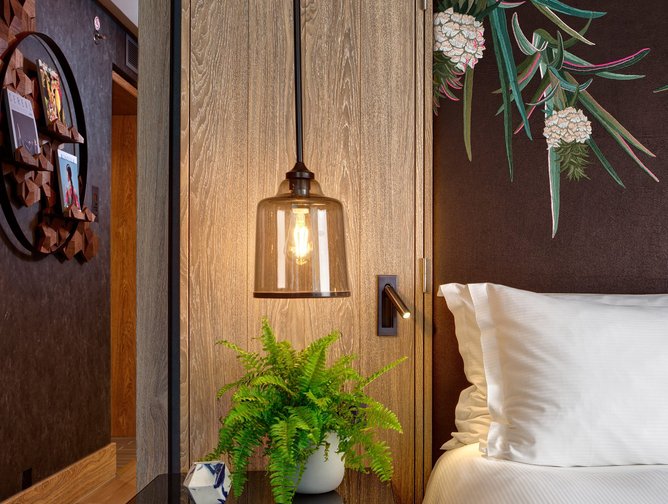 5* Hilton London Bankside, which, in 2019, launched the world's first vegan suite
Growing list of properties going animal-free
Both five-star hotels join a growing list of properties that are ditching leather, wool, and silk to lure vegan travellers to their doors.
And it makes sense, given that 26% of millennials identify as vegan or vegetarian, according to a survey by marketing firm Acosta.
In recent years, more and more hotel menus have increasingly expanded their vegan offer, with some, like the five-star Flemings Mayfair in London, launching a dedicated animal-free menu.
But dedicated vegan hotel rooms, along with entire hotels, has been a slower trend to catch on hospitality wise, with substitute materials often proving pricier.
That hasn't put off the proprietors of Koukoumi Hotel, the first and only vegan hotel in Greece. Founded in 2020, on the party island of Mykonos no less, the five-star 14-suite hotel is the jewel in the crown of cruelty-free living. Mattresses are made from coco-mat, spa products are all cruelty-free and plant-based, the menu is fully vegan.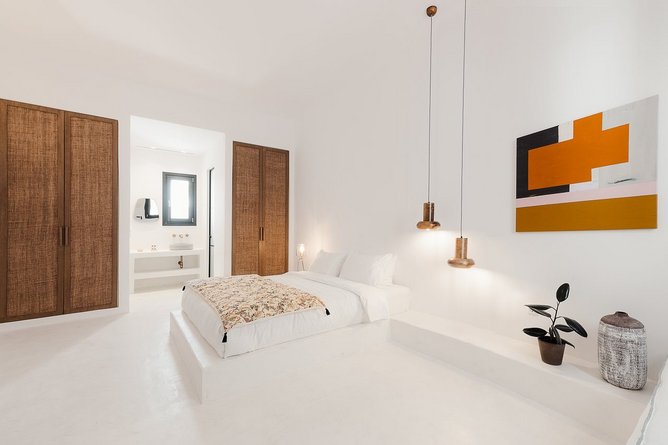 Koukoumi Hotel, Greece's only vegan hotel
All-vegan hotels are a trend picking up pace in smaller, more boutique establishments. Take Saorsa 1875, the UK's first all-vegan hotel, located just a stone's throw from Loch Ness in Scotland. The 11-room hotel doesn't have a single animal product on-site, with down duvets replaced with microfibre, all uniforms ethically made, and even the hotel's energy supplier certified with The Vegan Society.
Similarly, Italy's first vegan hotel, La Vimea, located in the Tyrol region, dishes up a 100% plant-based experience, including meals, and guarantees that all fixtures and furnishings are vegan, including biodegradeable mattresses, along with vegan bathroom toiletries and cleaning products.
In Costa Rica, Mother Earth Vegan Hotel is a hotel experience "without the expense of animals on the planet", according to the property, with very detail, from the furniture to the food, taking that stance. While in Porto, Portgual, the luxury wine hotel and spa The Yeatman Hotel takes a strong eco-conscious and animal-free approach by using solar panels to heat water, offering a vegan pillow along with vegan toiletries and delivering plant-based dining in-room and in its Michelin-starred restaurant.
Interested in finding more? Check out The Vegan Stay, a website where travellers can find animal-free accommodation.