Etihad Rail – connecting the UAE's seven emirates and beyond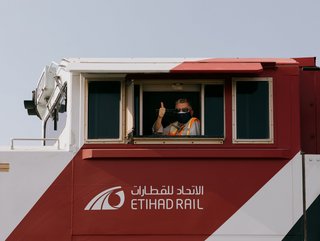 Etihad Rail, the first freight and passenger railway connecting the UAE's 7 emirates and wider GCC, will add AED200bn to the economy over the next 50 years
The United Arab Emirates (UAE) is renowned globally for delivering awe-inspiring and ambitious projects.
From the world's tallest building Dubai (Burj Khalifa, Dubai) to the world's largest indoor theme park (Warner Bros. World, Abu Dhabi) and the Middle East's first casino (Wynn Resorts coming to Ras Al Khaimah in 2026), this Middle East country is no stranger to delivering on pioneering plans.
But the UAE's latest project may well be its most ambitious yet – given that it is not only one of the largest infrastructure projects in the emirates, but one that is projected to contribute AED200bn (US$54.5bn) to the UAE economy over the next 50 years.
Enter the UAE National Rail Network, a ground-breaking AED50bn (US$13.6bn) railway network being developed and operated by Etihad Rail, which, once complete in 2024, will connect 11 cities across the UAE's seven emirates and stretch 1,200km from the border of Saudi Arabia to the border of Oman.
The network is expected to transport more than 36.5 million passengers and 60 million tonnes of freight annually by 2030, with freight and passenger trains reaching speeds of up to 120 and 200 km/h, respectively.
Ultimately, Etihad Rail will extend beyond the UAE to the Gulf Cooperation Council (GCC) as part of the wider US$100bn GCC rail programme

Etihad Rail – to boost tourism, business, and the economy
Co-owned by the Abu Dhabi government (70%) and the federal UAE government (30%), Etihad Rail (formerly Union Railway Company) began life in 2009 with plans to develop, build, and operate the railway infrastructure.
The railway infrastructure will transport both freight and passengers acting as a catalyst for economic growth and sustained social development.
The project is part of the UAE Vision 2021 and The Abu Dhabi Economic Vision 2030, both of which aim to deliver significant socio-economic growth, and will become part of the US$100bn GCC rail programme.
Not only is Etihad Rail expected to create thousands of jobs, but it will slash carbon emissions, and provide businesses with a sustainable, efficient, and cost-effective solution to regional cargo transportation and logistics, in turn helping to grow the economy.
It will also provide easy connectivity throughout the region promoting trade and social development in the emirates and across the wider GCC. By making travel faster, safer and more convenient, investors, business travellers and tourists, both domestic and international, will be able to take advantage of the link between the emirates and further afield and this will stimulate touristic economic development.
For passengers, the railway will reduce the travel time between Abu Dhabi and Dubai to 50 minutes, between Abu Dhabi and Fujairah to 100 minutes, Dubai and Fujairah to 50 minutes, and Abu Dhabi and Al Ruwais to 70 minutes.
The trains will be equipped with modern amenities, including infotainment systems, charging stations, along with F&B, an advanced air-conditioning system and seating segments (first, business, economy).
Sustainability at forefront of Etihad Rail
With Etihad Rail, the Emirates is contributing to its sustainability and economic agendas, including the UAE Centennial 2071 Plan and the UAE 2050 Net Zero Initiative – and hoping to significantly reduce regional road traffic emissions by replacing the many hundreds of cargo-carrying vehicles with rail.
One fully loaded freight train is equivalent to 300 trucks, which means carbon emissions will be slashed by 80%. Once fully operational, the entire network will reduce 2.2m tonnes of greenhouse gas emissions every year.
Not just that, but with the network set to replace 375,000 vehicles, the rate of road collisions will decrease
And the construction itself incorporates environmental stewardship. According to Shaikha Al Hosani, executive director of the environment quality sector at the Environment Agency – Abu Dhabi (EAD), the building of the rail network will not impact critical habitats, plants or animal species.
Buffer zones between work areas and nature reserves have been created to reduce dust pollution, alongside a construction schedule that avoids the breeding season of birds and specialist engineering equipment that reduces noise pollution and vibration.
Completion stages of Etihad Rail
The network, which is 75% complete, is being built in stages. While stage one has been fully operational since 2016, transporting up to 22,000 tonnes of granulated sulphur each day from Habshan and Shah to Ruwais for ADNOC, stage two is currently under construction.
The second stage, which kicked off in January 2020, marks the biggest stage (a 605km network expansion to connect the UAE) with China Civil Engineering Construction Corporation winning the AED4.6bn contract to expand the network.
Stage two extends from Ghuwaifat right on the border of Saudi Araba all the way to Fujairah on the UAE's east coast through Abu Dhabi, Dubai, Sharjah and RAK. Tracklaying across the UAE main line is fast coming up for completion with jut 30% left to deliver.
Once complete, the network will span a distance of 1,200km, and will feature 35 bridges and 15 tunnels including the longest tunnel in the UAE, at 1.8km, which will pass straight through 6.9km of the Al Hajar Mountains.
There are further plans to expand to the entire GCC region, including to Saudi Arabia (Mecca, Medina and Jeddah), to Bahrain, Kuwait, Oman and Jordan.