Jane Karuku: Steering Kenya's largest manufacturer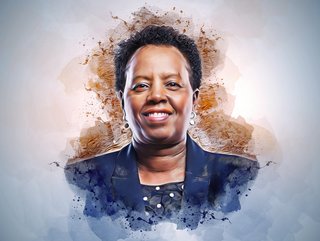 Jane Karuku
Among the most senior women leaders in East Africa, CEO Jane Karuku is driving Diageo-owned East African Breweries to be bigger, bolder – and better
Jane Karuku is passionate about bringing the largest and most profitable manufacturer in Central and East Africa towards a sustainable and diverse future.
As the first female chief executive of East African Breweries Limited (EABL), one of Kenya's oldest companies, Jane has put in place ambitious targets that will see women occupy half of the company's 2,500-strong workforce including leadership roles by 2030.
Under Jane's leadership, first as Managing Director for eight years, and CEO since 2021, EABL has rolled out numerous initiatives aimed at empowering women to become business leaders.
Among these, a programme to train female graduates, education for all departments on unconscious bias, measures to increase the percentage of female suppliers, and the Spirited Women Network, which focuses on female employee mentorship and retention.
The manufacturer, which is majority-owned (50.03%) by beverages giant Diageo, made history in 2019 when it became the first-ever firm in Kenya to implement a 26-week maternity leave and four-week paternity leave policy.
Jane says that the policy has paid off, enhancing the productivity of workers, and directly contributing to the increase in revenues.
Serving as CEO at EABL is 'a calling'
In sustainability too, Jane has made her mark at the manufacturer, which counts more than 40 brands including Tusker, Johnnie Walker, Smirnoff, and Guinness within its diverse portfolio – and has pledged to become Net Zero in direct operations by 2030.
Under her tenure, EABL published its inaugural and award-winning Sustainability Report (2021), in which the manufacturer outlined a US$5 million 10-year fund to help pubs and bars recover from the Covid-19 pandemic, and an ambitious target to source up to 80% of all raw materials locally.
EABL's second report (2022), in the year of its Centenary, reached more ambitious heights with an investment of Sh5.1 billion (US$37 million) to establish biomass plants in Kenya and Uganda, part of extensive plans to reduce carbon emissions by 95% annually.
"For me, serving at EABL is a calling," Jane said in an interview in 2021.
"This is a business that is integrated to improve the lives of the communities we operate in. When you work at EABL, you work for more than a salary because we serve a considerable ecosystem."
That ecosystem comprises more than 60,000 farmers, 2,500 workers and seven factories across East Africa.
As well as contributing around 1% of Kenya's GDP, EABL is the number one excise duty taxpayer in Kenya and during the last 5-6 years, has been among the top five companies in the region.
Transforming culture and performance
Jane, who first joined EABL's board just under a decade ago, has been instrumental in steering the brewery giant to greater heights, not just the ESG agenda, but in driving innovations, launching new products, and putting in place strategic pricing and effective cost management during times of economic uncertainty.
In 2021, she turned around EABL's financial and operational performance, surpassing the firm's pre-pandemic net sales to US$62 million, and in 2022, despite rising inflation and an increase in excise taxes, she led the company to its highest profits in five years.
As Jane said at the time, these results reflect "the high-performance culture we have created across the business, the rigorous execution of our strategy, the strength of our portfolio across categories, and our agility in responding to emerging trends and insights".
Pulling off a successful turnaround is nothing new to Jane, who was recognised in 2021 as one of the outstanding 50 African women corporate leaders who run the largest and most complex businesses on the African continent, by Africa.com.
At Cadbury's, where she led operations in 14 countries across Africa for seven years, Jane conceived and implemented a highly successful growth programme for the business.
And during her two-year tenure as Deputy CEO at Telkom Kenya, she was credited with the transformation of the company. Working closely with the chief executive and parent company Orange, Jane transformed Telkom Kenya into a competitive player in Kenya's telecoms industry.
Jane's 25-year proven track record of leading organisations in Africa is not limited to business, however.
She has led several NGOs, holding executive roles at Farmers Choice Kenya, Kenya Cooperative Creameries, and Alliance for a Green Revolution, where as President she led one of Africa's largest grant-making organisations in the food security and agricultural development sector.
Not just a job, but a passion
Her purpose in life, she says, is to "grow people with energy" – to inspire them to unleash their potential.
"I knew early on that the success factor was not how I would draw strategies for the business, anyone can do that. But… in how I am accepted as a leader and the influence I have on my team."
Her influence and expertise extends far and wide, beyond her day job, with contributions to the country's social and economic development, many of which have been recognised by Kenya's President.
Passionate about the country's development and women's role in this, Jane also serves as a Trustee of Precious Sisters, a not-for-profit that empowers bright, underprivileged girls through education scholarships; and as Chair of the Vision 2030 Delivery Board, she provides leadership for Kenya's Vision 2030 Strategy.
And with the onset of the pandemic, she helmed Kenya's Covid-19 Emergency Response Fund Board, working with Big Four accounting firms in the region to provide transparency and good corporate governance to government efforts.
Her journey to the top has been anything but typical. Kicking off her career as a management trainee at Kenya Co-Operative Creameries, she then took four years off to raise her young family – a decision she regards as one of her best.
During those four years, Jane armed herself with an MBA from the National University of California, and returned to the workplace happier and more confident, going on to serve in a series of increasingly senior managerial and leadership roles where she consistently supported, mentored, and championed women and advocated for a work-life balance.
Her greatest achievement, she said in a recent interview, is being a corporate leader but also a mother and wife, something she considers a "wholesome leader".
Jane Karuku CV
Jane has a 25-year track record of leading organisations in Africa to growth, both FMCG listed companies and NGOs, and has been recognised among 50 female corporate leaders on the continent.

As well as serving in leadership roles at Telkom Kenya, as Deputy CEO, and Cadbury's East and Central Africa, she led one of Africa's largest grant-making organisations in the food security and agricultural development sector (AGRA) and has held executive positions at Farmers Choice Kenya and Kenya Cooperative Creameries.

CEO of EABL since January 2021, she has turned around the manufacturer's financial and operational performance and overhauled its culture. She is Chairperson of Kenya's Vision 2030 Board, a board member of the Kenya Association of Manufacturers and has an MBA in Marketing from the National University of California.